On May 10, 2015, the Department of Education replaced the FSA PIN (also known as FAFSA PIN) for both students and parents with the FSA ID. The FSA ID can be created and used on various Department of Education websites, including fafsa.gov, nslds.ed.gov, and StudentLoans.gov.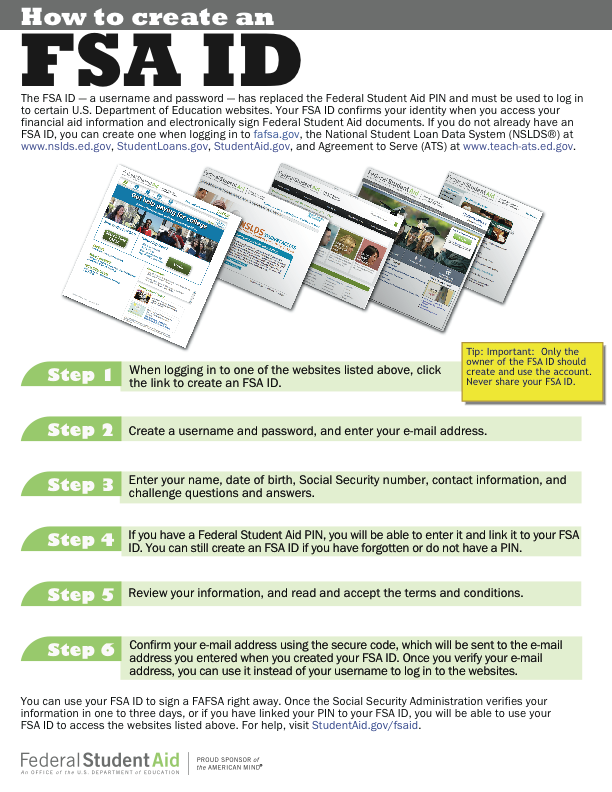 What is the FSA ID?
The FSA ID is a username and password that you must use to log in to certain U.S.. Department of Education websites. Your FSA ID is used to sign legally binding documents electronically. It has the same legal status as a written signature. Don't give your FSA ID to anyone - not even someone helping you fill out the FAFSA. Sharing your FSA ID puts you at risk of identity theft.
Who needs an FSA ID?
Students and parents of dependent students need an FSA ID. The FSA ID is used to electronically sign the FAFSA. Parents who have more than one child attending college can use the same FSA ID to sign all applications. Each student will need his/her own FSA ID. Please Note: Each FSA ID user must have a unique email address.
Where can I use my FSA ID?
How can I get an FSA ID?
You can create an FSA ID when logging into certain ED websites, including this one. Create an FSA ID now.
The FSA ID process consists of three main steps:
Enter your log-in information.
Provide your e-mail address, a unique username, and password, and verify that you are at least 13 years old.

Enter your personal information.
Provide your Social Security number, name, and date of birth.
Include your mailing address, e-mail address, telephone number, and language preference.
For security purposes, provide answers to five challenge questions.

Submit your FSA ID information.
Agree to the terms and conditions.
Verify your e-mail address. (Note: By verifying your e-mail address, you can use your e-mail address as your username when logging into certain ED websites. This verification also allows you to retrieve your username or reset your password without answering challenge questions.)
Can I create an FSA ID for someone else (my child, parent, or spouse)?
No. Only the owner of an FSA ID should create the account. The FSA ID serves as a legal signature and should not be shared with anyone.
I previously created a password when I started my FAFSA. Is that the same as the FSA ID password?
No. Prior to the implementation of the FSA ID, you may have created a password when starting a FAFSA. This FAFSA password was used to save a partially completed FAFSA or FAFSA correction and return to it later. It was also used to share a FAFSA between a parent and child who were not together geographically. If you created a password for a FAFSA or FAFSA correction, you should enter that password when you are asked for your Save Key. Your FSA ID password is not the same as the former FAFSA password or the Save Key.
For more information regarding the FSA ID, please visit https://studentaid.ed.gov/sa/fafsa/filling-out/fsaid#how .
© Roane State Community College
Roane State Community College is a TBR and AA/EEO employer and does not discriminate against students, employees, or applicants for admission or employment on the basis of race, color, religion, creed, national origin, sex, sexual orientation, gender identity/expression, disability, age, status as a protected veteran, genetic information, or any other legally protected class with respect to all employment, programs and activities sponsored by Roane State. View full non-discrimination policy.