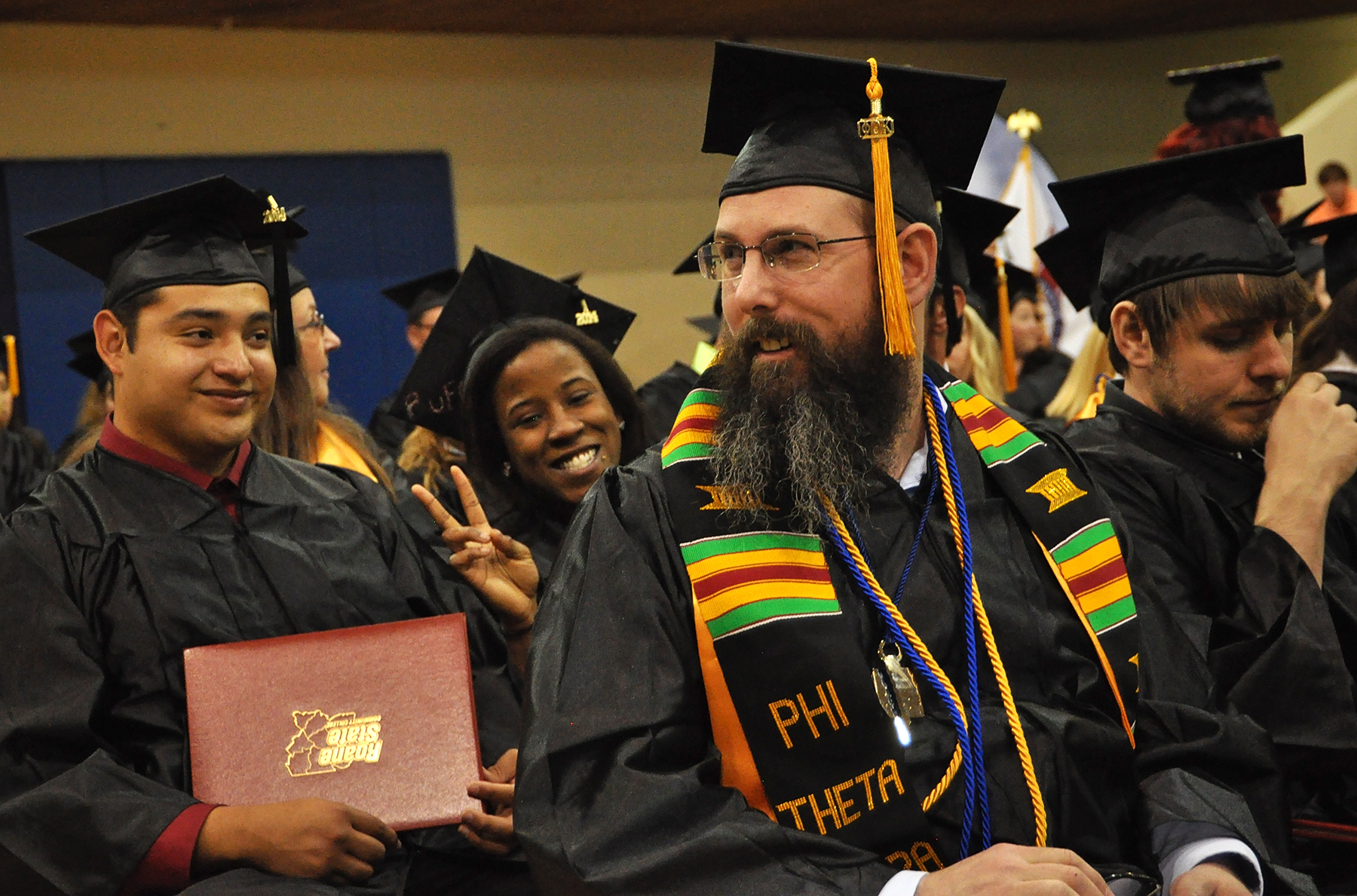 Shawn D. Van Horn, shown at his 2014 Roane State graduation, is a proud Roane State alumnus.
By Shawn D. Van Horn
You have decided: it is time to make a change in your life and a college education is essential to complete the transformation.
However, you need to pick a school and major but are overwhelmed by the myriad options available to you. You begin your educational journey by determining which field of study most interests you.
The time required to complete your education also factors in your decision process. You realize you need a school close to home with flexible learning options. Luckily for you, my alma mater – Roane State Community College – has plenty to offer those who choose to return to school.
Each of us has been blessed with a different set of passions, skills, and abilities. Entering a college program that aligns with these skills and abilities will help ensure your success as a student. Roane State offers a wide variety of fields of study that correspond with those passions, skills, and abilities.
These include healthcare (nursing, physical therapist assistant, etc.), business, education, technology, environmental science, and criminal justice. While this is not a comprehensive list of Roane State's programs, it encompasses several that can provide a quick route to a new career.
This brings us to our next topic: time. You likely are asking yourself, "How long will this program take?" You may be motivated by a need to enter a new career field as quickly as possible. If this is the case, then Roane State has you covered.
Roane State offers several timeframes, including programs for a one-year career path certificate, a two-year career path associate degree, and "2+2" programs consisting of two-year associate degrees leading to transfer to a two-year bachelor's degree completion.
Successfully completing one of Roane State's certificate programs allows students to enter the workforce in fields such as polysomnography, mechatronics, geographic information systems (GIS), or obtain an emergency medical technician (EMT) certification. If you have two-plus years to devote to your education, you can attain a career path associate degree in nursing (RN), opticianry, dental hygiene technology, and criminal justice, to name a few.
If your goal is to continue your education beyond the community college level, then many of Roane State's programs offer a transfer path option. Through the Tennessee Transfer Pathways, many area universities have agreements with Roane State ensuring that your community college credits are easily transferable.
Lastly, Roane State has partnered with Tennessee Technological University to provide students with the convenient opportunity to attend TTU classes at one of Roane State's campuses and earn bachelor's degrees in elementary education or interdisciplinary studies.
A final consideration concerning your educational needs involves where and how you will be able to take your classes. Fortunately, Roane State has campuses at several locations around the western edge of East Tennessee and the eastern edge of Middle Tennessee (aka, the greater Cumberland Plateau Region). Along with their main campus in Harriman, Roane State has campuses located in Oak Ridge, as well as Campbell, Cumberland, Fentress, Knox, Loudon, Morgan, and Scott counties.
Additionally, alternative course times and delivery methods (such as online) further improve your chances for creating a class schedule that will meet your needs. Roane State's Finish Faster initiative aids time-crunched students by, "offer[ing] classes one-day-a-week, two-days-week, in the mornings, in the evenings, online and on weekends."
Know then that – whatever your unique set of circumstances – Roane State probably has an option that will help you achieve your educational goals.
The decision to return to college is monumental and decidedly life-altering. You need not be overwhelmed when considering your options. Roane State Community College provides its students with a wide variety of career and degree options, all of which can be completed in a relatively short timeframe through flexible scheduling and alternative course delivery methods.
Do not let anything hold you back from furthering your education. Perhaps Roane State is just what you need to start fresh and be transformed. I encourage you to remember the wise and encouraging words a young student once shared with this 46-year-old father of three: "You've got this!"
If you wish to learn more about any RSCC's programs – or other benefits of attending Roane State Community College – please visit their website at: www.roanestate.edu.
Shawn D. Van Horn, 46, of Harriman is completing his bachelor's degree in interdisciplinary studies at Tennessee Tech, a program offered on Roane State campuses. A married father of three, Shawn returned to school at Roane State at age 42 to improve his career opportunities. His next goal is to finish a graduate degree.