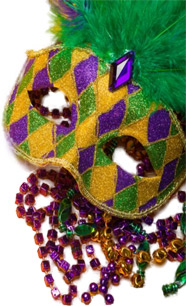 Join us and celebrate New Orleans style! Local restaurants, community groups, and individuals compete in a gumbo cook-off for a cash prize! The winners are decided by crowd voting after thorough tasting! RSCC musicians provide entertainment, and our costume contest and march round out an evening of fun!
Tuesday, February 26, 2019
5-7pm at The Princess Theatre
Admission at the door is $10/person or $15/couple, includes food & drink, music, costume contest, and a King & Queen march and more!
Ticket sales benefit Choir Tour 2019.
Mardi Gras Masquerade - Gumbo Contest Instructions
You must provide
Entry fee
$25 cash delivered at the event
All entry fees combined make the prize
Gumbo
At least 2 gallons of gumbo, your style!
Ingredients
A printed list of ingredients for tasters
Heating elements
Crockpots, catering pans/gel flame, etc.
Serving Ware
Ladle or large serving spoon
Server
At least one person to man your table and serve your delicious gumbo throughout the event!
We will provide
Serving table with plastic cover
Staff to organize tasters
Access to electricity
Tasting bowls and spoons
Voting tickets
Jars/bowls to collect voting tickets
Consider
Set up and tear down
Set up is open from 4-5pm, public doors open at 5pm, teardown must be finished by 8pm.
Style
Classic or a twist can win the competition. Be creative and represent yourself!
Advertising
Space will be available at your table for free advertising, including take out menus, coupons, brochures, freebies, etc.
Invite your supporters
Stack the votes your way by inviting lots of supporters from your family, organization or community!
© Roane State Community College
Roane State Community College does not discriminate on the basis of race, color, religion, creed, ethnicity or national origin, sex, disability, age, status as protected veteran or any other class protected by Federal or State laws and regulation and by Tennessee board of Regents policies with respect to employment, programs, and activities.​​​​​​​ View full non-discrimination policy.