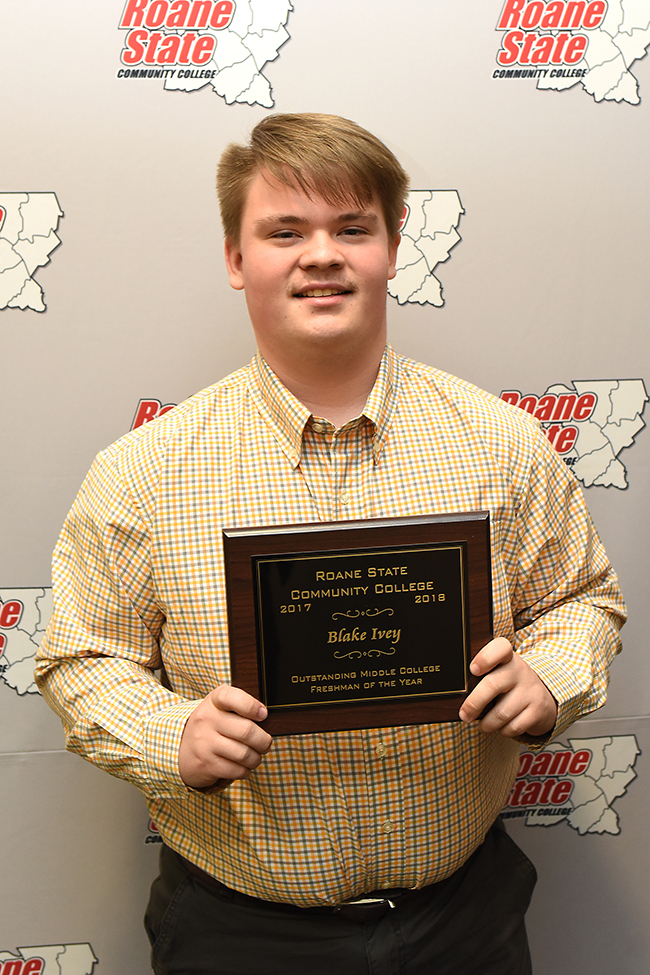 Blake Ivey won multiple awards at Roane State's annual Awards Night, including Middle College Freshman of the Year.
June 4, 2018
By Bob Fowler
Roane State staff writer
LaFOLLETTE, Tenn. – A natural-born high achiever and leader, Stephen Blake Ivey (he goes by Blake) is well on his way to achieving his ambition of becoming a cardiologist.
Blake, who turns 17 in June, has already racked up numerous awards and scholastic recognitions, and he credits Roane State Community College's Middle College program for many of his accomplishments.
"Middle College is the best decision I've ever made, and Roane State has changed me into a different person," he said. "I can't thank Roane State enough for what they've done."
Enrolling in the two-year-long Middle College program – where high school juniors start attending Roane State courses in the mornings and return to their high schools in the afternoons – has helped him mature, he said.
"This whole year, I've grown a lot," he said of his first year of Middle College. "It's a lot of hard work, I can tell you, but I guess you kind of get used to it."
That work paid off with an exceptional 4.0 Roane State grade-point average after taking courses including pre-calculus, art appreciation, algebra and chemistry.
Blake said his Chemistry II teacher, Steve Ward, "is one of the best teachers I've ever had. He explains himself very well during lectures and makes class unique and fun."
This summer, Blake is signed up for two intensive, back-to-back, five-week-long classes in organic chemistry at Roane State.
He already had a long list of achievements before starting Middle College. He's been named president of his high school class four years in a row and has won three statewide 4-H awards. He's also on the Campbell County High track team.
After his first year of Middle College, Blake attained the President's List and Dean's List recognitions, as well as the Dr. Anne P. Minter Award for Chemistry. He was also named the Middle College Freshman of the Year.
Blake has also performed numerous public service duties, from working at a soup kitchen to making gift baskets for nursing homes and participating in efforts that benefit children of members of the military.
"I like to keep busy," said Blake, the son of Melissa Ivey of Jacksboro.
After he graduates next May from both Roane State and Campbell County High School, Blake intends to transfer to the University of Tennessee-Knoxville and continue his studies. If he stays on track, he'll have his bachelor's degree by the time he's 19 and be headed to medical school.​
To learn more about Middle College, visit roanestate.edu/middlecollege or contact Middle College coordinator David Lane, (865) 354-3000 ext. 4223 or lanedr@roanestate.edu.