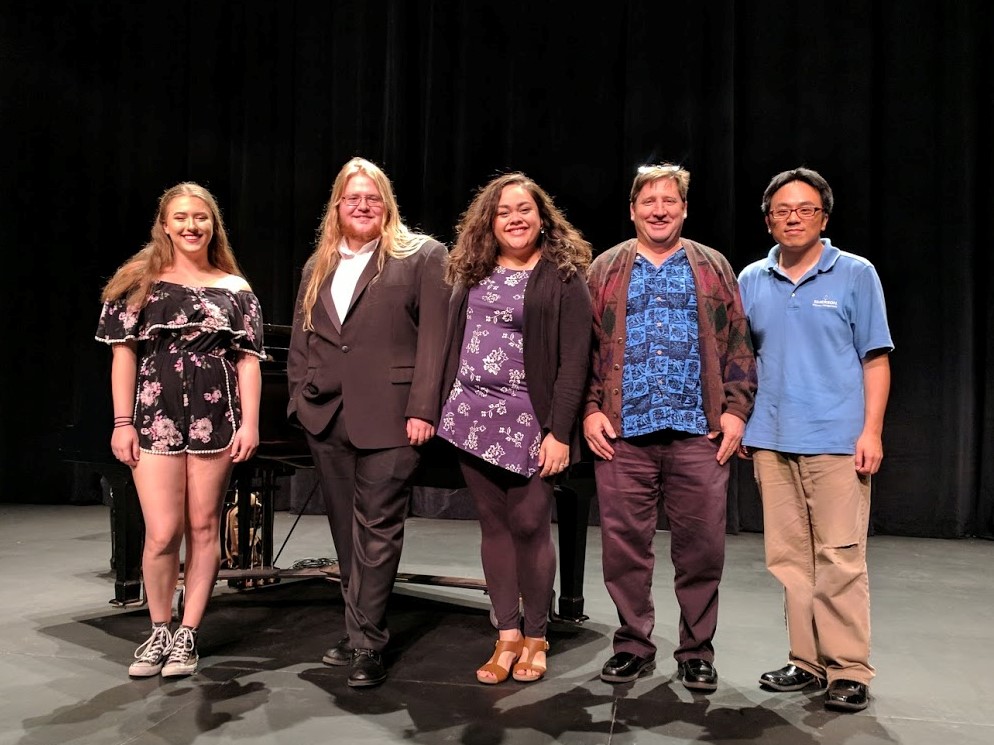 From left, Roane State students Cheyenne Baughman and Bryson Booth participated in a master class with noted performer and Roane State alumna Robyn VanLeigh, accompanied by pianists Dr. Geol Greenlee and Dustin Lin.
Nov. 21, 2018
By Bob Fowler
Roane State staff writer
A former Roane State music student, now a performer with the Utah Opera and an instructor of Musical Theatre, recently returned to her roots to offer a master class for a select group of current and former Roane State students.
Robyn VanLeigh was the instructor for what's called the Solo Class Guest Master Class, said Roane State Music Professor Brenda Luggie.
VanLeigh took lessons from Luggie during her Roane State career and transferred to University of Tennessee where she received a bachelor's degree with Marjorie Bennett Stephens as her voice teacher.
She completed her master's degree in vocal performance from University of Utah with instructor Julie Wright Costa.
"While a student, she won regional vocal competitions, performed in several staged productions and sang recitals and guest master classes," Luggie said.
She said VanLeigh during the special class instructed freshman soprano Cheyenne Baughman, sophomore tenor Bryson Booth and former student Clayton Scarborough, a tenor. Music Department coordinator Dr. Geol Greenlee and staff member Dustin Lin accompanied on piano.
"A master class allows students to perform a prepared solo for a small audience of other class members and faculty," Luggie said.
Students then use written and verbal comments from the instructors to apply those suggestions in a repeat of the solos. "All of this is done for the audience of their peers, making it as valuable to be the audience as it is to be the performer," Luggie said.
"Student performers and audience members were very receptive to her (VanLeigh's) approachable style and impressive solo performance of the opera aria 'Chi il bel sogno di Doretta' from Puccini's La Rondine at the end of class," Luggie said.
She said VanLeigh was only the second Roane State alumna in recent years to be a guest master class instructor. Jessica Watson, the Outstanding Music Department Alumni winner in 2018, gave a singer/songwriter class several years ago.
Amanda Peavyhouse, 2014 Outstanding Music Department Alumni winner and an adjunct Roane State faculty member, voluntarily instructs in Solo Class each week, Luggie said.​
© Roane State Community College
Roane State Community College is a TBR and AA/EEO employer and does not discriminate against students, employees, or applicants for admission or employment on the basis of race, color, religion, creed, national origin, sex, sexual orientation, gender identity/expression, disability, age, status as a protected veteran, genetic information, or any other legally protected class with respect to all employment, programs and activities sponsored by Roane State. View full non-discrimination policy.