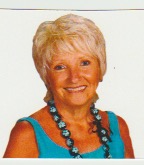 Peggy Fragopoulos
Jan. 14, 2019
By Bob Fowler
Roane State staff writer
CROSSVILLE – A Roane State adjunct professor has written a novel that's a mystery with a science fiction twist.
Peggy Fragopoulos, who has taught English composition and literature classes at the community college's Cumberland County campus since 1990, said the book is titled "VoiceTraks: Cold Case Abduction."
It's the story of Dr. Jason Benson, a brilliant scientist in Tennessee Tech's Physics Department and his quest to solve the baffling disappearance five years earlier of his wife and their unborn child.
Fragopoulos demurred when asked to reveal plot line details because "it's an exploration for the reader as well," but the novel's cover offers clues: It depicts the outline of a restrained female form inside what appears to be a cave.
"The topography of the Upper Cumberlands is of importance," she hinted. The area that includes Crossville and Jamestown is pockmarked with numerous caverns.
Fragopoulos said the 265-page self-published novel is available on Amazon, and she'll be signing copies from 11 a.m. until 1:30 p.m. on Feb. 8 at the Art Circle Public Library, 3 East St., Crossville.
It's not Fragopoulos' first venture in writing. She also published "Bashful Brother Oswald," the biography of Pete Kirby, one of the musicians with Roy Acuff and "The Smoky Mountain Boys."
Kirby, whose nickname was the bio's title, was married to Fragopoulos' oldest sister and played the banjo, Dobro and guitar, performing in the Grand Ole Opry in Nashville for some 50 years. "I told him he had too many good stories, and he needed to write them down. He said I should do that instead," Fragopoulos said.
She has also published a motivational book, "Something Different, Yet the Same," which contains a year's worth of what she called "thoughts for the day."
Fragopoulos, who has taught in public schools for 43 years, including five years in Greece, won nine national grants to study at different universities and has two master's degrees.
"I really enjoy teaching at Roane State," she said. "I've been treated very professionally and I appreciate the caliber of the students. They're very respectful and I have a good relationship with them."
"I enjoy teaching literature the most because it gives the pulse of the people and you can better understand the times that are described."
Fragopoulos said it took her quite a while to write the novel, partly because life's interruptions intruded at times. When she would resume her efforts, "I'd look at what I'd previously written and think, 'That sounds pretty good.'"
"I knew what the end of the book would be when I started writing it," she said. "I just had to fill in what was in between."​