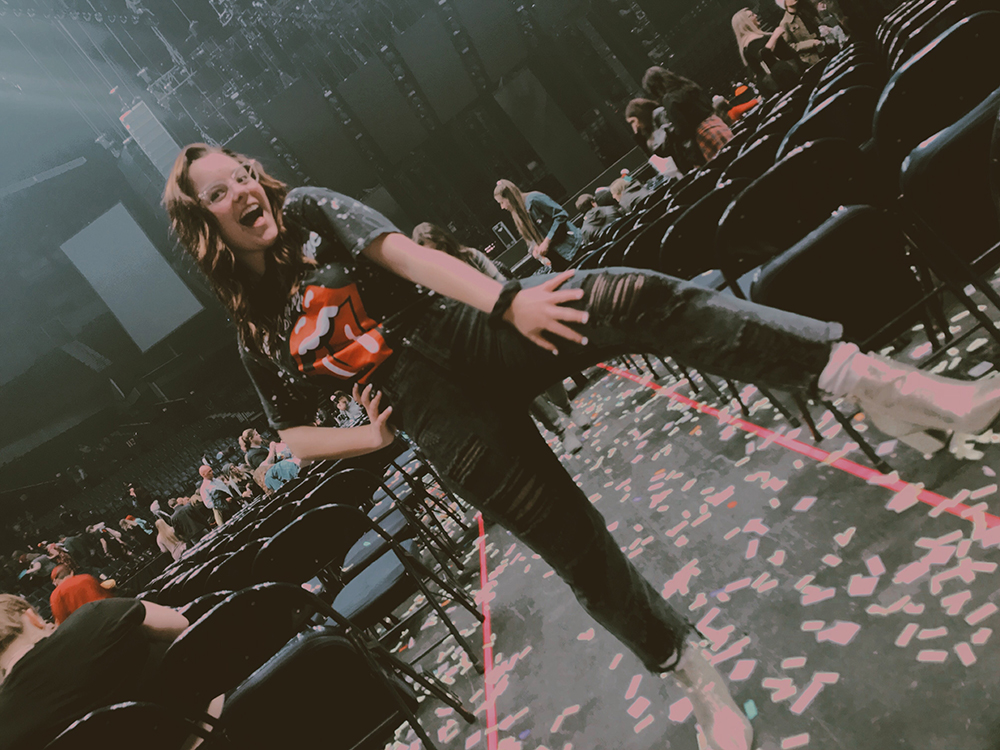 Emma Chloe Barger
April 10, 2019
By Bob Fowler
Roane State staff writer
Striding down the hallway in blue, high-heel shoes, white pinstripe suit jacket and a black flair-bottom jumpsuit with a halter neck, Emma Chloe Barger doesn't dress like the typical Roane State student.
That's by design.
Emma is a clothing connoisseur with an inventive imagination and whimsical fashion sense that's showcased in her Instagram account: eccentricchloe.
"When she told us about her Instagram account about fashion, I thought it was very interesting," said Roane State Associate Professor Matt Waters. "I'd never heard of a student doing something quite like that." Emma is taking Waters' course titled Special Topics in Camera Production.
While she typically wears what appear to be upscale, pricey fashions, they're usually treasures discovered in thrift stores; from Goodwill stores to The Daily Bread, a thrift shop in Spring City where she lives.
Independent thrift stores in small towns tend to have the most clothing gems, she said.
Emma, 18, loves mixing and matching outfits and trying them out. "I like colors and prints," she said. "I'll throw stuff together and see if it works, and if it does, I'll wear it and see how people react."
She said during her sophomore year at Rhea County High School, "I went the entire year not wearing the same outfit twice."
While in high school, "I was known for my clothing. Some people looked forward to me coming to school and seeing what I'd be wearing that day." Some comments about her fashion style "weren't so nice," she said, while most students expressed admiration.
Her clothing earned her high school yearbook accolades as "most fashionable" and "most original."
The youngest of five children of Craig Barger and Raquel Wise, Emma hopes to one day break into the creative, high-pressure fashion business.
She's now in her second semester at Roane State, taking general requirement courses at the community college's Roane County campus, about a half-hour's drive from her home.
She still enlivens each day by donning different clothing styles, some of which she admits might be considered unusual. Even she occasionally agrees with that assessment. "I'll do a different outfit every day, from comfortable clothes to business attire."
Emma's interest in women's fashion started when she was about 10, she recalls, and included thumbing through "Seventeen" magazine for ideas. "There were these little weird outfits they put together."
Today, her interests have expanded to include checking "Elle" and "In Style" magazines for inspiration. She'll also go on social media sites like Pinterest and Instagram for ideas.
The closet in her bedroom is jammed with some of her attire, and her wardrobe has expanded into another room in her home.
Long-term, Emma said she wants to attend an art institute after she obtains her associate's degree from Roane State.
The community college has proven to be a good fit for her, she said. "I really like Roane State. I like that it's small and the teachers are personable. It's not hard to get help if you're having trouble with studies," she said.