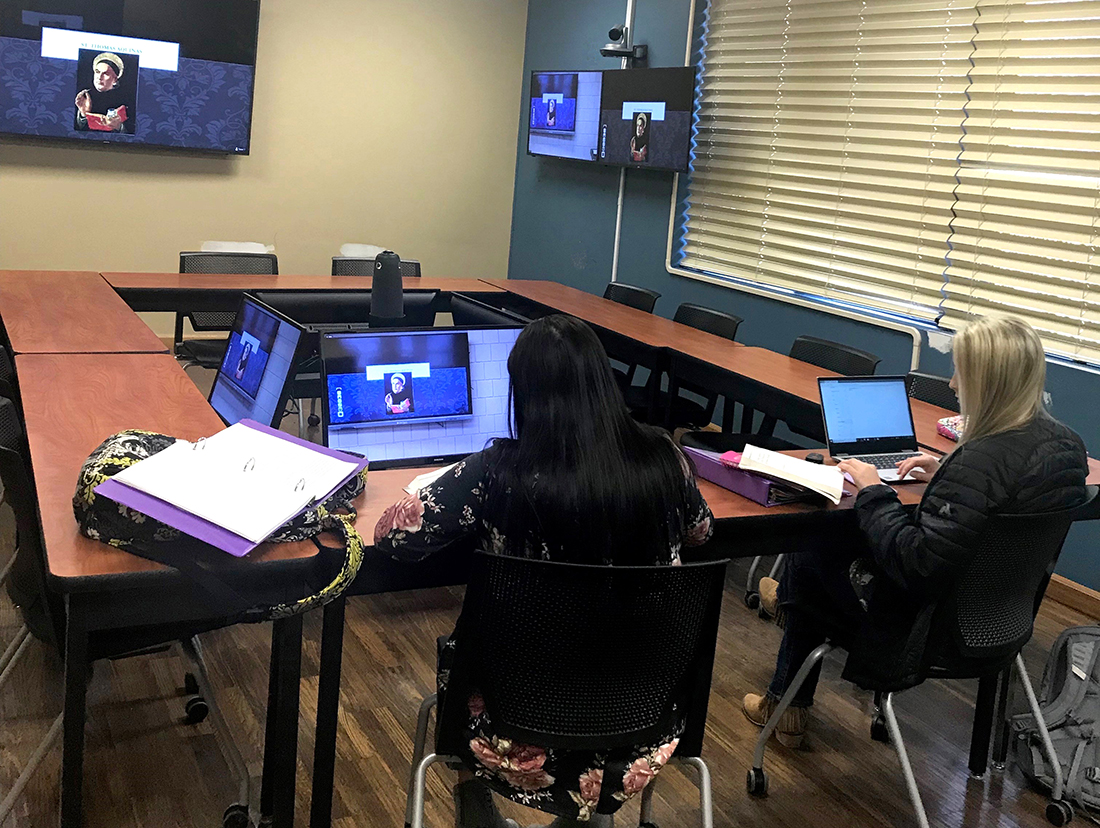 Students at Roane State's Scott County campus take a class using Zoom technology. A nearly half-million-dollar federal grant will allow Roane State to expand its use of Zoom technology to give students more access to classes.
May 22, 2019
By Bob Fowler
Roane State staff writer
Roane State has received a $496,888 federal grant to improve distance learning opportunities at three of the community college's most rural campuses.
For the 2018-19 academic year, Roane State invested in Zoom video conferencing technology to replace legacy interactive video systems at each of its campuses. The Zoom technology allows the college to broadcast a class from one campus to students at other locations. Rather than travel to a campus for a course, students can stay close to home and participate through live interactive video.
The Zoom technology, with its 360-degree cameras, created a more natural classroom experience than the college's previous distance learning system. Classes taught via Zoom can be easily viewed live on any device, and content can be seamlessly uploaded online for students to access on demand.
Through the Distance Learning and Telemedicine Grant, administered by the Rural Utilities Service of the U.S. Department of Agriculture, the college will be reimbursed for Zoom technology installed in Summer 2018. The grant will also pay for a second Zoom room at the Fentress and Morgan campuses.
Finally, the grant will enable installation of 86-inch interactive touchscreens and cameras in all standard classrooms at the Fentress, Morgan, and Scott campuses. The technology will turn any standard classroom into a collaborative room that can be connected to Zoom rooms and where class content can be easily recorded and made available online.
"I am proud of Roane State for continuing to increase access to postsecondary education by developing ways for technology to reach adults and others who need greater flexibility," Dr. Shelley Esquivel said.
Esquivel is Roane State's grants specialist. She coordinated the application process for the competitive Distance Learning and Telemedicine Grant, administered by the Rural Utilities Service of the U.S. Department of Agriculture.
A special Roane State Innovation Committee made up of faculty, students and technical staff members was created two years ago and explored different long-distance teaching methods before choosing Zoom.
The "Collaborative Connections" project will serve more than 500 current and prospective Roane State students and more than 100 high school students enrolled in the college's dual enrollment program.
"The adoption of Zoom conference technology and the redesign of the interactive classrooms significantly enhances the way synchronous distance learning is delivered to students at the college's more rural campus locations," Roane State President Dr. Chris Whaley said.
Total cost of the project is $582,726. Roane State and supporters of the college will contribute $85,838 as a cash match.
Roane State is a two-year college providing transfer programs, career-preparation programs and continuing education. Founded in 1971, the college has campuses in Crossville, Harriman, Huntsville, Jamestown, Knoxville, LaFollette, Lenoir City, Oak Ridge and Wartburg.
For more information, visit roanestate.edu or call (865) 882-4554.
Remember, eligible adults can now attend Roane State tuition-free with the new Reconnect grant. Learn more at roanestate.edu/reconnect.