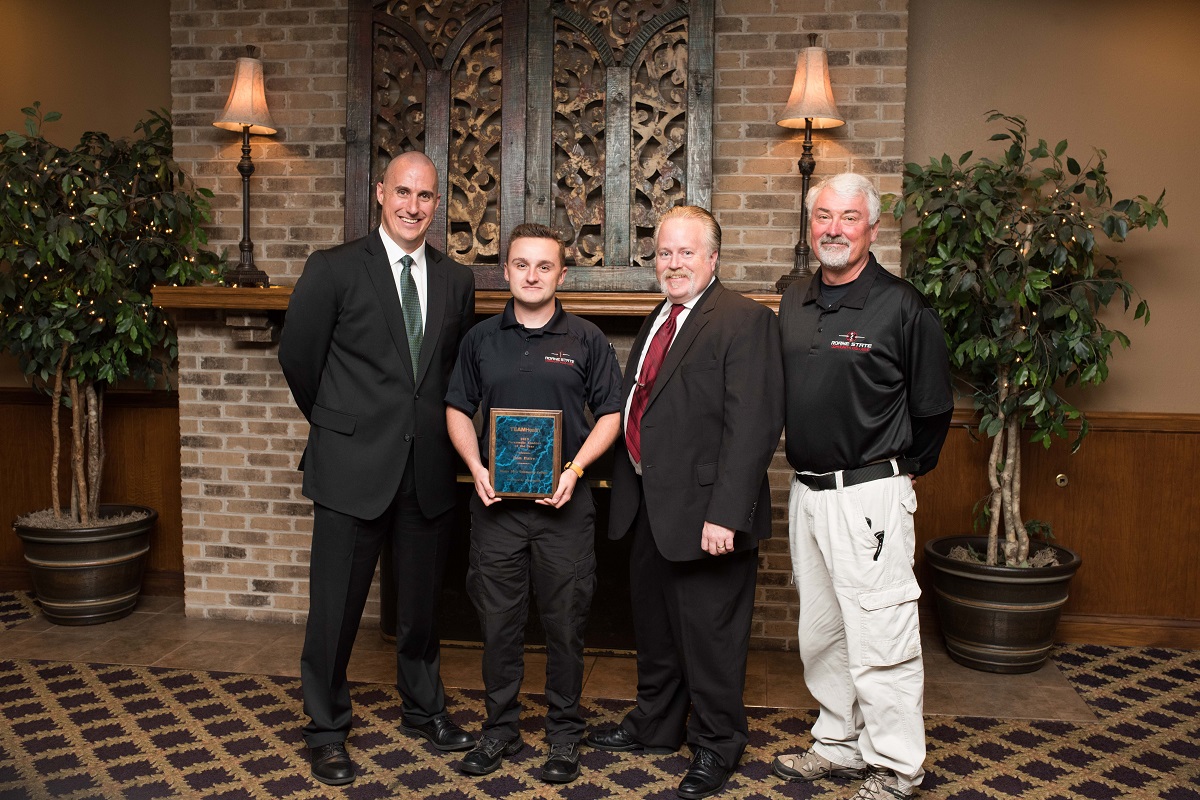 Donald W. Haire, second from left, is the latest "Paramedic of the Year" at Roane State Community College. Also pictured, from left: Roane State EMS Education Director David Blevins and instructors David Harrington and Mark Bodine.
August 26, 2019
By Bob Fowler
Roane State staff writer
A Roane State Community College tradition three decades old continued in July with the annual Paramedic Luncheon and the naming of the Paramedic Student of the Year.
His classmates selected Donald W. Haire of Loudon County for the award. Haire, 21, was a volunteer in the emergency healthcare field before enrolling in 2017 in Roane State's EMS program.
Haire called it an "outstanding privilege" to study and work with his colleagues during the challenging three-semester paramedic program at Roane State's Knox County Center for Health Sciences.
He works part-time at Priority Ambulance Service in Loudon County and intends to enroll this winter at University of Tennessee-Knoxville, with plans to become a physician. Haire was unaware that he'd won the award until it was announced during the luncheon.
"You've proven yourself," Roane State EMS Education Director David S. Blevins told the 11 graduates. "You've earned the right to call yourselves paramedics."
Blevins called paramedics "the special operations unit" of health care, saying they respond to medical emergencies in all types of conditions, from treacherous weather to unsafe roadways to cave rescues.
"You guys are the next generation….the leaders coming up," Blevins said.
Roane State President Dr. Chris Whaley congratulated the new paramedics, acknowledging the hard work they put in to achieve the designation.
Dr. Peter Kah, regional director of Covenant Emergency Services, said paramedics are a "greatly underappreciated group."
"This is a calling, and it's a really important one," he told the graduates.
Kah represented TEAMHealth, a hospital staffing firm based in Knoxville that has sponsored the twice-a-year luncheon for 30 years. The second cohort of paramedic students are scheduled to graduate in December.
The July 23 event was also something of a bittersweet occasion, Blevins said. It marked the last graduating class for paramedic instructor Mark Bodine after 25 years at Roane State.
Bodine, who is retiring, called the group "an exceptional class." At times, he acknowledged, paramedic students are pushed beyond their comfort levels to prepare them for the rigors of their profession. "I'm proud of all of you," he told the graduates. "I trust your abilities."
Haire's enlarged photograph will be displayed on the wall of the paramedic classroom for a year.
Information about Roane State's EMT and paramedic programs is available from Blevins, 865-354-3000, extension 4768, or blevinsds@roanestate.edu. Or, visit roanestate.edu/ems.
Roane State is a two-year college providing transfer programs, career-preparation programs and continuing education. Founded in 1971, the college has campuses in Crossville, Harriman, Huntsville, Jamestown, Knoxville, LaFollette, Lenoir City, Oak Ridge, Wartburg and Clinton.