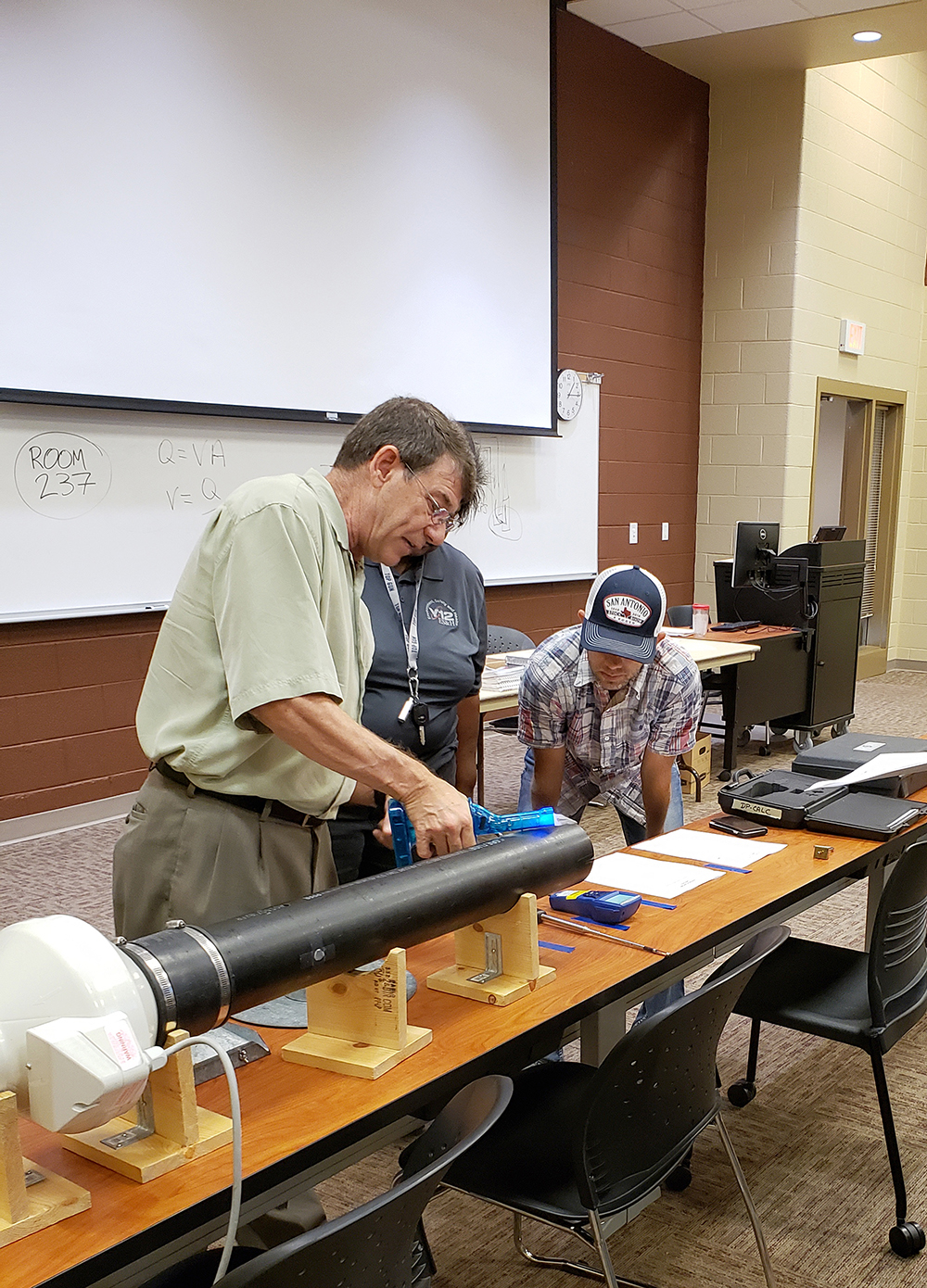 Industrial hygiene processes was one of the topics covered as part of a training partnership between Roane State and Y-12.
Sept. 6, 2019
By Bob Fowler
Roane State staff writer
Longstanding and varied partnerships between Roane State and the Y-12 National Security Complex in Oak Ridge entered a new phase this summer, and it may lead to a five-year funding opportunity for the community college.
Using an initial $41,000 in funding from the National Partnership for Environmental Technology Education (PETE), Roane State has been hosting and coordinating specialized training for non-bargaining unit workers at Y-12. The funding from PETE came from the National Institute of Environmental Health Sciences/Department of Energy (NIEHS/DOE) Nuclear Worker Training Program which provides hazardous related health and safety training to DOE workers and contractors.
PETE is a nonprofit formed to support training programs at community and technical colleges.
Classes emphasizing safety were conducted on Roane State's Oak Ridge branch campus, said Kirk Harris, the college's director of continuing healthcare and safety education.
Y-12 employees attended sessions that were specifically tailored to address site-specific topics. Harris said Roane State officials had earlier reached out to Y-12 executives and asked, "What are your needs?"
Classes in such topics as managing hazardous materials, hazardous wastes, and the fundamentals of industrial hygiene were conducted between May and late August, he said.
"We (Roane State) did all the management coordination to make the classes happen," Harris said.
He said as one example, 22 employees at Y-12 recently completed a 32-hour class in the basics of industrial hygiene. "Each class met custom needs of Y-12's employees using the same equipment and materials they encounter daily," Harris said.
Roane State contracted with an Ohio-based firm, Safex, for consultants there to provide the instruction. "They were really good," Harris said of the Safex employees.
Another consulting firm, Training Solutions out of Knoxville, was also involved in instructing Y-12 employees.
"This pilot program will hopefully lead to a grant application for a full five-year contract to provide worker health and safety training for Y-12," Harris said. An announcement of the grant award is expected in late 2020, he said.
Roane State is a two-year college providing transfer programs, career-preparation programs and continuing education. Founded in 1971, the college has campuses in Crossville, Harriman, Huntsville, Jamestown, Knoxville, LaFollette, Lenoir City, Oak Ridge, Wartburg and Clinton.
To learn more about workforce training options, contact Harris at (865) 354-3000 ext. 4784, harrisk@roanestate.edu, or visit roanestate.edu/workforce.