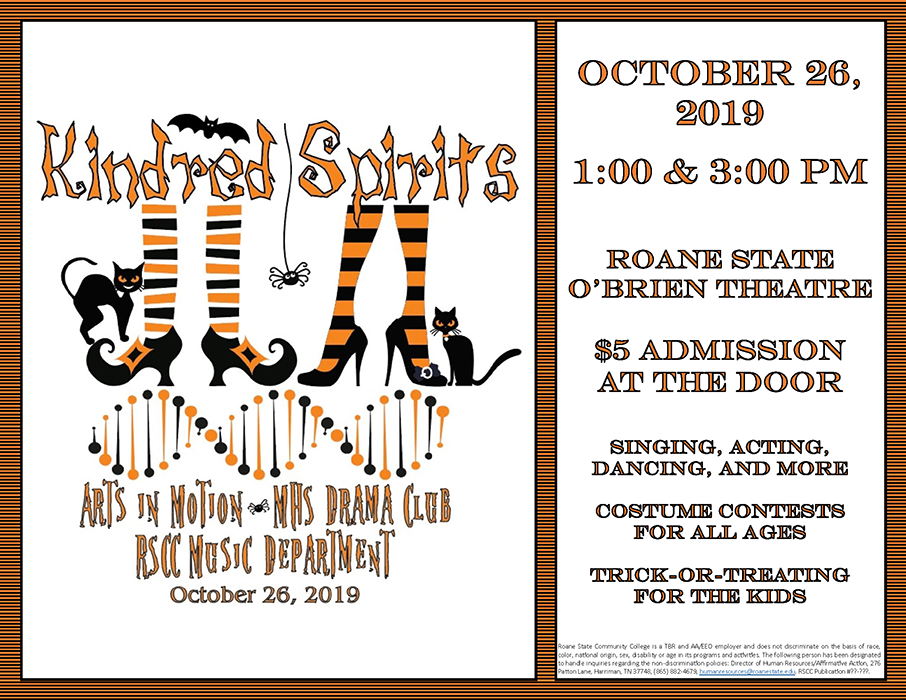 October 9, 2019
By Bob Fowler
Roane State staff writer
It's become a Roane State tradition and a beloved Halloween extravaganza.
It's the presentation of "Kindred Spirits," featuring a cast of more than 100. It's a popular family-oriented musical that brings three groups onto the O'Brien Theatre stage at the community college's Roane State campus.
The one-hour shows will be performed at 1 p.m. and 3 p.m. on Saturday, Oct. 26, and admission is $5 at the door. Roane State Music Professor Brenda Luggie calls it "a fantastic bargain and a great afternoon out for the whole family!"
The campus is at 276 Patton Lane, Harriman. It's the eighth annual presentation of "Kindred Spirits", a partnership of local arts organizations and professionals.
Performances feature the Arts in Motion Dance Studios' dancers, led by Jennifer Venable Austin and Ashley Austin Parsons. Acting partners are Midway High School Drama, led by Courtney Minton, who will also direct Roane State's "Barefoot in the Park" this fall, and Elizabeth Rose, principal of Cherokee Middle School in the Roane County School System and a professional storyteller throughout the region.
Roane State Music Department participants include the Concert Choir and Celebration Singers, under Prof. Luggie's direction, and the Roane State Stage Band, directed by Rockwood High School Band Director and RSCC adjunct professor Chris Metcalfe and led in the performances by Roane State Music Professor Dr. Geol Greenlee.
"As always, costume parades for all ages are included in the show," Luggie said, "and trick-or-treating with the cast follows each performance."
Here's the plot: The "Twisted Sisters," (Rose and Minton) who first appeared in last year's shows, are researching their family heritage. The sisters are using the DNA testing service "Creepy 3 and Me," and "the results take them on a wild ride through time, from the origins of fire to the popular showstopper ending, 'The Time Warp,'" Luggie said.
© Roane State Community College
Roane State Community College is a TBR and AA/EEO employer and does not discriminate against students, employees, or applicants for admission or employment on the basis of race, color, religion, creed, national origin, sex, sexual orientation, gender identity/expression, disability, age, status as a protected veteran, genetic information, or any other legally protected class with respect to all employment, programs and activities sponsored by Roane State. View full non-discrimination policy.