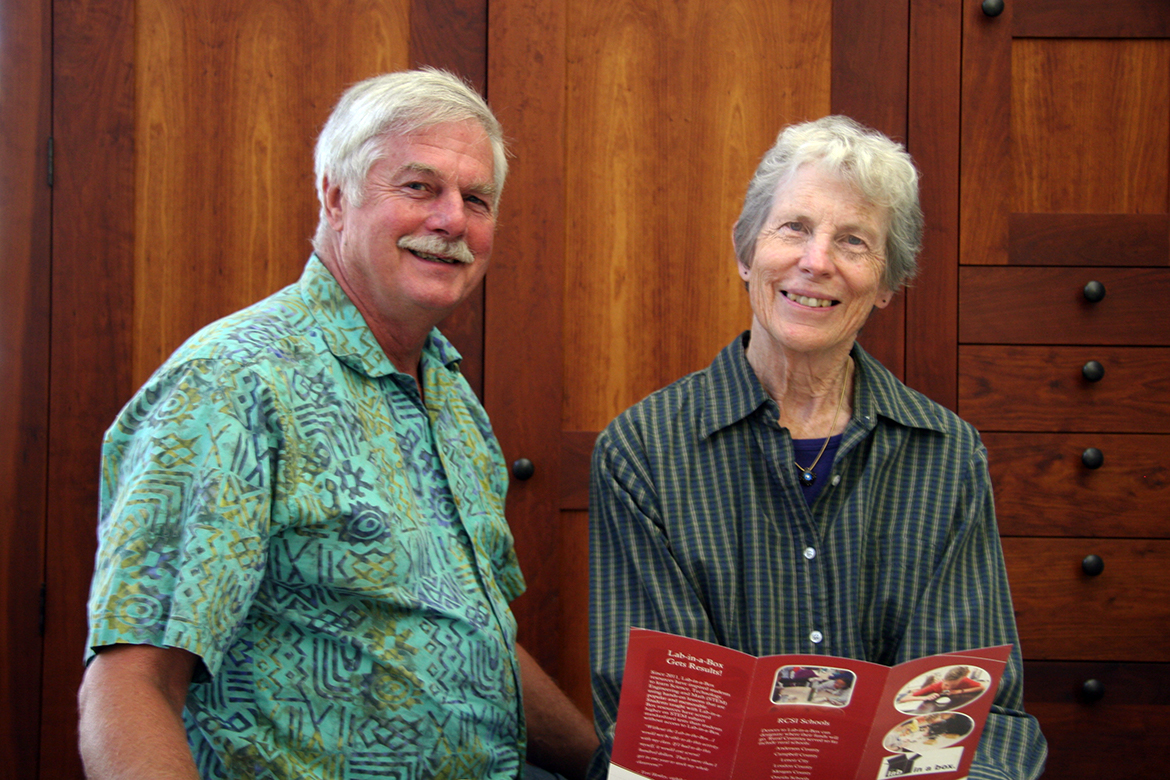 Jeanne and Neal Richardson have been supporters of Roane State and the Lab-in-a-Box initiative for years.
Oct. 17, 2019
By Bob Fowler
Roane State Staff Writer
Morgan County's Jeanne and Neal Richardson are helping to provide the innovative "Lab-in-a-Box" educational kits for the middle schools in their county, and Roane State is a major partner in the program.
"I want to challenge the residents of the counties served by the Lab-in-a-Box program to help their schools acquire the boxes now developed and provide funding for the acquisition of replacement parts and supplies for each box," Jeanne Richardson said.
Labs-in-a-Box are large plastic bins filled with numerous materials for teachers to educate their middle school students about various sciences, from the physics of friction to deciphering the ancient stories told in fossils, to building and operating 1,000-piece robots.
In addition to the materials, the college professors who helped design the kits provide training to the teachers.
"When I learned about Lab-in-a-Box, I decided I wanted to help," Jeanne Richardson said. "I think it's a great thing when students are actively involved in learning."
Jeanne Richardson is a retired botanist who was a Junior Girl Scout Leader for girls in the fourth through sixth grades in the Lancing/Wartburg area of Morgan County. She has done raptor programs with live birds by request at schools mostly in Scott County and was a facilitator at teacher in-service training in Morgan and other counties for Project CENTS (Conservation Education Now for Tennessee Students).
Neal Richardson, now retired, was the principal architect with Upland Design Group in Crossville. He now raises registered Black Angus cattle and helps the Morgan County Cattlemen's Association with many charitable programs including scholarships and funds for 4-H camp.
The Richardsons have also boosted Morgan County and Roane State through the Neal and Jeanne Richardson Scholarship, which goes annually to nontraditional students in Morgan County, and by giving every third grader in the county their own encyclopedic dictionary.
The Lab-in-a-Box program was developed in 2010 and is part of the Rural Communities STEM initiative. That's a business-and-education partnership working with area school districts to provide hands-on learning tools in STEM (Science, Technology, Engineering and Mathematics) subjects.
Barry Stephenson, president and CEO of MCLinc, (Materials & Chemistry Laboratory Inc.), and a Roane State Foundation member at the time, brainstormed the initiative.
The cost of each Lab-in-a-Box ranges from $1,000 to $1,500. The Richardsons have contributed funds to help provide a robotics box to all five Morgan County middle schools.
Along with robotics, fossils and friction kits, other science topics are being considered for Labs-in-a-Box. "We would welcome ideas and partnerships for future boxes," said Roane State Assistant Chemistry Professor Dr. Sylvia Pastor, who has been deeply involved with the college's role in the Lab-in-a-Box program.
Pastor and other Roane State educators go to rural middle schools within the community college's service region and show teachers how the Labs-in-a-Box can be used to instill a love of science in their students.
Jeanne Richardson attended one recent Morgan County workshop where middle and high school students instructed the teachers in assembling a robot.
"I was impressed by the middle and high school students who led the training for the robotics box," she said. "They provided clear instructions and answered all questions, but also let the teachers work at their own pace and learn from their own mistakes. When some parts were difficult to attach, the students explained that they have also learned how they need to change the design of the robotics pieces to make assembly easier."
Pastor said there are 27 middle schools in the rural counties within the Roane State service area.
To date, 51 Labs-in-a-Boxes have been distributed, and 30 more are needed, including four in Anderson County, two in Campbell County, two in the Lenoir City School System, three in Loudon County, two in the Oneida School System; eight in Roane County and three each in Morgan and Scott counties.
Major donors in the past have included MCLinc, the Bosch Community Fund, UT-Battelle, the contractor that operates Oak Ridge National Laboratory; and numerous corporations and individuals.
The Roane State Foundation supports the college with capital projects, equipment, educational programs and scholarships. For more information or to make a gift to support Roane State students, visit roanestate.edu/foundation, email Foundationdept@roanestate.edu , or call (865) 882-4507.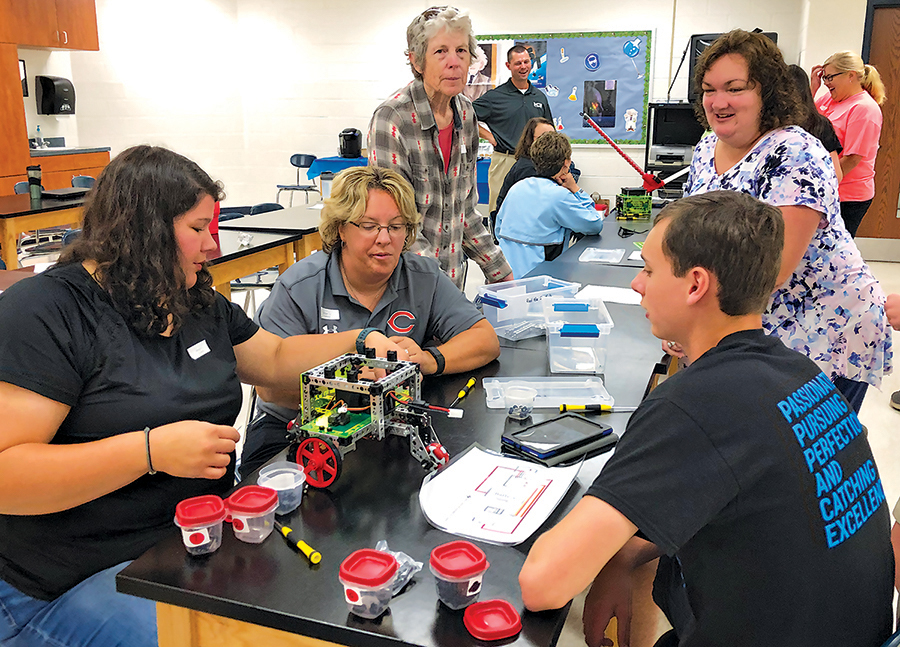 Students teach Morgan County middle school educators how to use the innovative "Lab-in-a-Box" kit for robotics during a recent workshop. Jeanne Richardson, standing at left, and her husband Neal Richardson, have provided funds for several kits.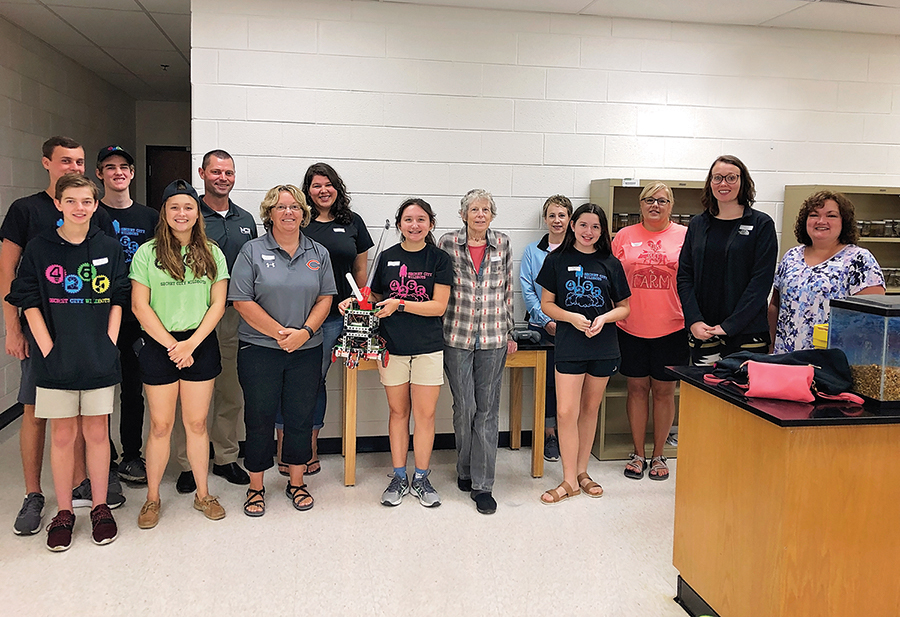 Morgan County middle school teachers and students who helped the educators become acquainted with the "Lab-in-a-Box" robotics kits are pictured following a recent workshop. Also pictured in middle wearing a long-sleeve shirt is Jeanne Richardson, who with her husband, Neal Richardson, have provided funding for the robotics "Labs-in-a-Box" for Morgan County middle schools.