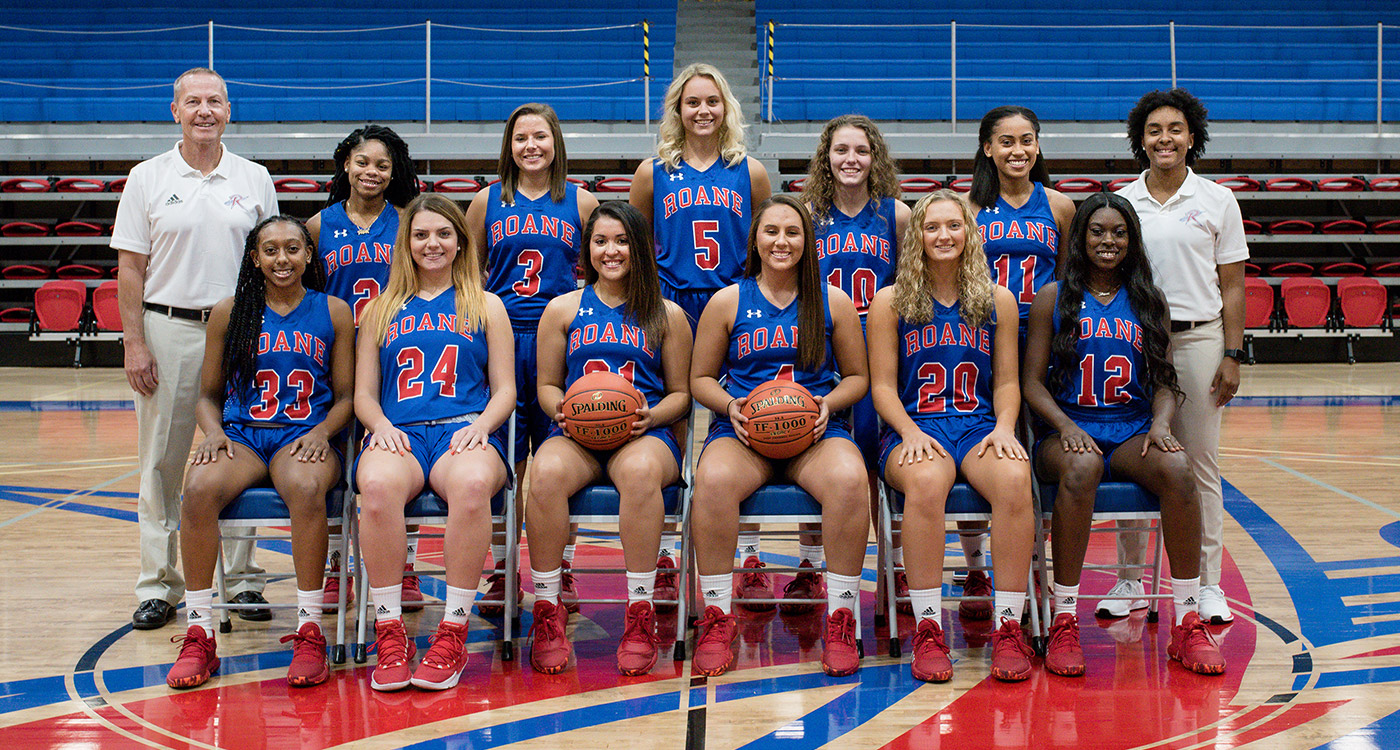 Shown are the Roane State Lady Raiders, who will be playing their second home game on Wednesday, Nov. 13. Front row, from left: Laprasia Ward, Riley Guillemet, Paige Gentry, Christina Pack, Sara Mikels and Mykeia McCullough. Second row, from left: Coach David Harnish, Naomi Jefferson, Rebecca Lemasters, Sydney O'Leary, Nicole Jones, Kiara Inman, and assistant coach Angel Allen.
Oct. 23, 2019
New Lady Raiders head coach David Harnish has his work cut out for him, but four returning players will help out.
Harnish took over as coach of the team after longtime coach Monica Boles stepped down at the conclusion of the 2018-19 season to return to teaching full-time.
Hired early in August, Harnish said he missed the valuable opportunity to do some intensive recruiting of prospects, "but we'll make the best of what we have."
"We hope to compete game-by-game and get better every game," he said. The assistant coach is Angel Allen, who is just breaking into the coaching business. She played basketball for four years at Western Carolina University in Cullowhee, N.C.
Practice for the new edition of the Lady Raiders started Oct. 1, and the first scrimmage was Oct. 19 against Cumberland University in Lebanon, Tenn. "I'm very happy with the way the team competed," Harnish said, "but we've still got a long way to go."
The Lady Raiders will open their season Nov. 1-2 by playing in a tournament hosted by Walters State Community College in Morristown, and their first home game will be Nov. 5 against Bryan College, Dayton, Tenn.
Here's the lineup of players, starting with the four returners, and Harnish's comments about them:
Riley Guillemet, 5-foot, 10-inches, "is definitely our best shooter, especially from the three-point line. She should be our lead scorer and is the returning player with the most experience."
Lapraisia Ward, 5-8, "plays both ends of the floor very well. She defends well and is a good scorer."
Sara Michels, 5-11, "is our blue-collar worker. She takes care of the little things for us and is a great rebounder. She'll probably be our best inside scorer."
Mykeia McCullough, 5-11, "is a very athletic player for us and runs the floor very well. She'll give us scoring both inside and out and is a very good rebounder."
Christina Pack, 5-5, is also a sophomore but played softball instead of basketball for Roane State during her freshman year. "She's a hard worker and a tough kid who will battle day in and day out," Harnish said.
Freshmen:
Naomi Jefferson, 5-2, from Coffee High School in Douglas, Ga., "is very strong and handles the ball very well. She also sees the floor well and will be the on-the-court leader."
Kiara Inman, 5-5, from Hardin Valley Academy in Knox County, "should give us some scoring off the bench and some leadership in the guard position."
Rebecca Lemasters, 5-4, from Midway High School, "is a very good shooter and she'll be able to stretch the defense for us with her three-point shooting ability. She has a good feel for the game."
Nicole Jones, 5-4, from Clinton High School "is very scrappy and will help us with her energy and ability to penetrate the defense."