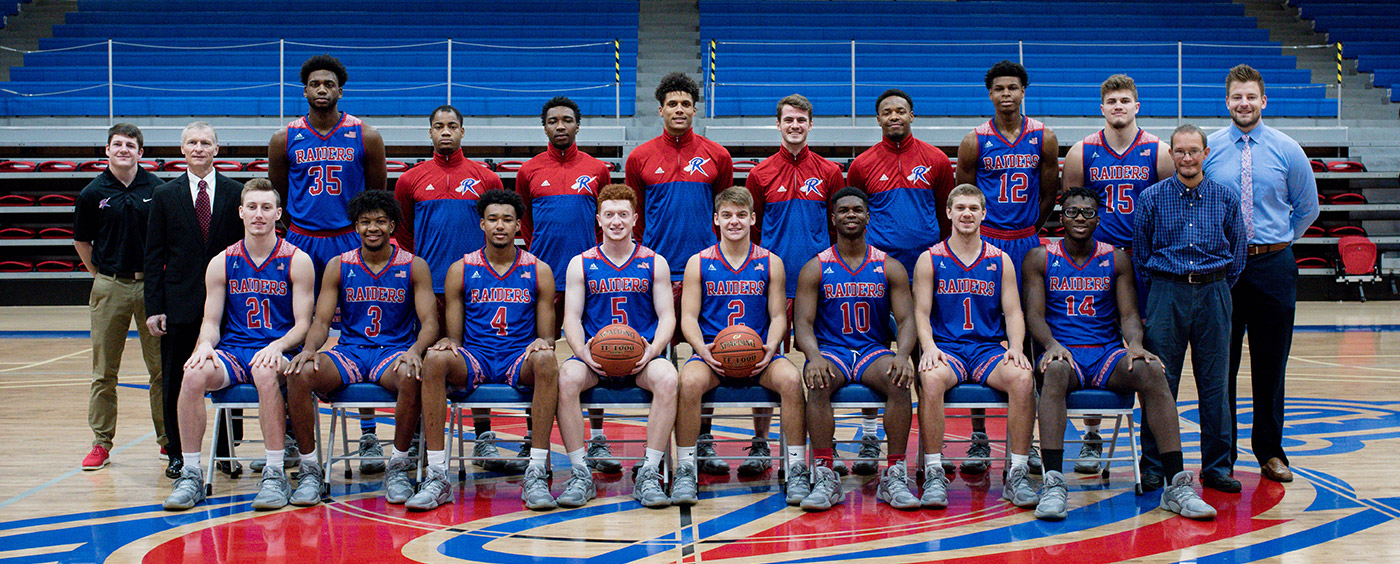 Pictured are the Roane State Raiders, who tip off their season opener at home on Nov. 13. Front row, from left: Isaiah Hobdy, Kavan Hill, Cameron Buchanan, Micah Fallin, Jacob Naylor, Jawaun Moore, J.C. Norris and Malachi Johnson. Second row, from left: student assistant Corbin King, Coach Randy Nesbit, Malachi Gayle, Zy Moore, T.J. Fullwood, Alec Kegler, Jonny Clow, Jaylen McCullum, Elijah Cobb, Austin McKeehan, administrative assistant Mike Elmore and Alan Holt, assistant coach.
Oct. 17, 2019
By Bob Fowler
Roane State staff writer
With 40 years of coaching under his belt and a network of high school and summer league coaches tipping him off to top-notch basketball players, Roane State Head Coach Randy Nesbit has high hopes for the upcoming season.
"We really hope to have a strong, strong season," said Nesbit, now in his 28th season as Roane State's head coach. "We had a very good recruiting class, with a nice blend of size, including three guys who are 6-foot, eight-inches or bigger who will play a lot. We also have very skilled smaller players." Alan Holt is the team's assistant coach.
The team started practice Oct. 1 and will begin its season in Florida, playing in tournaments against some of the top teams there. The Raiders return home Nov. 13 to face Motlow State Community College. The Lady Raiders also play that night, and officials are hoping fans turn out in droves to support the teams.

Here are Nesbit's comments about the players:
Kavan Hill is the only sophomore on the team and is the "heart and soul" of the squad. He stands 6-5 and is a small forward from Middle Tennessee Christian Academy in Murfreesboro. "He's a talented player in all respects and is one of the best rebounders in our league."

Jacob Naylor, a 5-11 point guard from Russellville High School in Kentucky. "He has a good skills package as far as dribbling, passing and shooting, and has the capability of making everybody around him better with his floor vision."
Jawaun Moore, a 5-11 two guard from West High School in Knoxville, "is a very stable, versatile player. He's very strong physically and makes good decisions."
J.C. Norris, a 6-1 two guard from Huntsville High School in Alabama, is "an outstanding shooter. He's a very tough, hard-nosed defender and a strong player overall."
Isiah Hobdy, a 6-4 small forward from Cross Plains, Tenn., graduated from East Robertson High School and is "deceptively athletic and has the potential to be a very good scorer."
Austin McKeehan, 6-6 from Newport, Tenn. graduated from Cosby High School and is a forward. "He's very powerful around the basket and moves well enough around the perimeter to defend smaller guys. He's trying to overcome knee issues, so it's uncertain how big a role he'll have."
Cameron Buchanan, 6-7 from Hillwood High School in Nashville, "is a potentially highly effective 3-point shooter and should help on the boards."
Elijah Cobb, 6-8 from Riverdale High School in Murfreesboro, is a forward. "He's thin but still a strong player going to the basket and is very athletic. He's a very good defender on the ball and will help out blocking shots."
Malachi Johnson, who plays post, is 6-8 and graduated from Stall High School in Charleston, S.C. He's a sophomore transfer. "He's a very powerful athlete and weighs 240 pounds. We expect big things from him."
Malachi Gayle, originally from Harlem in New York City, stands 6-10 and played his last year at Alpharetta High School in Georgia. "He has a 7-foot, 5-inch 'wingspan' and uses it well around the basket and defensively."
Micah Fallin, 6 feet tall, is from Cleveland High School in Cleveland, Al. "He's very gifted athletically and is potentially an outstanding 3-point shooter."