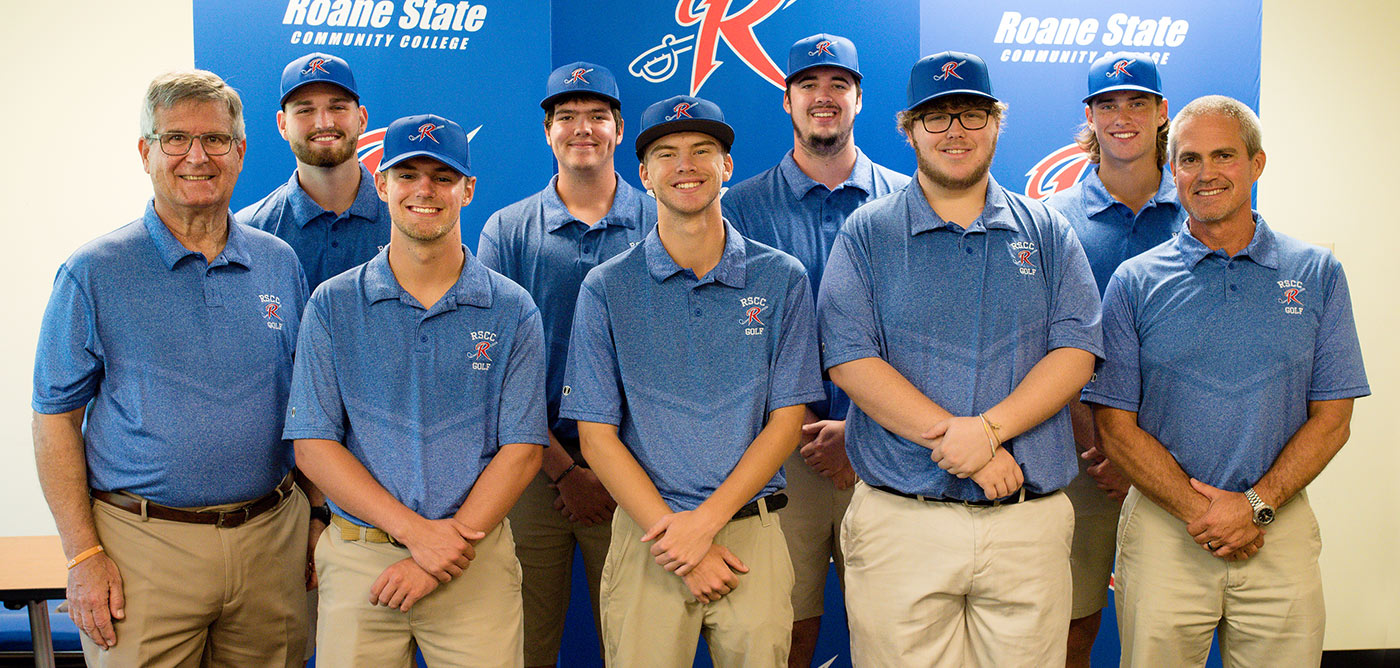 Coach Tony Wright, left, a retired scientist, is pictured with members of the Roane State golf team and Coach Chris Griffin. From left: Wright, Tyler Roller, Mason Haggard, Caleb Trentham, Brandon Jordan, Justin Neal, Mike Renner, Wyatt James and Coach Griffin.
Oct. 28, 2019
A retired aerospace scientist and a top-notch golf instructor are lending their expertise to the Roane State golf team as the eight-member squad strives to make it to the NJCAA national tournament, Coach Chris Griffin said.
That would be a first for the Roane State golf team, which was revived last year by Griffin following a lengthy hiatus after the golf team's heyday in the 1970s and 1980s.
Dr. Tony Wright, who retired as a senior scientist at Oak Ridge National Laboratory in 2011, is the putting coach and custom fitter/master club maker for the Roane State team, Griffin said.
He said Bower "Bo" Harris, recognized by the World Golf Team Federal as a "Top 100 Teacher," has joined the golf coaching staff as the player development coach.
"Both Tony and Bo have a passion to teach golf skills to our young men," Griffin said. "It shows when they work with them and hold them accountable for putting their golf instructions into practice drills and eventual actions."
Tony Wright also has a business titled "Game Improvement Golf" that helps golfers of all abilities to shoot lower scores through true custom club fitting and expert instruction and coaching in putting.
He is an Association of Golf Clubfitting Professionals (AGCP) Certified Level 10 custom club fitter. He has been recognized - in 2011, 2013, 2015, 2017, and 2019 - by Golf Digest as one of the best custom club fitters in the United States. He is a Certified Flatstick Academy Level 1 Putting Instructor.
Wright started Game Improvement Golf in 2006 and does custom fitting and putting instruction at the Centennial Golf Academy at the Oak Ridge Centennial Golf Course. He also provides golf club evaluation and advice for the University of Tennessee men's golf team.
Wright also shares valuable golf improvement knowledge each week with golfers who follow him from around the world. He does a weekly blog and podcast (with top golfers in the world), and a monthly golf improvement newsletter. His podcast – "THE Golf Improvement Podcast" - has been recognized as one of the Top 25 Golf Improvement Podcasts in the world.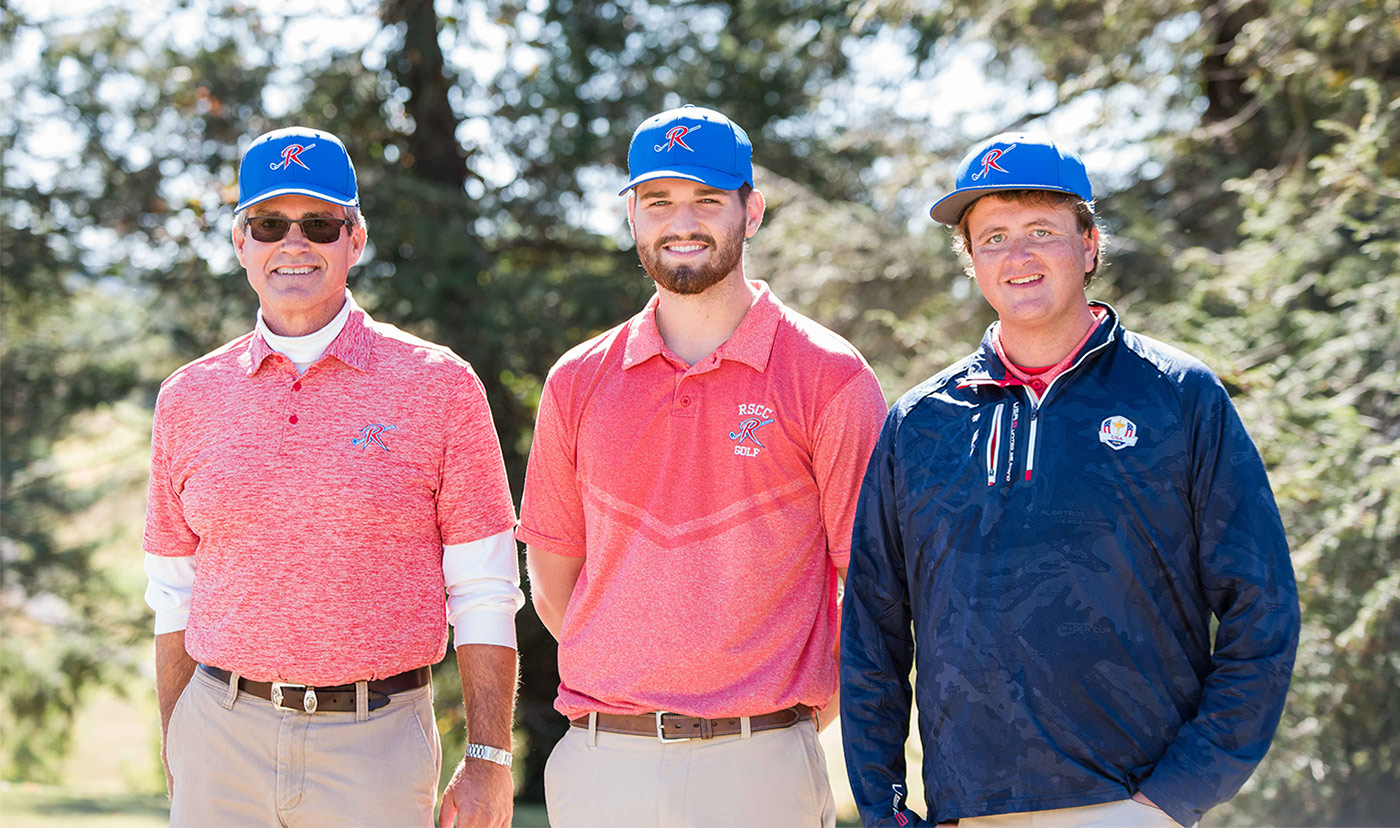 Bo Harris, at right, has joined the coaching staff for the Roane State golf team. From left: Coach Chris Griffin, RSCC golfer Tyler Roller, and Harris.
Bo Harris is an accomplished golf instructor who teaches out of Dead Horse Lake Golf Course in Knoxville. Harris has been an instructor since 2010 and has had success in producing outstanding junior players from the Knoxville area and beyond, Griffin said.
In 2010, Harris led Team Florida to four medals (two gold, one silver, one bronze) in the Special Olympic National Games. Harris began his teaching career locally with "The First Tee of Greater Knoxville" at Williams Creek Golf Course in Knoxville.
Subsequently, in 2015, Harris became the director of instruction at Williams Creek as he opened his award-winning Golf Academy until moving to Dead Horse Lake Golf Course in January. He has conducted more than 10,000 lessons and is currently teaching remotely in seven states and three countries.
Harris recently was awarded the 2019 USGTF Teacher of the Year and accepted this award in Phoenix, Arizona. He has also been recognized as a WGTF Top 100 Teacher. Bo has also established an elite winter program at Tennessee Sports Medicine Clinic in Knoxville that has trained hundreds of local/national high school and college players.
Harris has a B.S. degree in sociology Degree from UT-Knoxville and an associate's degree in Golf Management from Keiser University in Port St. Lucie, Florida. He has obtained eight teaching certifications including being one of only three Master Level Putting Coaches in Tennessee.