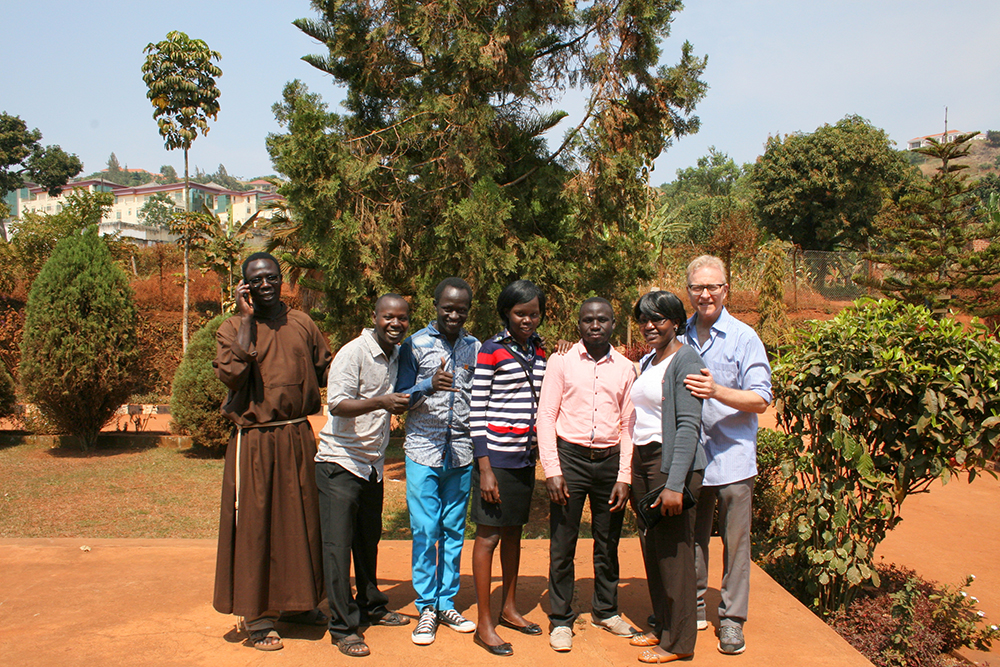 Richard Nesbit, at right, brother of Roane State Athletics Director Randy Nesbit, is shown with some of the residents of the African country of Uganda.
Nov. 1, 2019
While the Roane State Raiders and Lady Raiders have a doubleheader Nov. 13, fans can also help give young residents of Uganda an opportunity for an education, Raiders Head Coach Randy Nesbit said.
The Raiders currently support the local community through visits to the Harriman Boys & Girls Club and other ventures, Nesbit said, and "we are now jumping straight to a global cause."
"On Nov. 13, we will be looking to raise funds and support 'Let's Send These Kids To School,' a federally chartered 501(c) nonprofit organization that funds young people in the country of Uganda to be able to attend universities, trade schools and vocational schools."
Nesbit said LSTKTS is run by his older brother, Richard Nesbit of New York City. Randy Nesbit said his brother takes no salary and spent his own money to start the nonprofit.
To date, 11 Ugandan young people have benefited from the program, and it usually costs between $600 and $1,400 for a student "to achieve their dream of pursuing a successful education," Randy Nesbit said.
"The recipients are typically the first in their village to have such an opportunity, and then once they have gained their degree and fruitful employment, they then help others in their village to be able to take the same amazing, uncommon path," the coach said.
Randy Nesbit said his brother will have a display on the gym mezzanine floor on game night and will sing the National Anthem before the women's game, which tips off at 5:30 p.m. Richard Nesbit, whom his brother calls "one interesting and cool dude," will sing a patriotic song at halftime of the men's game, which starts at 7:30 p.m.
"We look for this to be a rousing success, giving more excited Ugandan youth a chance for an education that they never believed was possible."
For more information, visit www.lstkts.org.
© Roane State Community College
Roane State Community College is a TBR and AA/EEO employer and does not discriminate against students, employees, or applicants for admission or employment on the basis of race, color, religion, creed, national origin, sex, sexual orientation, gender identity/expression, disability, age, status as a protected veteran, genetic information, or any other legally protected class with respect to all employment, programs and activities sponsored by Roane State. View full non-discrimination policy.