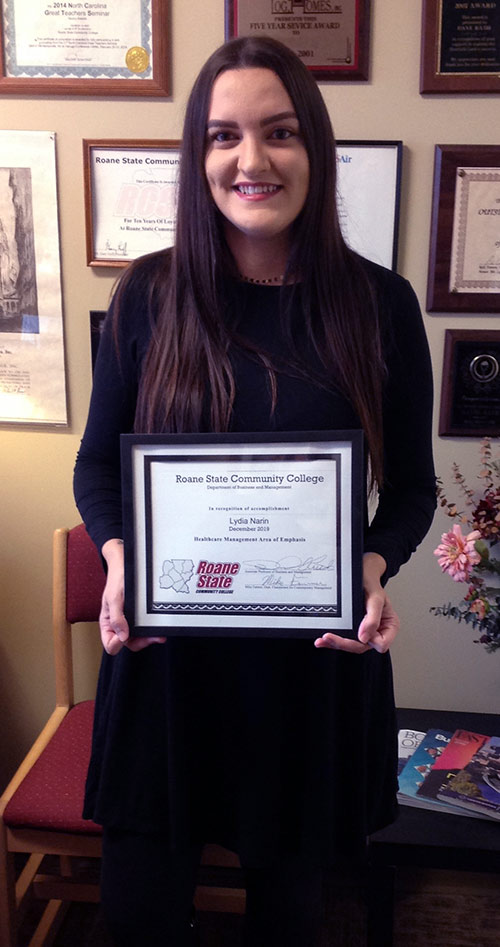 Dec. 6, 2019
By Bob Fowler
Roane State staff writer
This Tennessee Reconnect student persisted, making the hour-long commute to Roane State's Oak Ridge campus, taking online and night classes while caring for young children, to become the college's first student to attain a special degree emphasis.
"It's been a handful," Lydia Narin said of juggling childcare while going through a divorce and also studying to attain the college's AAS business degree with an area of emphasis in healthcare management; a program that was added just a year ago.
"Lydia has amazing tenacity and will be successful at anything she sets her mind to," said David Rath, a Roane State instructor in business.
Narin, age 27, credits Rath with making her aware of Roane State's new healthcare management program.
She graduated from Jefferson County High School in 2010 and landed a job as a supervisor at "Wilderness of the Smokies," an amusement park in Sevier County.
But she wanted a more challenging career and decided to enroll in Roane State after friends told her it's a "really good community college."
Narin said she likes the college's flexibility when it comes to class schedules, and she was able to go to night classes and take online courses to continue her Roane State studies.
She said she initially pursued the college's radiology program but decided it wasn't for her.
She was close to completing the requirements for an associate's degree when she changed directions after learning from Rath about the healthcare management program. During that time frame, Narin became eligible for Tennessee's Reconnect program, enabling her to continue her studies tuition-free.
After her graduation this month, Narin said she intends to enroll immediately in the Knoxville campus of King University and go for a bachelor's degree in healthcare administration.
Long term, she said, "I would love to get a position in the Administration for Children and Family Services."
Roane State is a two-year college providing transfer programs, career-preparation programs and continuing education. Founded in 1971, the college has campuses in Crossville, Harriman, Huntsville, Jamestown, Knoxville, LaFollette, Lenoir City, Oak Ridge, Wartburg and Clinton. For more information, visit www.roanestate.edu or call (865) 882-4554.
Remember, eligible adults can now attend Roane State tuition-free with the new Reconnect grant. Learn more at www.roanestate.edu/reconnect.