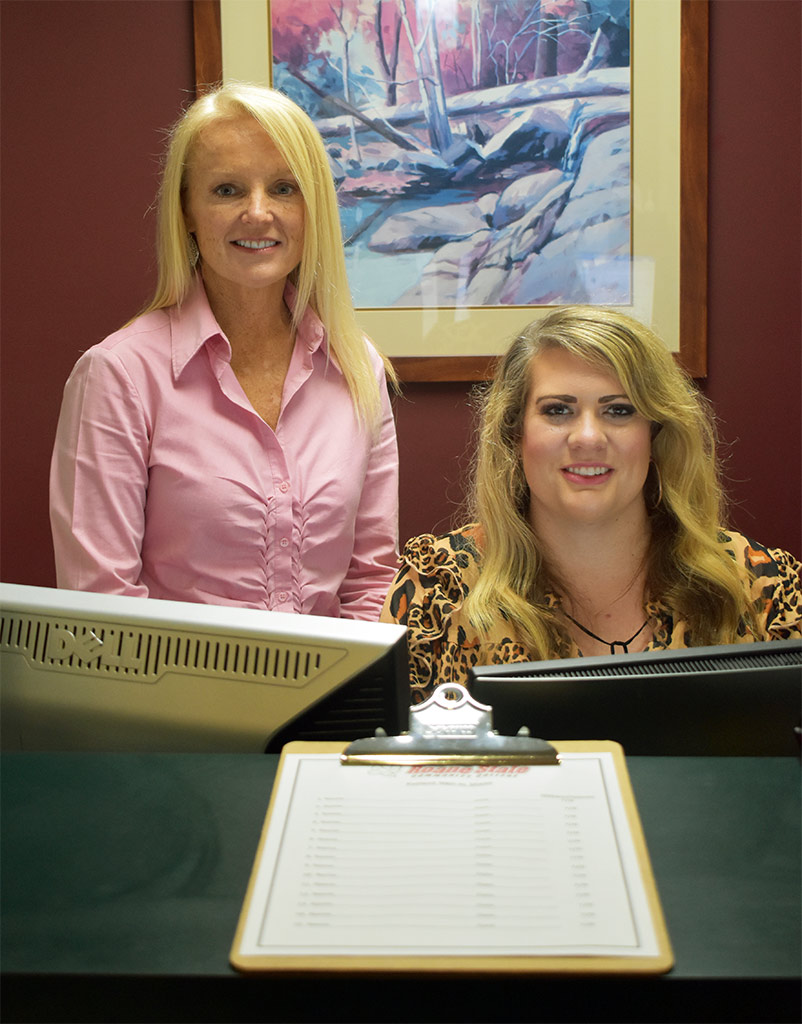 Roane State Dental Hygiene Program Director Melinda Gill, standing, and Natalie Schubert, dental hygiene clinic secretary, are shown in the reception office for those attending dental clinics at the community college's Oak Ridge campus.
Jan. 15, 2020
By Bob Fowler
Roane State staff writer
They are both educational and a community service.
They're the clinics offered by the dental hygiene program at Roane State Community College.
One clinic during fall and spring semesters at the college's Oak Ridge campus offers dental cleanings – including X-rays and screenings for oral cancer and periodontal disease – and costs $30, compared to the approximate $200 price tag for similar services in a dentist's office.
Those clinics are open to anyone and available Monday through Friday and are part of the curriculum for Roane State's highly selective dental hygiene program. The clinics have been offered at Roane State for more than 20 years, said Melinda Gill, program director.
The other clinic, called the Community Dental Health Clinic, is free and offered on three Saturday mornings each semester. "We have a large waiting list for services provided by the staff of volunteer dentists and dental hygienists, and our students," Gill said. Working with volunteers, "we have to juggle the different clinics to allow for different procedures based on which dentist is volunteering," she said.
"Some (patients) have been waiting for six months," said Gill, who launched the Saturday clinics when she came on board at Roane State eight years ago. "There's such a huge need."
During those Saturday clinics, services include dental cleanings, extractions and filling cavities. Dental hygiene students rotate through the community clinic to gain experience. "I wanted students to have real-life experiences as they transition from being a student to becoming a hygienist in private practice," Gill said.
While students learn during those clinics, Gill said she wants the patients to also become educated about proper nutritional health and how to prevent gum disease. "I want to educate the public on proper oral health, so we can prevent the fire, not just put it out," she said. Area dentists often refer patients unable to afford conventional dental services to the clinics, Gill said.
The next three Saturday clinics are Feb. 22, March 28 and April 25. Call 865-481-2016 to schedule an appointment. The Saturday clinics are from 8:00 a.m. until noon.
Last year, the Roane State Community Dental Health Clinic served 97 patients from 11 East Tennessee and Middle Tennessee counties, doing everything from dental cleaning to tooth extractions and filling cavities. There were 117 teeth extracted in 2019, records show.
Roane State's dental hygiene program is well regarded, with more than 100 applicants each year vying for the 12 available slots. Gill said students rank in the top 4 percent nationally on national dental hygiene board scores, and there's a "100 percent job placement rate."
Area dental hygienists typically earn $30 to $32 an hour, Gill said. Roane State's dental hygiene program is one of only nine such programs offered in Tennessee's community colleges, colleges and universities.
Roane State is a two-year college providing transfer programs, career-preparation programs and continuing education. Founded in 1971, the college has campuses in Crossville, Harriman, Huntsville, Jamestown, Knoxville, LaFollette, Lenoir City, Oak Ridge, Wartburg and Clinton. For more information, visit www.roanestate.edu or call (865) 882-4554.
Remember, eligible adults can now attend Roane State tuition-free with the new Reconnect grant. Learn more at www.roanestate.edu/reconnect.