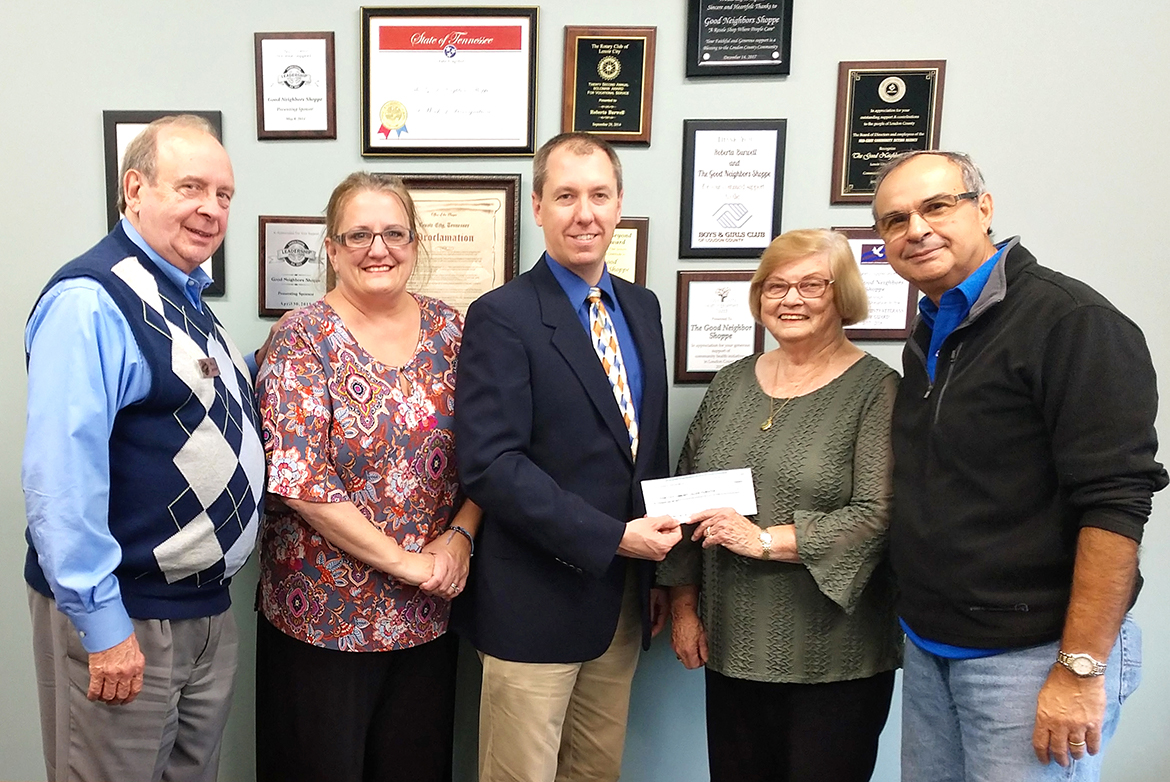 From left: Roane State Foundation member Rev. Ron Jordan, Roane State Loudon County Campus Director Susan Williams, Roane State Foundation Executive Director Scott Niermann, Good Neighbors Shoppe Secretary/Scholarship Chair Claire Donnelly, and Good Neighbors Shoppe 2019 President Manny Estima.
February 4, 2020
The Good Neighbors Shoppe in Lenoir City has awarded a $5,000 grant to the Roane State Community College Foundation to help provide scholarships to Loudon County adults 20 – 24 years in age who are taking classes at Roane State.
These are often students that are in the "gap" – now ineligible for Tennessee Promise grants but also not old enough to take advantage of Tennessee Reconnect grants. Roane State Foundation seeks to fill that gap for those eligible through the "Adult Aid" scholarship program.
The nonprofit resale store at 420 Leeper Parkway uses proceeds after expenses to give back to the community, including scholarships.
Roane State Foundation officials say helping economically disadvantaged adults that are not eligible for traditional scholarships from the state is a need in Loudon County. Loudon County has been identified as the fastest growing county in the entire Knoxville region.
Members of the Good Neighbors Shoppe's Board of Directors annually determine funding levels. The nonprofit's goal is to return at least 82 percent of gross sales back to the community each year.
Roane State Foundation is a nonprofit 501(c)3 corporation that seeks to enhance community awareness of the college, to secure private contributions and bequests, and to manage monies or properties given to the Foundation, including a nearly $11 million endowment. Roane State Foundation supports the college with capital projects, equipment, educational programs and scholarships. For more information or to make a gift to support Roane State students, visit roanestate.edu/foundation, email Foundationdept@roanestate.edu, or call (865) 882-4507.
Roane State is a two-year college providing transfer programs, career-preparation programs and continuing education. Founded in 1971, the college has campuses in Crossville, Harriman, Huntsville, Jamestown, Knoxville, LaFollette, Lenoir City, Oak Ridge, Wartburg and Clinton.
For more information, visit www.roanestate.edu or call (865) 882-4554.
Remember, eligible adults can now attend Roane State tuition-free with the new Reconnect grant. Learn more at www.roanestate.edu/reconnect.