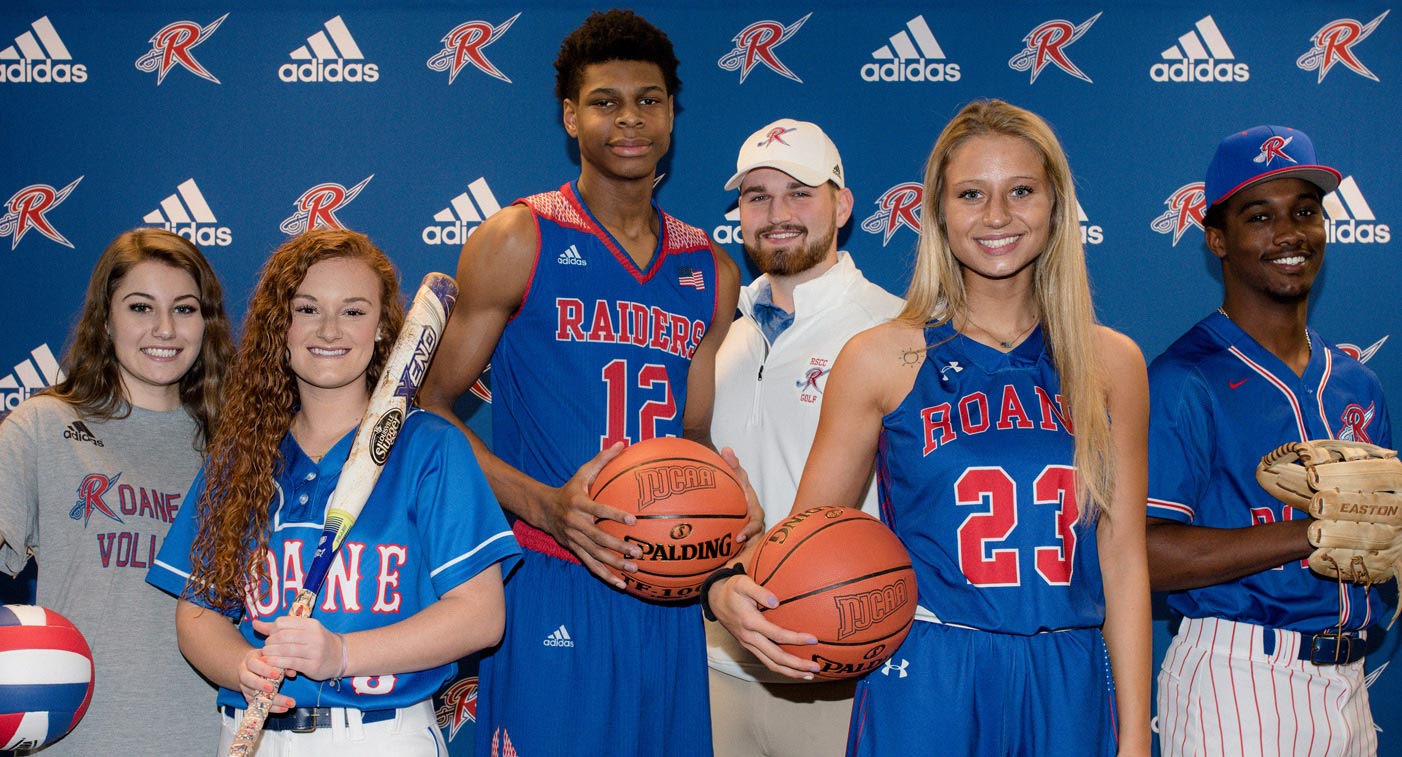 September 9, 2020

HARRIMAN, Tenn. – Athletics at Roane State Community College have been in a delay since mid-March when all NJCAA sports were shut down due to the pandemic. Now, officials have announced that NJCAA athletics will tentatively return to action in early 2021.
Presently, the Tennessee Community College Athletic Association (TCCAA) has a pair of proposed schedules, each based on different COVID-19 response levels. Which schedule will be in place come 2021 remains to be seen, but both plans feature fewer games than a normal regular season and include some travel restrictions.
If league play were to begin today, the more restrictive schedule would be in place. Should current restrictions be lifted or lessened prior to the start of competition, an alternate schedule could be implemented, which would allow additional games.
First back for Roane State will be men's and women's basketball. The Raiders and Lady Raiders could hit the hardwood as early as January 20, 2021. Under the current schedule scenario, the teams will play an abbreviated season that tentatively includes a maximum of 22 games, including 16 conference match-ups. Both teams are slated to begin conference play on January 27, 2021, on the road against Motlow State.
Women's head basketball coach David Harnish says, "It's been hard. We are all having to compromise and negotiate during these tough times." Harnish added, "We're excited to be able to at least practice and build camaraderie and team unity with our players."
Raiders volleyball will begin its much-anticipated inaugural season at Roane State with a home match-up against Walters State on February 2, 2021. The current schedule includes a total of 12 conference matches and a maximum total of 21 dates.
Head volleyball coach Steve Dallman says, "We appreciate the extra time to prepare." The veteran coach notes the truncated schedule "really only resulted in the loss of one game."
The Raiders golf team will hit the links beginning February 21, 2021, with a slate that includes six tournaments leading up to the NJCAA District J and NJCAA Division II tournaments in April and May.
First pitches for Roane State baseball and softball will be on February 24, 2021, when both Raiders squads will be visiting Motlow State. Under the current plan, the teams will play an identical conference campaign against TCCAA East division teams. The schedule will feature a 32-game divisional conference schedule with each team having 16 home contests. All games will be double headers. According to the TCCAA, "Cross divisional play is encouraged on bye dates and weeks when applicable."
For much of February and March, basketball, baseball and softball will be playing on the same days: Wednesdays and Saturdays.
The issue of fan attendance at games is still uncertain. Officials say a decision based on local and statewide conditions is likely to come closer to the end of the year.
For many Roane State student athletes, the shutdown initially created a cloud of uncertainty regarding future eligibility and whether or not they would be able to continue their respective playing careers. Switching to online classes was another hurdle many of them had to overcome. Through it all, a dozen Raiders representing four of the school's athletics programs were named to the NJCAA Academic All-American team. Roane State's graduation rate for athletics has been the highest in the TCCAA for the past two years.