Due to COVID-19 all events are subject to change.
Check back frequently for updates and keep an eye on your RSCC email for more details!!!
FALL 2022 EVENTS AND ACTIVITIES
Street Painting Festival- October 8, 2022 8:00am EST
Jackson Square - Oak Ridge
For more information go to www.roanestate.edu/streetpainting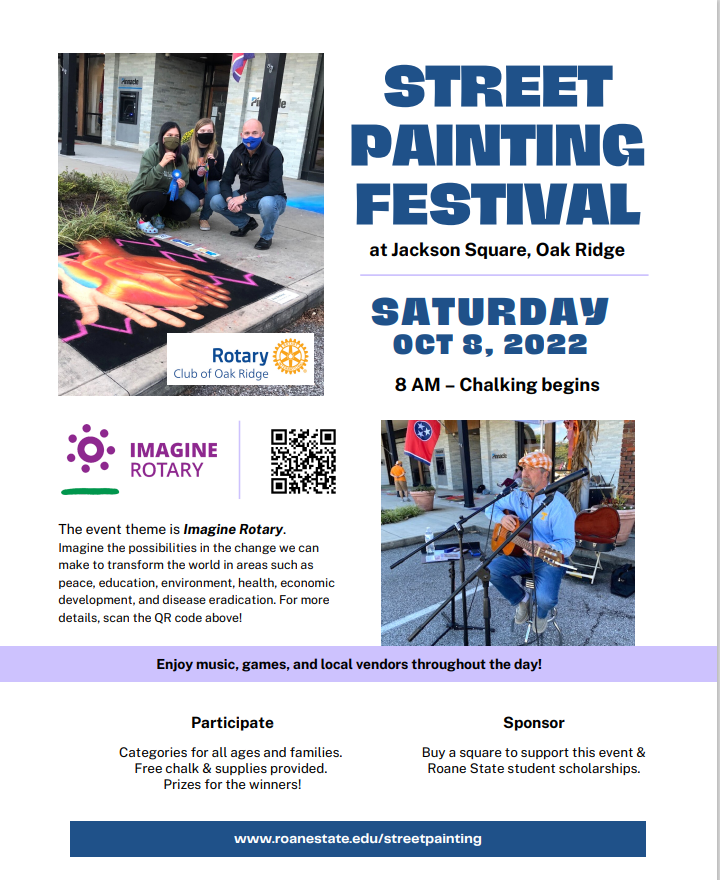 Hispanic Heritage Month Film Series- September 15- October 15, 2022
Roane State Student Life celebrates Hispanic Heritage Month and Hispanic Americans in film.
Rita Moreno: Just a Girl Who Decided to Go for It
Prospect
Precious Knowledge
Rita Moreno: Just a Girl Who Decided to Go for It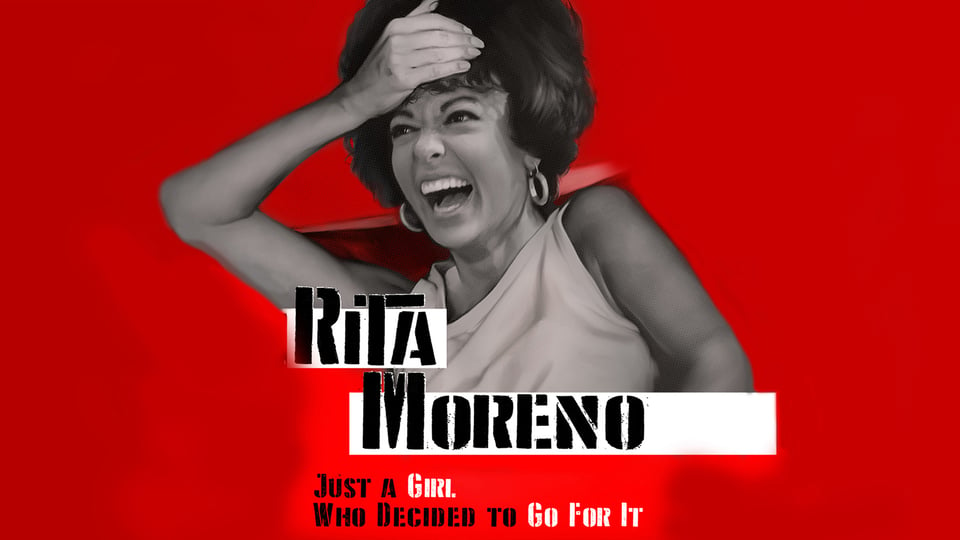 Click here to watch Rita Moreno: Just a Girl Who Decided to Go For It
Over a 70+ year career, Rita Moreno defied both her humble upbringing and relentless racism to become one of the rare EGOT (Emmy, Grammy, Oscar, Tony) Award Winners of our time. Her resilience and talent triumphed over adversity and broke barriers for generations of artists who refuse to be pigeonholed.
Prospect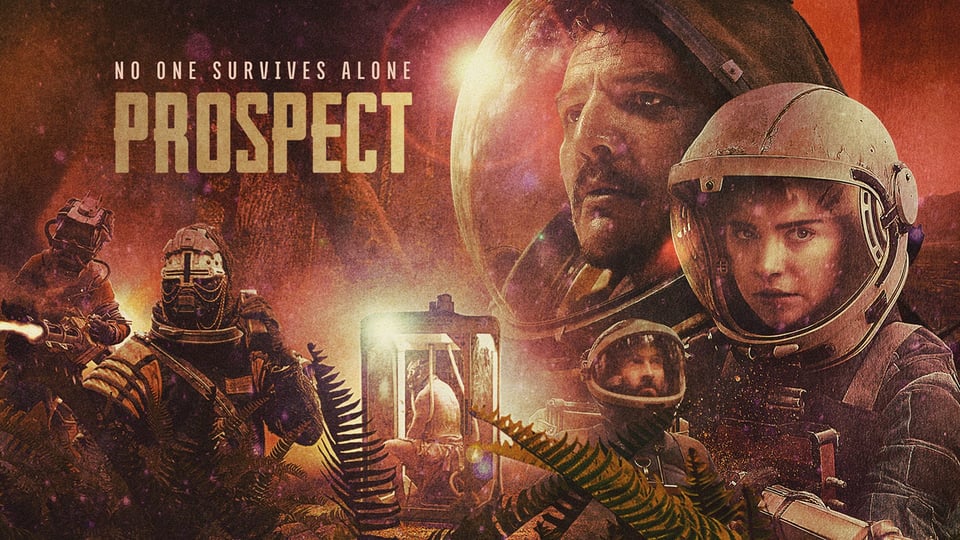 A teenage girl and her father travel to a remote alien moon, aiming to strike it rich. They've secured a contract to harvest a large deposit of the elusive gems hidden in the depths of the moon's toxic forest. But there are others roving the wilderness and the job quickly devolves into a fight to survive. Forced to contend not only with the forest's other ruthless inhabitants, but her own father's greed-addled judgement , the girl finds she must carve her own path to escape.
Precious Knowledge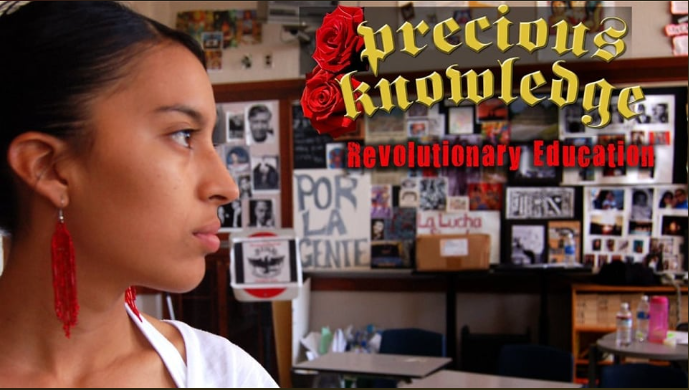 Click here to watch Precious Knowledge
Precious Knowledge reports from the frontlines of one of the most contentious battles in public education in recent memory, the fight over Mexican American studies programs in Arizona public schools.
PEP Band Meeting- September 30, 2022 10am-12pm EST- Harriman Campus, O'Brien Theatre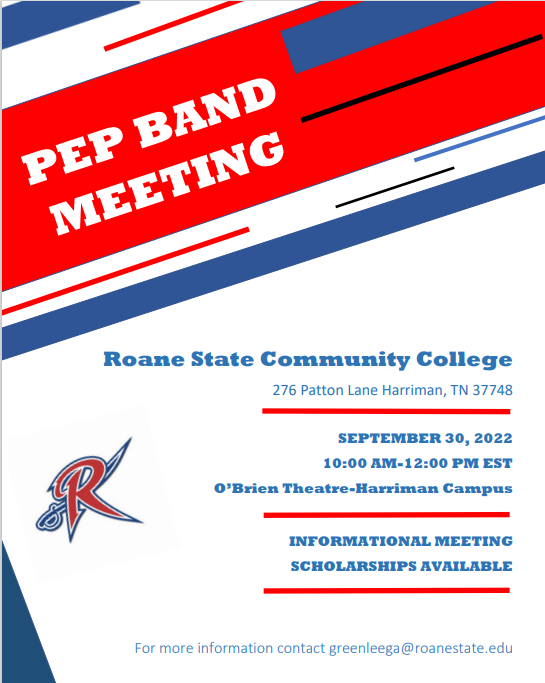 First Responder Appreciation Day- FREE LUNCH - Friday September 16, 2022 Drop in any time between 11:00am-1:30pm EST.
Harriman Campus- Vann Student Center
Free Movie Series- September 16, 2022 6:30pm EST- Cruella- The Historic Princess Theater, Harriman TN.
Brought to you by Roane State Community College Arts and Lectures
National Suicide Awareness Month- September 1-30, 2022- All Campuses

TN Statewide Crisis Line: 1-855-CRISIS-1
National Suicide Prevention Lifeline: 1-800-273-TALK
Text TN to 741741
There are some behaviors that signal possible suicidal thoughts and attempts. Knowing these signals and taking action may help you save someone's life. A person might be suicidal if they:
Have sadness or depression that will not go away
Become withdrawn or isolate themselves from friends, family, and society
Have difficulty going to classes
Become highly anxious or agitated
Display rage or uncontrolled anger
Give away prized possessions
Increase their use of alcohol and drugs
Acquire a firearm
Lose weight or have a decrease in appetite
Change their sleeping patterns, cannot sleep, or sleep all the time
Engage in reckless and risk-taking behavior
State they have no reason to live
Talk about or threaten suicide. (If this happens, TAKE IMMEDIATE ACTION and CALL 911).
Remember: Any one of these warning signs alone does not necessarily indicate a person is suicidal. However, several warning signs may be cause for concern. Warning signs are especially important if the person has attempted suicide in the past. Listen. Get professional help. Your actions may save a life
National Voter Registration Month- September 1-30, 2022- All Campuses
#RaidersVote #govotetn.gov
September is National Voter Registration Month. The Tennessee Secretary of State's office is challenging colleges and universities across the state to participate in a social media competition to encourage students to register to vote
Getting registered to vote is easy. Just click on the link below during the month of September, choose Roane State Community College #RaidersVote
College Voter Registration Competition | Civics Application (tnsos.org)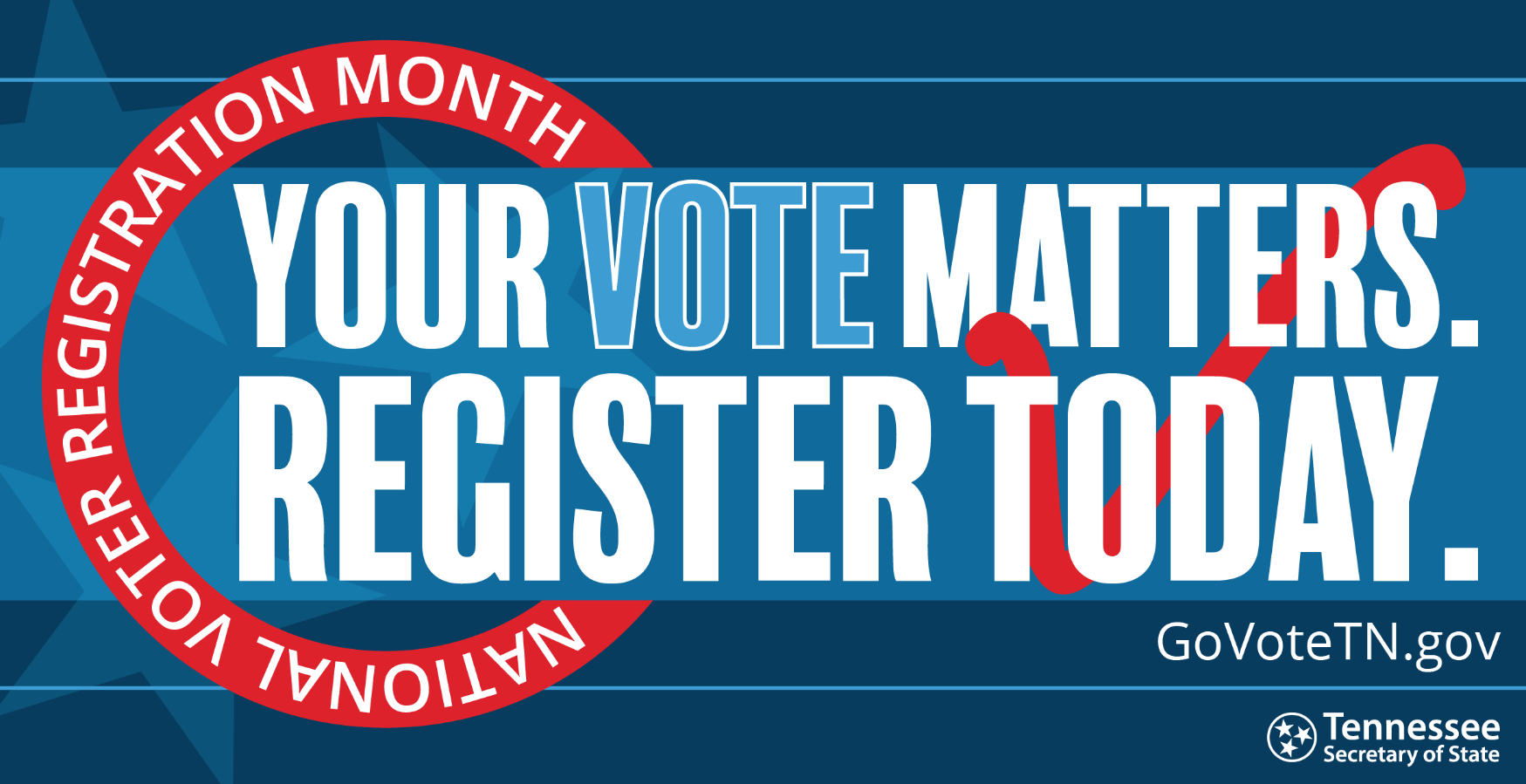 Fall 2022 Welcome Back Week- August 22-25, 2022- All Campuses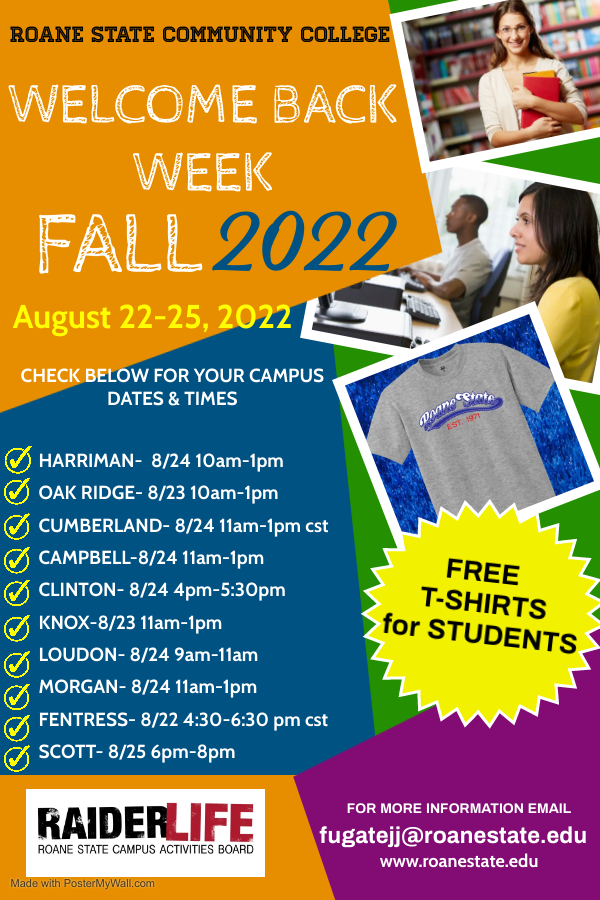 1st Day of Class Photo Contest- August 17-18, 2022- All RSCC Students
Show us your first day of class photos!
Email you pics to fugatejj@roanestate.edu or post on social media using #1stdayRSCC.
Winner will be chosen Friday, August 19.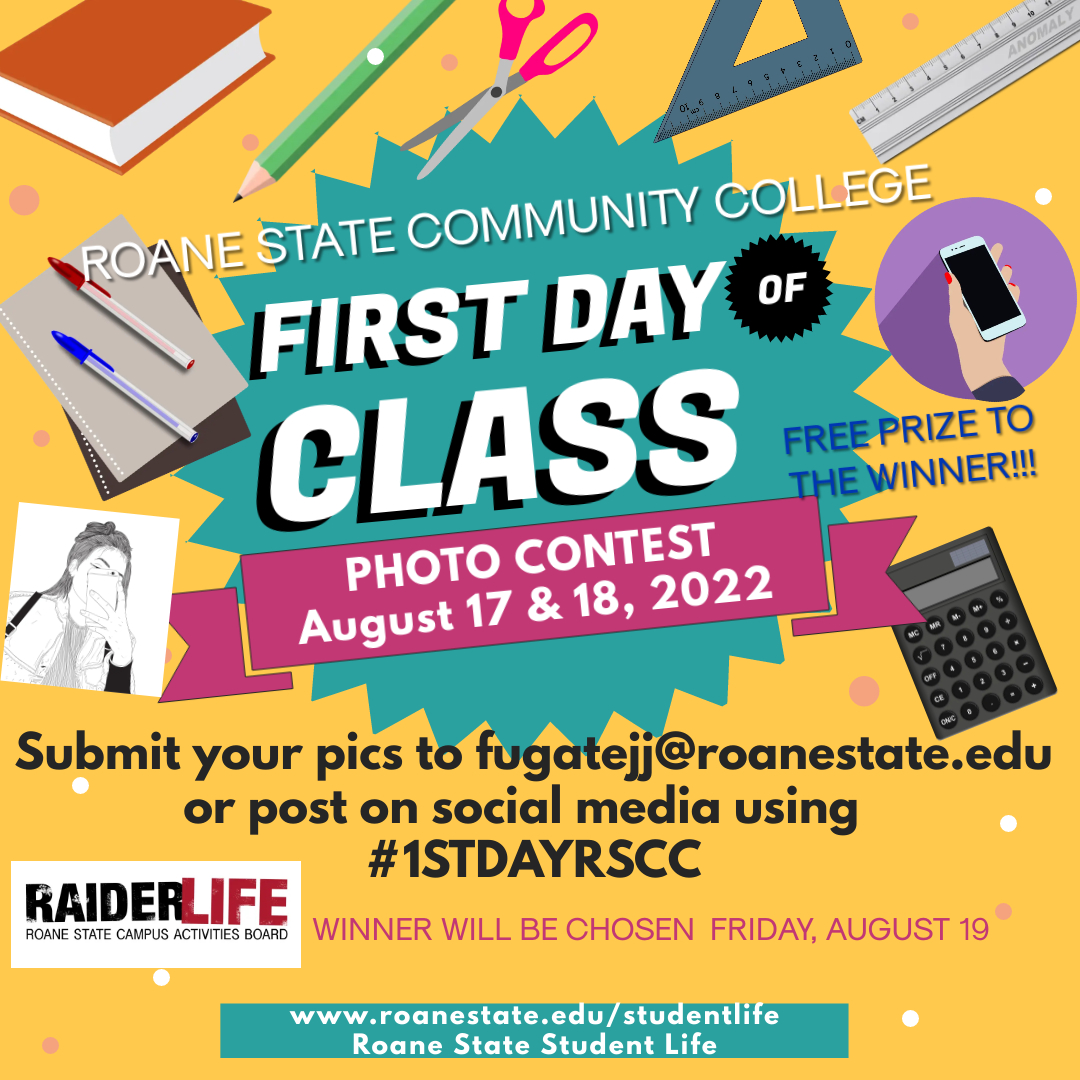 ...