Overview
Are you ready to get started?
Tuition & Fees
A legal assistant or paralegal is a person, qualified by education, training or work experience who is employed or retained by a lawyer, law office, corporation, governmental agency or other entity and who performs specifically delegated substantive legal work for which a lawyer is responsible. (American Bar Association)
Successful completion of the two-year Paralegal Studies Program results in an Associate of Applied Science degree. Paralegals, also known as legal assistants, work under the direct supervision of attorneys and assist them in virtually every facet of the practice of law. The paralegal studies program is designed to prepare students to be proficient in paralegal duties and responsibilities. Students who complete this curriculum will be able to apply basic legal concepts and become familiar with Tennessee's court system and its substantive and procedural laws. Competency objectives include skills in legal ethics, research, writing, problem-solving, and communication. Students will participate in an internship for practical experience.
Roane State's Paralegal Studies program supports the general principles of ethical legal practice, professional responsibility, and the prohibition against the unauthorized practice of law by non-lawyers (including paralegals).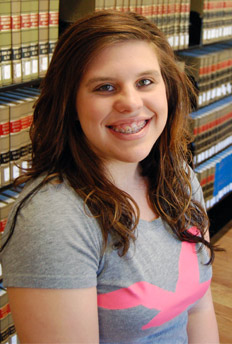 MacKenzie King was the first student from Roane State to receive a $500 scholarship awarded by TALS - Legal Professionals of Tennessee.
Location
The program is based at the main campus in Harriman. However, paralegal studies courses are taught at most RSCC campuses via the Interactive Distance Education classrooms, where students in different locations can take the same course through live video.
Curriculum Information

A.A.S. Paralegal Studies
Course Descriptions

Law Course Descriptions
Accreditation
The A.A.S. Paralegal Studies Program is Approved by the American Bar Association.
Work Settings
Many paralegals work in private law firms, including small, rural law offices as well as large, metropolitan law firms. Paralegals are also employed in title offices, courthouses, governmental agencies and corporations. Wherever attorneys are employed, paralegals are often employed.
Credentialing Requirements
Paralegals are not licensed in the State of Tennessee. Voluntary certification is available through organizations such as the National Association for Legal Assistants and the National Federation of Paralegal Associations.
Salary
Salaries for paralegals vary greatly depending on where and for whom they work. Many paralegals in small law offices earn an hourly wage, while most paralegals in larger offices, government and other offices earn a salary. The average starting salary for paralegals in Knoxville is around $28,500, with starting salaries in rural areas usually being a bit lower. With experience, many paralegals in East Tennessee have an earning potential of $40,000 or more.