Continuing Healthcare Education is a department within Roane State Community College. This group specializes in courses needed for healthcare professionals to maintain their certifications by offering classes which provide CEUs (Continuing Education Units). Many classes are offered throughout the year and more are being added to the roster in the near future. Need a class but don't see it on our schedule? Give us a call! We can customize a class for you or the company for which you work. We want to provide our customers with the most current courses offered and experienced instructors. We look forward to serving you!
Our Faculty
Roane State boasts an outstanding faculty with over one hundred years' experience in pre-hospital care. All staff members are required to work in the field, so you can be certain that the methods taught represent tried-and-true techniques. The old saying, "Those who can do, and those who can't teach," doesn't apply here. Each member of the faculty is an authority in their particular area. If you want to learn from the best, they're in front of a class at Roane State! In addition to the six faculty members profiled, over twenty other adjunct instructors can be called upon if the need arises.
Kirk Harris BS, EMT-P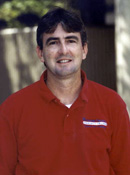 Kirk is the Director of Continuing Education for the Health Sciences Division, and brings a seventeen-year career as a paramedic to the classroom. His commitment to raise the level of pre-hospital provider through education can be seen in his passion in the classroom and the quality of instructor he attracts to RSCC. He constantly inspires by example both students and instructors to reach higher. He sees his role as facilitator, both for his students, and the faculty that works under him. Kirk teaches everything offered at the school, but has a passion for the Wilderness First Responder course, which he and Fred usually team-teach. Most of the scenarios used for the WFR course involve the use of students as patients, but occasionally Kirk and Fred will act as the sick and injured. There are few lengths these two won't go to in order to have a realistic scenario, and in that pursuit this good-natured competition sometimes means self-inflicted bodily harm. Once, Fred took a tumble down a fairly steep hill, actually injuring his leg so the students would react like the real thing had happened. Not to be outdone, Kirk nearly froze himself during a hypothermia scenario that followed; now, that's commitment to excellence!

Kirk holds the distinction of having through-hiked the Appalachian Trail from Springer Mountain, Georgia, to Mt Katahdin, Maine, and when not teaching, can sometimes be found dangling from the side of a mountain (he and his elder son like to climb). Kirk has lived in New England and Florida, but he is now Volunteer through and through, having graduated from the University of Tennessee. His goal of upgrading the quality of pre-hospital provider is becoming a reality; it's happening because of hard work and dedication. E-mail him at HarrisK@roanestate.edu
Wm Fred Baty WEMT-P

Fred has been involved in emergency services for twenty-six years, and brings a wealth of knowledge and experience as well as enthusiasm to the classroom. His background is in firefighting, rescue, hazardous materials, and emergency medicine, not to mention a life-long love affair with the great outdoors. Hiking, mountain biking, canoeing, and rappelling send him to the edge. He is a nationally certified Wilderness Paramedic, and has authored the three Wilderness Medicine courses offered by Roane State. According to Fred, "I've always felt that I have to be better than TV in order to keep students excited about what they're learning." His enthusiasm is contagious and this philosophy is carried into all his classes, not just the Wilderness courses. Every lesson he prepares has been honed by a broad range of occupational experiences and training, and his students get the benefit of this history. In addition to Wilderness Medicine, Fred teaches Basic Life Support, First Responder, Advanced Cardiac Life Support, and Pre-Hospital Trauma Life Support. He is also a member of the East Tennessee Search & Rescue Task Force, serving as medical officer. When not traipsing through the woods, Fred is a Fire Captain with the City of Knoxville Fire Department where he is a tox-medic and a member of the High Angle Rescue Team. E-mail him at eigerquest@bellsouth.net
Wayne Baxter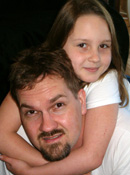 Since starting in EMS at age 16, Wayne Baxter has worked his way through the ranks and is now a Registered Nurse as well as a paramedic. This long term experience has made him an instructor that can relate experiences from the back of an ambulance all the way to the patient care in the emergency room and ICU.
Wayne has been recognized as a Regional Faculty in ACLS as well as an ACLS-Experienced Provider Instructor. He also has been involved in a national study with Brigham and Women's Hospital in Boston.
Wayne has been the EMS director for Loudon County, and is currently working at Blount Memorial Hospital's Emergency Room. He is also seeking his Bachelor's degree in nursing. He enjoys pushing his students to think outside the box, and realize their full potential. Wayne teaches ACLS, ACLS-EP, PALS, PEPP, PHTLS, and a host of other classes. His versatility makes him a highly requested instructor.
Joseph Chaston, RN, EMT-P, CC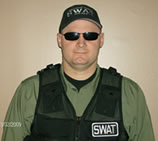 Joseph started his Pre-hospital training while still in High School. As a Volunteer Fire Fighter he attended evening classes to become a State certified First Responder. This led to him riding in with the local EMS when a critical patient required more than one pair of hands. After school he went on to an accelerated EMT- I and completed his IV therapy. He worked at this level gaining more experience while attending Paramedic school at the local University. He continued to work up to the level of Assistant Chief of EMS while also fostering some part-time passions in the local Emergency Department.

This led to his work in the Cardiac Cath Lab and eventually on to a Flight Paramedic position. He has flown on an Air Ambulance in multiple states and continues this work occasionally as one of his life passions. He also boasts an Instructor background in Chemical Weapons instruction where he has traveled all over teaching Law Enforcement Officers to certify their own staff. He also went through one of the first Tactical Medicine courses offered here at RSCC and then went on to SWAT level II training with one of our local Sheriff Offices where he continues to serve as a Tactical Medical Officer as the need arises.

He currently works in a large Emergency Department and is continuing to work towards a BSN/MSN with the first part being completed right here at RSCC in our Nursing Department. He serves as an instructor in everything from Basic First Responder to assisting in the Critical Care Transport program. He is Regional Faculty for AHA's CPR, ACLS and PALS and also instructs in all the Medical, Pediatric and Trauma courses currently offered here at Roane State and through Covenant Health. chastonj@roanestate.edu
Danny McKinney, CCEMT-P
Danny teaches ACLS, PALS, and PHTLS. He is a critical care paramedic that works in a cardiology group and still does part-time on the ambulance. This experience has made him an instructor that can relate experiences from the back of an ambulance all the way to the patient care in the Cardiologist settings. He has 11 years experience in the EMS field. Danny enjoys his leisure time with his family. His hobbies are hiking, fishing, weight lifting, and boxing.
Other Instructors
Rebecca Calfee
calfeerl@roanestate.edu

Robert Logan