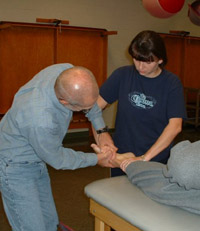 Overview
Physical therapy is a health profession whose primary purpose is the promotion of optimal human health and function through the application of scientific principles to prevent, identify, assess, correct or alleviate acute or prolonged musculoskeletal dysfunctions. The physical therapist assistant is an educated health care provider who assists the physical therapist in the provision of physical therapy.
Work settings
Physical therapist assistants can work in a variety of settings. These include but are not limited to hospitals, private clinics, rehabilitation centers, home health, extended care facilities, public and non-public schools and academic institutions.
Training
The average GPA for those students accepted to the program is generally around 3.50. The RSCC program is a one-plus-one format- first year prerequisites and three full-time semesters (Fall, Spring, Summer) for the second year. The curriculum includes classroom, laboratory and off-site clinical instruction. A graduate of the program receives an Associate of Applied Science Degree.
Abilities and behaviors important for success
A physical therapist assistant should possess the ability to be a self-motivated individual that can think on their feet. They should be willing to perfect their verbal, non-verbal and written skills to effectively communicate with persons of all ages and cultural backgrounds. One needs to be willing to invest a high degree of both physical and emotional energy into this career.
Future of the profession
According to the U.S. Department of Labor and the Bureau of Labor Statistics, physical therapist assistant ranked in the top 10 occupations and predicted to have a growth rate of 45% from 2010-2020.
Earnings
PTAs can start out earning between $34,000 and $42,000 a year.
Related Fields
Others who work in the rehabilitation field include occupational therapy assistants, recreational therapists, athletic trainers, exercise physiologists and respiratory therapists.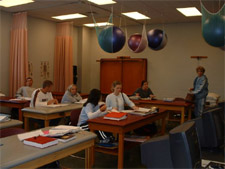 Credentialing Requirements
Upon successful completion of the physical therapist assistant program, the graduate is eligible to apply for a TN license. A part of this license procedure is passing a national examination. Graduates of the Roane State Community College Physical Therapist Assistant (PTA) Program have passed this exam the first time at a 97% rate since 2010.
Location
The Physical Therapist Assistant Program is taught on the Oak Ridge Branch Campus. All didactic and laboratory work is offered on this campus. Clinical experience is gained utilizing nearly fifty off campus sites. Most of these sites are located in and around the greater Knoxville area.
Accreditation
The Physical Therapist Assistant Program is accredited by Accreditation Commission on Accreditation in Physical Therapy Education, 1111 North Fairfax Street, Alexandria, Virginia 22314; accreditation@apta.org; (703) 684-2782 or (703) 706-3245; www.capteonline.org.
Where can I get more information about the profession?
American Physical Therapy Association - http://www.apta.org
Where can I get more information about state licensure for PTAs?
State of TN Department of Health
Health Related Boards
227 French Landing, Suite 300
Heritage Place Metro Center
Nashville, TN 37243
TN Board of Physical Therapy
(615) 532-5132
http://www.tennessee.gov