Environmental Health Technology Program
Are you ready to get started?
Tuition & Fees
Overview
Environmental technicians ensure compliance with environmental laws, properly manage hazardous wastes, conduct sampling and analysis of environmental media and waste, perform health and safety audits and inspections, and perform other activities to protect public health and the environment.
Common job titles filled by EHT graduates include: environmental compliance officer, radcon technician, industrial hygiene technician, health and safety officer, waste management technician, and environmental sampling technician.
Students completing the EHT program earn certification for OSHA's training requirement for 29 CFR 1910.120 for 40-hour Hazardous Waste Operations and Emergency Response.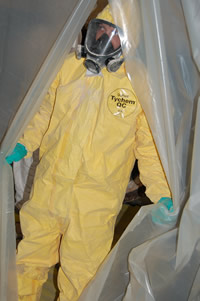 Location
Classes are taught at the main campus in Harriman, the Oak Ridge Campus and on an as-needed basis at other Roane State campuses.
Curriculum Information
Course Descriptions
Accreditation
There are no accrediting agencies for associate's degree programs in Environmental Health Technology. The EHT program at Roane State Community College meets all standards of the Advanced Technology Environmental Education Center and all requirements for associate of applied science programs of the Tennessee Board of Regents.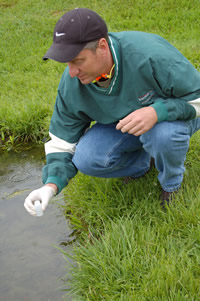 Work Settings
Many EHT graduates support environmental management and restoration activities on the Oak Ridge Reservation. Other opportunities exist in private consulting, industrial facilities, waste treatment and disposal facilities, and in government agencies.
Salary
EHT graduates can expect a typical starting annual salary of around $25,000. Salaries increase with experience and education. Employers often offer tuition reimbursement to workers wanting to earn a bachelor's degree. Roane State Community College has articulation agreements with several universities for EHT graduates wishing to earn a bachelor's degree. Articulation agreements help streamline the transfer process to a four-year university.
Faculty and Advisory Board
© Roane State Community College
Roane State Community College is a TBR and AA/EEO employer and does not discriminate against students, employees, or applicants for admission or employment on the basis of race, color, religion, creed, national origin, sex, sexual orientation, gender identity/expression, disability, age, status as a protected veteran, genetic information, or any other legally protected class with respect to all employment, programs and activities sponsored by Roane State. View full non-discrimination policy.