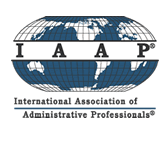 The administrative profession continues to expand in nature and complexity, making professional development a necessity. More than ever before, administrative professionals are assuming a broader and more influential role within most organizations today. With ever-changing demands on executives today, administrative assistant professionals require a strong foundation of knowledge to manage their responsibilities effectively. Go beyond the valuable secretary skills you already possess. Improve your performance and enhance your effectiveness as well as your value to the company by mastering the administrative management techniques that enable you to better manage your job duties.
Employers want skilled and productive employees who distinguish themselves with initiative and resourcefulness. Roane State Community College has a reputation for delivering outstanding professional programs. The Certified Professional Secretary and Certified Administrative Professional designations are recognized by the business community as standards of excellence and accomplishment. Gain the respected credentials that transform learning experiences into workplace performance.
Who Should Attend?
A newcomer to the administrative assistant or secretary position who needs to come up to speed quickly and effectively. Someone who would like to be promoted to a secretary or administrative assistant role and needs the skills to qualify for the position. A veteran secretary or administrative assistant who wishes to take the CPS (Parts 1 through 3) or the CAP (Parts 1 through 4) certification exams and needs to prepare for the exams.
© Roane State Community College
Roane State Community College is a TBR and AA/EEO employer and does not discriminate against students, employees, or applicants for admission or employment on the basis of race, color, religion, creed, national origin, sex, sexual orientation, gender identity/expression, disability, age, status as a protected veteran, genetic information, or any other legally protected class with respect to all employment, programs and activities sponsored by Roane State. View full non-discrimination policy.