News: Visit by Dr. Jill Biden, Secretary of Labor Hilda Solis highlights Roane State partnerships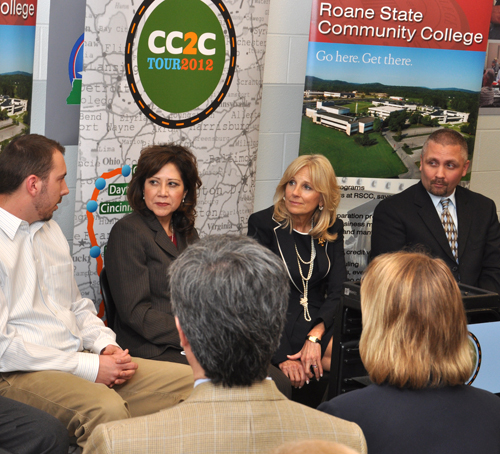 Roane State AMTEC trainee John Thornton, left, discusses his interest in the carbon fiber industry with U.S. Secretary of Labor Hilda Solis and Dr. Jill Biden, Second Lady of the United States. Brandon Peters (right), a machinist at B&W Y-12, discussed how a partnership between Roane State and Y-12 is helping him earn his degree.
Dr. Jill Biden, Second Lady of the United States, said community colleges such as Roane State can not only change lives, "they can change our country."
"Quite simply, we're not getting to the future in America that we want without community colleges," Dr. Biden said. "That's why I am proud to be part of an administration that has made community colleges central to its mission of having the best educated, most competitive workforce in the world."
Dr. Biden and United States Secretary of Labor Hilda Solis participated in a discussion about Roane State's successful industry partnerships on Thursday, Feb. 23. They visited the Tennessee Technology Center in Harriman, which provides hands-on training for students in Roane State's Advanced Materials Training and Education Center (AMTEC) program. The Technology Center and Roane State are both governed by the Tennessee Board of Regents.
"You all are living proof that it works," Secretary Solis said of partnerships between community colleges and industry. "The students here are to be applauded. You are the ones who are the best examples of what good education and training can mean."
The visit was one stop on the "Community College to Career" bus tour to highlight the unique role community colleges play in developing a flexible, highly-skilled 21st-century workforce to meet emerging regional business needs. Dr. Biden, a community college instructor for 18 years, and Secretary Solis, who began her career in public service as a community college trustee, have heard from students, educators, and employers driving these innovative partnerships.
Earlier this month, President Obama announced a new $8 billion Community College to Career Fund, co-administered by the Department of Labor and Department of Education, to forge new partnerships between community colleges and businesses to train 2 million workers with skills that will lead directly to jobs.
Roane State has cultivated several successful partnerships with industries, and students shared with Dr. Biden and Secretary Solis how those partnerships helped them get back into the workforce, train for the next generation of jobs and fulfill their educational aspirations.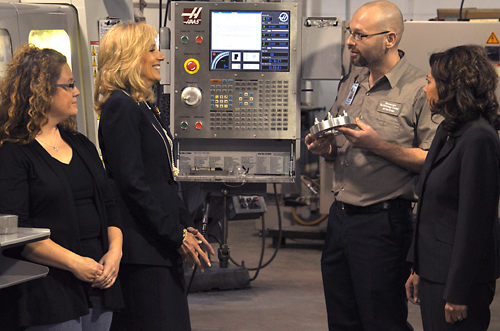 Adam Dalton, a Tennessee Technology Center instructor, and AMTEC trainee Cheryl Stierwalt talk with Dr. Biden and Secretary Solis.
For example, AMTEC is a no-cost, high-tech training program for those who are unemployed or underemployed. The program is funded by a $2.86 million Community Based Job Training Grant awarded to Roane State in June 2010 by the U.S. Department of Labor. AMTEC involves dozens of industry partners, such as Eagle Bend Manufacturing in Clinton.
Mark Vanwitzenburg shared with Dr. Biden and Secretary Solis how the AMTEC program helped him learn the skills he needed for a full-time job with Eagle Bend.
"I spent about six months laid off and then working part-time as a groundskeeper. I was kind of struggling to pay bills and provide for my family," Vanwitzenburg said. "It (AMTEC) has been a real blessing. It's helped me get a good job with good benefits."
AMTEC trainees receive specialized instruction in composites, which supports Oak Ridge National Laboratory's research in carbon fiber. John Thornton, a current AMTEC student, explained why he's interested in working in the carbon fiber industry and how partnerships between Roane State, ORNL and many others are giving him that opportunity.
"It could revolutionize the way the automotive industry runs," Thornton said. "If we can reduce the weight of automobiles (by using carbon fiber) and increase our fuel economy, we can definitely decrease our dependence on foreign oil. There are all different kinds of applications. It's just an exciting job."
B&W Y-12 and Roane State partner to give Y-12 employees who want to return to college more scheduling options for classes and college credit for work and apprenticeship experience. Roane State offers additional classes on Fridays at the college's Oak Ridge campus when the majority of Y‑12 employees who work four, 10-hour days are off work.
Brandon Peters, a machinist at Y-12 and a student, told Dr. Biden and Secretary Solis that the program's flexibility was one of the primary reasons he chose to pursue his degree while working full-time.
"One of the things that appealed to me was the timely manner that I could receive my degree by working an accelerated program that was catered to the workers' needs at Y-12 with us being on the 4-10 schedule," Peters said.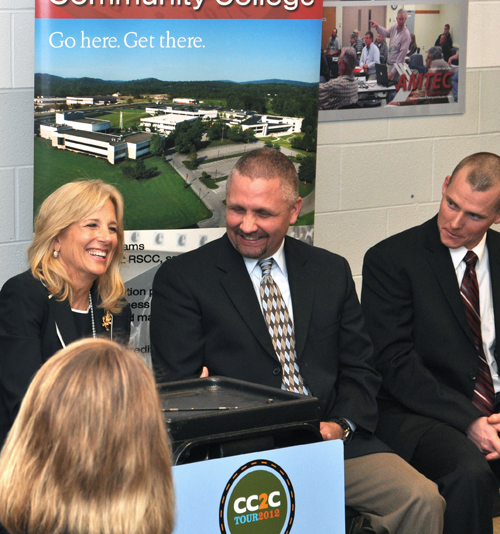 Dr. Biden shares a light moment with Brandon Peters and AMTEC graduate Mark Vanwitzenburg (right).
Roane State also participates in the America's Veterans to Tennessee Engineers Program, which involves five colleges and dozens of companies. The program provides an opportunity for military service members to complete their education and have a job waiting for them in an engineering career field in Tennessee. The program includes community and corporate support for veterans while they are in school and guarantees veterans a STEM (science, technology, engineering or math) job when they graduate.
Brian Paul, a U.S. Air Force veteran and engineer with Y-12, discussed with Dr. Biden and Secretary Solis how the program helped him reach his goals.
"I wanted to pursue a degree in nuclear engineering at UT," Paul said. "This opportunity presented itself at Y-12. They brought me in and gave me a guaranteed internship and a guaranteed job once I graduated. It's been a great opportunity for me and my family. We are very grateful."