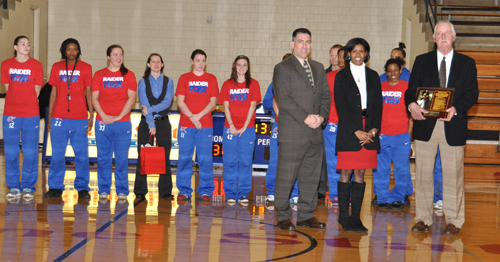 Tennessee Community College Athletic Association commissioner Jim Cigliano presents the Hall of Fame plaque to Bernadette Mattox. Donnie Hall (left), who assisted with the Roane State basketball team years ago, introduced Mattox (center).
Bernadette Mattox, a star basketball player at Roane State in the 1970s who has had a ground-breaking and successful coaching career, was recently honored for her induction into the Tennessee Community College Athletic Association Hall of Fame.
TCCAA Commissioner Jim Cigliano presented Mattox with a plaque and certificate during halftime of the Roane State men's basketball game against Southwest Tennessee Community College on Jan. 26. Mattox also visited with former teammates, professors, family and classmates during a reception before the game.
Mattox thanked her teammates, friends and family for their support during her Roane State career.
"I could not have done what I did at Roane State without them," Mattox said. "They were there for me as a student-athlete. They were there for me as a student. I can't say enough about how much I appreciate their support, their friendship, their love, togetherness. I love them. It was through them that I was able to achieve what I did at Roane State."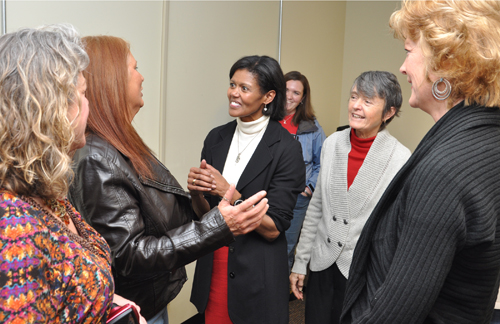 Bernadette Mattox, center, shares a laugh with her Roane State teammates. From left are Cynthia Massey, Malinda (Hackworth) Walls, Mattox, Sandra Grice and Teresa Duncan Cochran.
A native of Philadelphia, Tenn., Mattox graduated from Loudon High School in 1977. She began her college basketball career at Roane State, graduated in 1979, and followed her coach, Andy Landers, to the University of Georgia.
Mattox (formerly Bernadette Locke) became Georgia's first female athlete to earn All-American and Academic All-American honors. Mattox stayed at Georgia, serving as an assistant coach under Landers beginning in 1985.
Mattox said when she was in high school, her team played half-court and three-on-three. One reason she chose Roane State was because of Landers and because she wanted to learn to play five-on-five.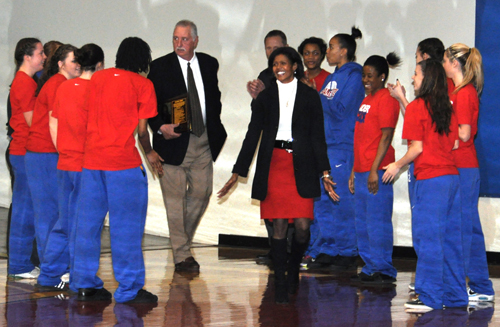 This year's Raiderettes welcome Mattox back to her home court.
Now, women's basketball enjoys top TV ratings on major networks, sellout crowds and has the WNBA as a flagship professional league. Mattox marvels at how much the game has changed since her three-on-three, half-court high school games.
"The women are faster and quicker," Mattox said. "You've got women now who are dunking. That has been exciting to see how the women have evolved. I think we are still about 10 years away from the men and what they can do, but just to see the excitement, they are quicker, faster, more explosive. The game has changed immensely."
Mattox has been a part of that change. She made NCAA history when she became the first female to serve as a Division I assistant for a men's team, beginning a four-year stint under coach Rick Pitino at Kentucky in 1990.
Mattox was named an assistant athletic director at Kentucky in 1994, and in 1995, she became the first African-American to coach Kentucky women's basketball. She led the program for eight seasons, including a 1998-99 campaign when the team recorded its first 20-win season and NCAA Tournament appearance in nearly a decade. In 2003, Mattox became an assistant coach with the WNBA's Connecticut Sun.
"What a role model that Bernadette sets for our level," Cigliano said. "It makes you feel so good to see somebody who has really appreciated this level and went and done so many great things."
To Mattox, Cigliano said, "Thank you for being such a great role model."
Mattox received the National Junior College Athletic Association's Achievement Award in 2007, and she was named Roane State's outstanding alumna in 2007. She traces her many professional accomplishments back to her time at Roane State under Coach Landers during those pioneering days of women's basketball.
"It goes back to the family here at Roane State. It goes back to my coaches, the administration, my teammates," she said.
"When you've got a solid foundation, a lot of great things happen from that."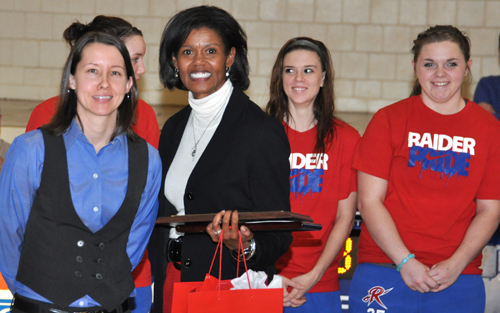 Roane State women's basketball coach Monica Boles congratulates Mattox on her Hall of Fame induction.