Roane State Community College
Why Roane State
Finish Faster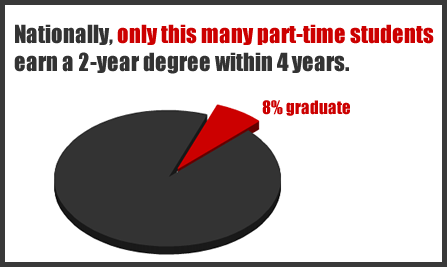 Taking a class here and there is risky business...
If a way can be found to attend full-time, the chance of completing a degree drastically increases.
Roane State has several options to help you finish faster.
I'm too busy with work and family
to take a full schedule of classes.

I am just not sure I can handle the workload
of taking so many classes.
OK, so to Finish Faster, how many credit hours should I take per semester?
Graphic adapted from: Complete College America, Time is the Enemy, 2011
Roane State Community College is a TBR and AA/EEO employer and does not discriminate on the basis of race, color, national origin, sex, disability or age in its programs and activities. View full non-discrimination policy.