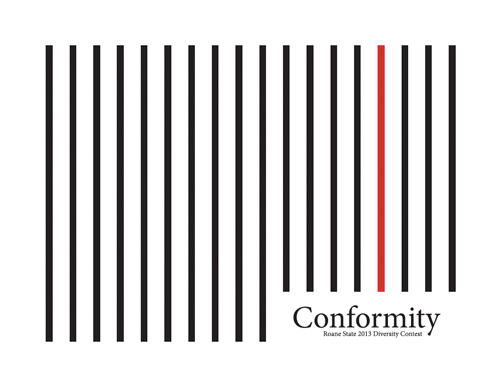 The theme for the 2013 Diversity Contest is Conformity, defined as "individual and social behavior that comply with prevailing social standards, attitudes, and practices."
Your assignment
Conformity can be a strength because it helps us belong, feel connected and part of something greater. Conformity can inhibit us, by making us think there is a right way to look, to talk and to act.
For this year's contest, express your thoughts on conformity. Consider these questions.
How do you conform? Do you act a certain way around some people but not others? Why?
What are the benefits of conforming? What are the drawbacks?
How does conformity affect how you look, dress, the music you listen to, the car you drive?
Think of a specific time you know you chose to conform? Describe it. Was it a good experience, or do you regret it?
When do you feel pressure to conform? Where does that pressure come from?
How are children encouraged to conform? What are the benefits and drawbacks of parents teaching children to conform?

To further inspire you, review these literary works about conformity.
The Lottery by Shirley Jackson
The Ones Who Walk Away From Omelas by Ursala Le Guin
Repent Harlequin said the Ticktock Man by Harlen Ellison
Harrison Bergeron by Kurt Vonnegut
The Giver by Lois Lowery
The Handmaiden's Tale by Margaret Atwood
Check if these works are available at the Roane State Library today.
Contest rules
Winning entries will demonstrate the most effective use of artistic expression related to the theme of conformity.

Projects will be accepted in four areas:
Multimedia: Entries must use more than one medium to make a visual statement. 15-minute limit.
Performance: Submit a video or audio recording of your performance. 15-minute limit.
Visual arts: Artists may submit a maximum of three entries. Artists must submit photos of their work and the originals.
Written arts: Students can submit an original written piece of their choice. Maximum 2,500 words
Deadlines
Entry forms will be in Momentum (look under Learning Resources).
Completed entries are due by Wednesday, Oct. 16.
Prizes
First-place winners in each category will receive $1,000. Second-place winners in each category will receive $500.
Questions
For contest questions, please contact Valerie Herd, (865) 354-3000 ext. 4238, herdVH@roanestate.edu.