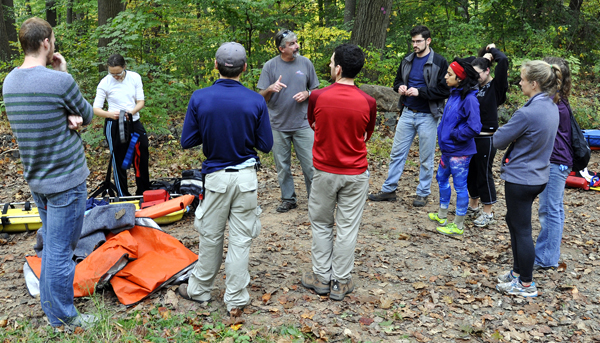 Roane State's Kirk Harris, center, instructs University of Pennsylvania medical students
during a during a wilderness and disaster medicine course provided by Roane State. Photo by Fred Baty.
An Ivy League school called on Roane State Community College this fall to teach medical students how to respond to emergencies in the wilderness.
One student said the Roane State course was the "highlight of medical school."
Roane State's Continuing Healthcare and Safety Education Department has offered its wilderness first responder course locally for years. In October, program leader Kirk Harris and instructor Fred Baty taught a two-week wilderness and disaster medicine (WADM) course for 10 fourth-year medical students from the University of Pennsylvania's Perelman School of Medicine.
The medical students underwent 60 hours of instruction at Trailside Nature and Science Center in Mountainside, N.J. The students' culminating experience was a night scenario involving three volunteer "patients" placed in the woods.
Patients were given scripts for their mock injuries and applied with moulage (medical makeup) to make their injuries appear real. The medical students used search-and-rescue techniques learned in the course to locate the patients, treat them and evacuate them.
The students' course evaluation comments illustrate the high quality of instruction they received from Harris and Baty.
University of Pennsylvania medical students discuss strategy as part of a
night exercise during a wilderness and disaster medicine course provided by Roane State.
Photo by Fred Baty
Comments included:
"Even though I'm going into ophthalmology and not emergency medicine, I got a huge amount out of the wilderness and disaster medicine course. … For me, this experience was (the) highlight of medical school."

"Unlike most courses, the WADM course gave me a true 'hidden curriculum' that I will not forget, teaching me lessons about interpersonal relationships, recognizing my own strengths and weaknesses, and working in a team. In medical school, we talk a lot about 'working as a team,' and we even practice in simulated scenarios occasionally. However none of my experiences over the past four years even approached what I experienced in the WADM course — there's a difference between throwing five people in a room with a dummy and methodically training a cohesive group of 10 students, allowing each member to act as both a leader and a follower and allowing all members to fail so that they may learn to succeed."
"I highly recommend this course, and would emphasize its value for students of a variety of backgrounds and for a wide spectrum of careers. More than just wilderness medicine and relevant for more than just future emergency medicine physicians, this course would add greatly to any medical student's education."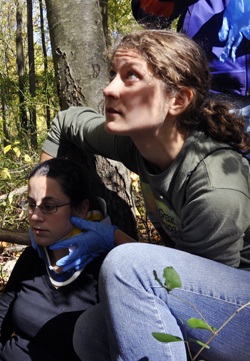 According to U.S. News and World Report's 2014 graduate school rankings, the University of Pennsylvania's medical school is fourth in the country for research and 13th for primary care. Baty and Harris said it was an honor to offer Roane State's program to some of the top medical students in the country.
"Our reputation for high-end, quality education has given us the credibility to mentor students from around the world," Baty said.
Wilderness first responder offered in January
Roane State's next wilderness first responder course will be offered in January.
Held at the Great Smoky Mountains Institute at Tremont, the class is designed for those who operate extensively in the outdoors, such as outdoors enthusiasts, wilderness guides, environmental educators and missionaries.
The course will be held Jan. 19-26, 2014. A refresher course for those who have already taken wilderness first responder is scheduled for Jan. 31-Feb. 2, 2014.
The curriculum meets the Tennessee EMS standards and national standards for first responder training while focusing on the special situations that may develop in the wilderness. Participants will be eligible for national registry and the Tennessee state testing upon completion of the program.
Participants must have completed professional-level CPR training before taking the course.
For more information or to register, visit www.gsmit.org/wfr.html or call (865) 448-6709.