Music Orientation Experience (MOE)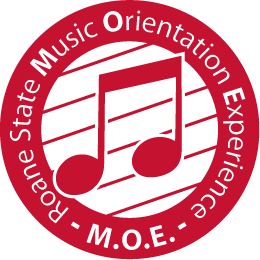 Music Orientation Experience (MOE) is a club for all students interested in or currently participating in Roane State music classes and events, regardless of major. The focus of the club is to promote a broad musical, cultural, social, and service experience within the college and community including involvement and promotion of RSCC Music Department events. MOE regularly attends off campus performances, participates in community service projects, hosts RSCC alumni transfer representatives, and gathers for social events. MOE is also the umbrella organization for the newly created RSCC Pep Band which contributes musical entertainment at RSCC home basketball games.
Officers
President: Elana Douglas
Vice President: Holly Stripling
Faculty Sponsor: Brenda Luggie
Scheduled Meetings
4pm - 5pm
Roane County Campus, O-128
Fall 2017
Sept 7
Sept 21
Oct 5
Oct 19
Nov 2
Nov 16
Nov 30 – Party!
Spring 2018
Jan 25
Feb 8
Feb 22
March 15
March 29
April 12
Party TBA!

© Roane State Community College
Roane State Community College is a TBR and AA/EEO employer and does not discriminate against students, employees, or applicants for admission or employment on the basis of race, color, religion, creed, national origin, sex, sexual orientation, gender identity/expression, disability, age, status as a protected veteran, genetic information, or any other legally protected class with respect to all employment, programs and activities sponsored by Roane State. View full non-discrimination policy.