Frequenty Asked Questions (FAQ)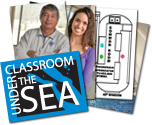 Media Kit download with high resolution photos and logo


Project Presentation (PDF)
prepaired by Bruce Cantrell
What is Classroom Under the Sea?
Classroom Under the Sea is presented by Roane State Community College in Harriman, Tenn. and the
Marine Resources Development Foundation
on Key Largo in the Florida Keys. Roane State associate professor of biology Bruce Cantrell and adjunct instructor Jessica Fain plan to live and work under the surface of the sea for 73 days from Oct. 3, 2014 to Dec. 15, 2014. While underwater, Cantrell and Fain will offer the most unique educational experience in the college's history and raise awareness of issues affecting the oceans. They will host a weekly program featuring interviews with leading scientists and explorers, covering topics such as conservation, undersea exploration and more. Roane State students in Cantrell's fall online biology class will have an especially interesting experience; while they take the course online, their professor will be leading it from the floor of the lagoon at the Marine Resources Development Foundation. During their stay, Cantrell and Fain will set a world record for the longest time spent living underwater.
Where will Bruce and Jessica stay?
They will live in Jules' Undersea Lodge, which is located 25 feet below the surface of the sea at the Marine Resources Development Foundation's facilities. For safety, the facility is monitored at all times by Jules' staff. Although Cantrell and Fain can leave the habitat for underwater excursions, they have committed to not breaking the surface of the water for more than two months. Jules' Undersea Lodge is about 600 square feet, with about half of that for living space.
How did Roane State get involved in this project?
Since 2005, Professor Cantrell has taken Roane State students (about 20 each year) to participate in the Marine Resources Development Foundation's MarineLab education program. The Marine Resources Development Foundation is led by Ian (
pronounced YAWN
) Koblick, president, chairman of the foundation's board and the organization's founder. Koblick, an expert in underwater habitats, designed the sophisticated undersea lab La Chalupa, which he and partner Dr. Neil Monney later converted to Jules' Undersea Lodge. Koblick approached Cantrell in fall 2013 about the Classroom Under the Sea idea, and Cantrell accepted the offer to participate. Cantrell invited Fain, who has assisted with organizing Roane State trips to MarineLab.
What will Bruce and Jessica do while underwater?
They will host a weekly program featuring interviews with leading scientists and explorers. Plans are for the program to be hosted on the Roane State website. A schedule and further details will be announced at a later time. Bruce plans to lead his Roane State fall online biology class from Jules' Undersea Lodge.
Who is Bruce Cantrell?
A Roane County native and Harriman High School graduate, Bruce started teaching at Roane State in 1992. Cantrell is a veteran of the U.S. Navy and U.S. Army. He has an associate degree from Roane State, a bachelor's degree in biology from Tennessee Tech and a master's in biology from American University. Cantrell has numerous diving certifications, and he has logged more than 200 hours in the Jules' underwater habitat, including six 24-hour stays.
Who is Jessica Fain?
A Lenoir City native, Jessica graduated from East Tennessee State University in 2011 with a bachelor's degree in biology and then became an adjunct instructor in biology at Roane State. While at Roane State, she became a certified scuba diver, followed by certification as an advanced open water diver and numerous other certifications. She has logged more than 100 hours in underwater habitats and labs and accompanied Roane State students to MarineLab for the past three years.
Who holds the current world record for living underwater?
According to Guinness World Records, Richard Presley spent 69 days, 19 minutes underwater from May 6-July 14, 1992.
What is the Marine Resources Development Foundation?
Located on Key Largo in the Florida Keys, the foundation was created in 1970 with the goal of developing a better understanding of Earth's marine resources. It has evolved into an organization with both an educational and scientific focus. Since 1985, nearly 5,000 students each year have been introduced to the ocean through the foundation's
MarineLab education programs
.
What can you tell me about Roane State?
Roane State is a two-year college providing transfer programs, career-preparation programs and continuing education. Founded in 1971, the college has approximately 6,200 students and campuses in Crossville, Harriman, Huntsville, Jamestown, Knoxville, LaFollette, Lenoir City, Oak Ridge and Wartburg.
Roane State is one of Tennessee's Community Colleges, a system of 13 colleges offering a high-quality, affordable, convenient and personal education to prepare students to achieve their educational and career goals in two years or less. All colleges in the system offer associate degree and certificate programs, workforce development programs and transfer pathways to four-year degrees.