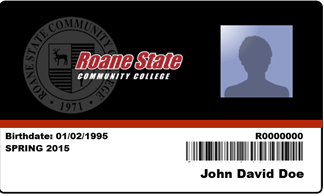 Visit the One Stop at the Oak Ridge campus or the One Stop at the main campus in Harriman to get your official, free Roane State student photo ID. The process only takes a few seconds.
Taking classes at another campus? You can have your student ID made on your campus. Check your Roane State email for upcoming dates.
Why get a Roane State student ID?
Easily identify yourself as a Roane State student when you attend college events.
Receive discounts at businesses that honor student IDs.
© Roane State Community College
Roane State Community College does not discriminate on the basis of race, color, religion, creed, ethnicity or national origin, sex, disability, age, status as protected veteran or any other class protected by Federal or State laws and regulation and by Tennessee board of Regents policies with respect to employment, programs, and activities.​​​​​​​ View full non-discrimination policy.