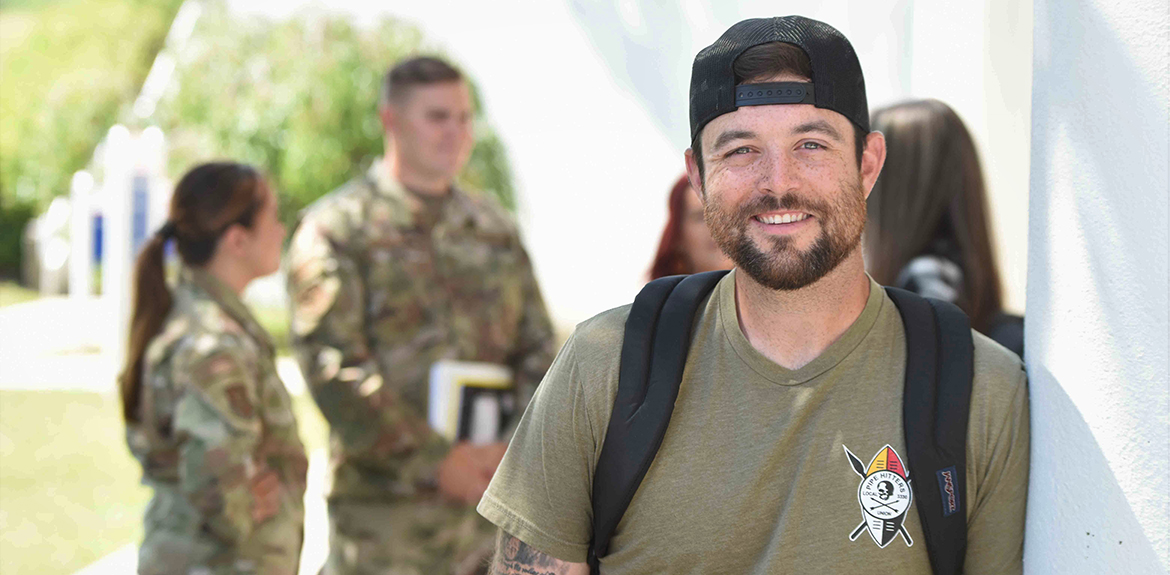 PART ONE: Begin Application Process
Go to the Roane State Admissions Application. Create an account and then begin and complete the student application.
After your admissions application is accepted, anticipate RaiderNet login instructions via personal email, follow those instructions. Then continue checking your RaiderNet account for alerts & personal email for further admissions requirements and guidance. Once you are fully accepted to Roane State, then begin checking your RaiderNet. You should be assigned a Success Coach there. At this point, we cannot use your personal email account for correspondence. You must use your Roane State student email account.
To apply for your VA benefits (VA educational program) or update an existing VA educational program, go to https://www.vets.gov/education/apply/ and click "Find your education benefits form" (green dropdown box).

NOTE: When applying for a VA educational program or changing your place of training to Roane State, ensure that you provide banking information (for direct deposit) and an accurate mailing address. Submit this electronically, and take note of the confirmation number.
PART TWO: Admission Requirements
Provide Roane State with Final High School Transcripts, and Official College Transcripts from any prior institutions attended. The transcripts must be electronically submitted from the institution directly to Roane State, or otherwise provided in a sealed envelope to: Roane State Admissions and Records, 276 Patton Ln, Harriman, TN 37748
Provide proof of U.S. citizenship. This can be done by completing the FAFSA, or scan/email or bring in person a valid TN driver's license to the VA Coordinator.
Provide a copy of your DD-214 Member 4. You may mail, scan/email, or bring it in person to the VA coordinator.
Provide a copy of your military Joint Services Transcript (JST). Obtain your JST here (if you have one). These may be sent electronically to Roane State.
Air Force personnel only: complete the form to request your Community College of the Air Force (CCAF) transcript be mailed to Roane State. Use the address above in step one.
If you are 21 years of age or older and have not completed college level courses, please schedule an ACCUPLACER entrance placement test.
PART THREE: Financial Aid Requirements
It is in your best interest to complete a FAFSA, the Free Application for Federal Student Aid.
Once submitted, always check your RaiderNet account alerts box for any outstanding Financial Aid requirements (this will verify your citizenship if you did not provide your driver's license.)
Further Guidance (read thoroughly):
After completion of electronically submitting your VA educational benefits, you should receive your Certificate of Eligibility (COE) from the VA in the mail. You can then email a copy to your Success Coach and keep the original. Always remember VA educational benefits only pay for classes which are under your declared major or Program of Study.
Federal financial aid from the FAFSA (Pell grant) does not count or impact your VA educational benefits. However, Tennessee Reconnect will count against your VA Post 9/11 benefits.
For National Guard members, Tennessee Strong maybe available to you. Ask your unit administration if you qualify and how to apply. Tennessee Strong and Post 9/11 cannot be used at the same time for the same classes
Regularly check your RaiderNet Account, Alerts Box (in RaiderNet) and Student Email.
DegreeWorks and the College Catalog are great references for your Program of Study requirements and school policies.
© Roane State Community College
Roane State Community College does not discriminate on the basis of race, color, religion, creed, ethnicity or national origin, sex, disability, age, status as protected veteran or any other class protected by Federal or State laws and regulation and by Tennessee board of Regents policies with respect to employment, programs, and activities.​​​​​​​ View full non-discrimination policy.