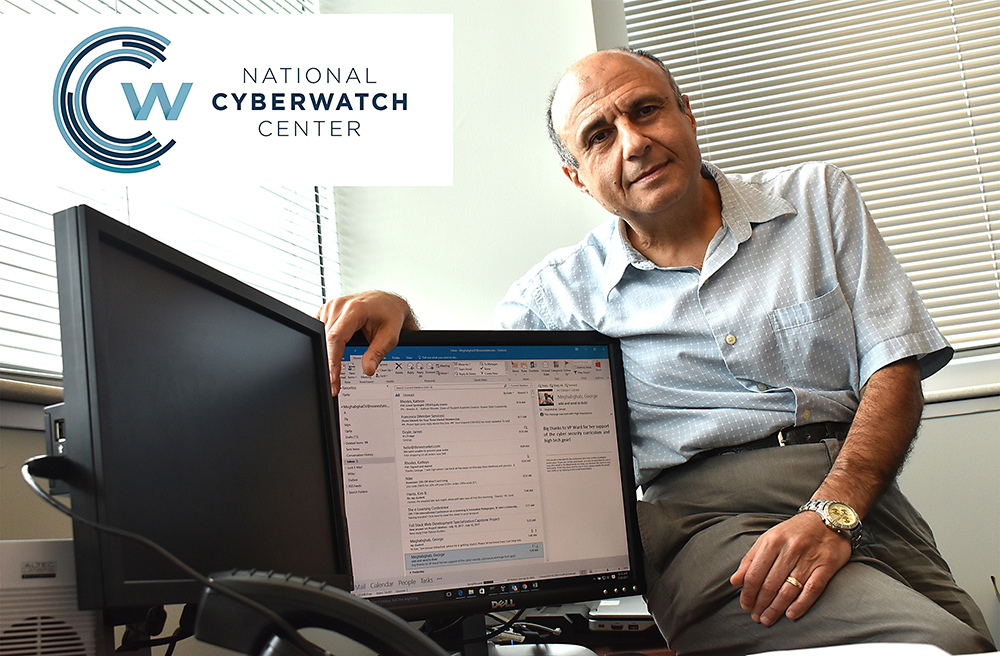 Dr. George Meghabghab leads Roane State's cyber defense program. The college is now part of the National CyberWatch Center.
By Bob Fowler
Roane State staff writer
In this era of widespread hacking, ransomware and other cyberattacks, Roane State Community College is about to launch an educational counterattack.
Preparations are underway for the college to become a center for academic excellence in cyber defense.
Dr. George Meghabghab, Professor of Computer Science and director of college's computer information technology program, recently unveiled the college's long-range plan to expand its IT curriculum.
"We're going to begin a culture of cybersecurity," he said. "Cybersecurity is a growing field, and our goal is to build a program that teaches the very latest technology and is closely aligned to industry needs."
A new concentration in cyber defense was added to the college's IT curriculum. Introductory courses in networking and programming are being offered this fall. Students will be ready to delve into specialized cyber defense classes in the spring 2018 semester.
The college has also joined the National CyberWatch Center, Professor Meghabghab said.
That center is a consortium of higher education institutions, businesses and government agencies. The center focuses on collaborative efforts to advance cyber defense education and strengthen the nation's cybersecurity workforce.
"We intend to align our cyber defense curriculum with their curriculum," said Meghabghab. "That will help us be competitive and produce graduates who will be able to defend our industries, national agencies and IT infrastructure."
"Our students also can join The National Cybersecurity Student Association, which is the nation's largest association of cybersecurity students," he said.
Cybersecurity is a growth industry, the professor said, and there's a big demand from businesses and governments for trained experts in that field.
Under study for two years, Roane State's new concentration in cyber defense will include high-tech gear that is being installed in a computer lab in the college's Goff Health Sciences and Technology Building on the Oak Ridge campus.
Meghabghab expressed appreciation to Dr. Diane Ward, Roane State's Vice President for Student Learning, for her support of the new cyber defense curriculum and securing funding for the computer lab equipment.
Meghabghab said students in the lab will learn how to both hack into computer systems and defend against those intrusions.
Three new certifications involving various aspects of cyber defense will be added to the college's IT curriculum in the spring 2018 semester, he said.
Meanwhile, speakers versed in cybersecurity will be giving talks about the topic to Roane State students this fall, Meghabghab said.
In addition, other academic departments at Roane State will be contacted about adding cyber defense modules to their curricula, he said.
For instance, in Roane State's mechatronics program, students could learn to build defenses to protect industrial control systems (ICS), Meghabghab said.
In criminal justice lessons, students could be taught to present digital forensic evidence to show that computer data has been stolen, and area high school administrators/educators could receive tips on combating cyberbullying.
The full rollout of Roane State's new cybersecurity involvement could take several years, said Meghabghab. "It will bring Information Technology to a new level at Roane State," he said.
To learn more about Roane State's cyber defense program, contact Dr. Meghabghab at (865) 354-3000 ext. 2121 or meghabghagv@roanestate.edu.