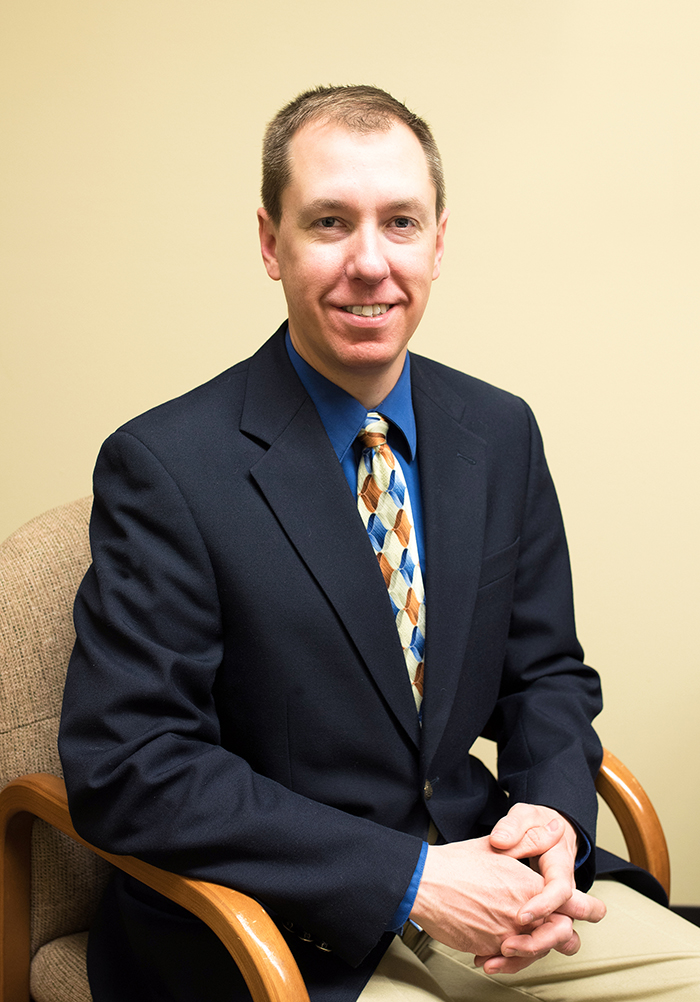 Scott Niermann
Feb. 15, 2018
By Bob Fowler
Roane State staff writer
Scott Niermann brings a wide range of experience and expertise to his new role as executive director of the Roane State Foundation, and he's hit the ground running.
He's a graduate of a community college in Illinois, has a master's degree in public administration and is a certified fundraising executive.
During his career, he's led the start of a new hospital foundation in southern Illinois and raised more than $1.3 million for it in six years, formed a network of community-based agencies in that state, and managed a health care and social services consortium in Missouri.
As the new foundation executive director, Niermann's duties will be many and diverse: meeting with community leaders and others in Roane State's service region, handling the college's nearly $10 million endowment, and working with foundation supporters and investors who want to include the college in bequests, trusts, and other gift planning arrangements.
"My first task is to listen and to learn more about the college and the communities it serves as quickly and deeply as I can," Niermann said.
He said his job will include "being an advocate and a voice for the Roane State Foundation, and to clarify the student financial need that remains, even after the remarkable success of Tennessee Promise."
With the forthcoming Tennessee Reconnect program for adult students about to launch this fall, Niermann noted that continued growth in the student population is expected. Therefore "the need and importance of scholarships and other programs of Roane State Foundation are growing in demand as well."
Many of the scholarships that deserving Roane State students receive are the result of fundraising efforts by the foundation. The Foundation has awarded over $324,000 in scholarships for 2017-18 to 335 students.
One hundred percent of contributions to the nonprofit foundation go directly to benefit students through scholarships, faculty and staff development, and enhanced learning environments.
Niermann said most Roane State employees and faculty members believe so strongly in the college they contribute generously to the foundation.
He said public relations and outreach efforts will come into play as he tells the Roane State story and helps residents understand the college's important role in the communities it serves.
He said he's also looking forward to working with Roane State's student leaders and scholarship recipients so they can tell how the college and the foundation affected their lives.
Niermann was among some 25 applicants for the job, which became vacant when his predecessor, Dan Clifton, retired. Past foundation directors have included former District Attorney General Paul Phillips.
Niermann said he's now reviewing the strategic plans of both the college and its foundation.
"I was looking for an opportunity that would help me grow professionally, and where I could lead a team of fundraising professionals that are like-minded in their mission," Niermann said.
"As a former community college student myself, I was eager to use my experience to assist students to have the same – if not better – opportunities that I had."
Niermann will work closely with Roane State President Dr. Chris Whaley and report to a 27-member volunteer board of directors in his new duties. His first day on the job was Feb. 1.
Niermann and his wife, Laura, have four children, three girls and a boy ranging in ages from 2 to 13. They will be relocating soon from Niermann's hometown in Centralia, Ill.
Though not a complete stranger to beautiful East Tennessee, with relatives in the Tri-Cities area, Niermann said, "I've received a warm welcome to the region from everyone I've met."
Foundation staff members are Linda Brown, who oversees foundation accounting duties, Jeana Bradley, who serves as the scholarship specialist, and administrative secretary Lauren Barber.
For more information about the Roane State Foundation, call (865) 882-4507.