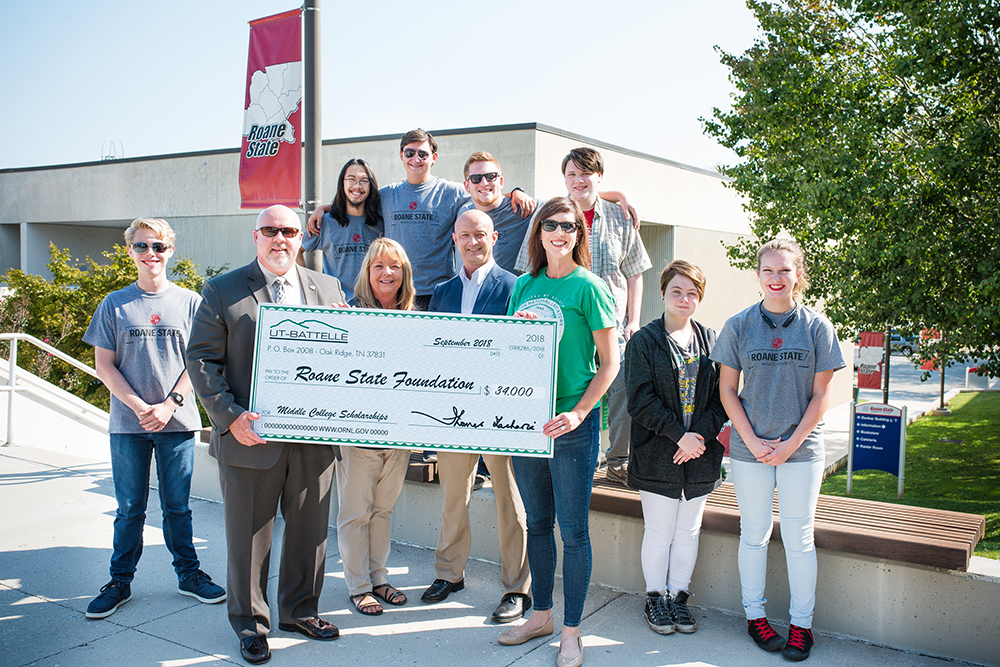 Front from left, Roane State President Dr. Chris Whaley, Roane State Vice President Diane Ward and Middle College Director David Lane are joined by Middle College students to accept a scholarship check from Leigha Humphries, Protocol & Community Relations Manager with UT-Battelle. Back from left are Middle College students Anthony Ciccarelli, Seth Gunter, Justin Humphrey, Jackson Lelle, Brandon Anderson, Balyncia Childress, and Chyanne Weston.
Oct. 10, 2018
Ten Roane County students participating in Roane State Community College's Middle College have received $34,000 annual scholarships thanks to UT-Battelle.
Roane State's Middle College program allows high school students to take college classes in their junior and senior years and then graduate with their associate degrees and their diplomas.
Middle College graduates are then able to complete their bachelor's degrees just two years after finishing high school.
Middle College students pay for tuition through a combination of out-of-pocket funds, use of the Tennessee dual enrollment grant (funded by the state lottery) and other private scholarships. The UT-Battelle Scholarship was established in fall 2015 and is awarded to Middle College students from Roane County.
First-year recipients are Seth Gunter (Kingston), Layla Malenovsky (Kingston), Chyanne Weston (Harriman), Anthony Ciccarelli (Kingston), and Balyncia Childress (Rockwood).
Second-year recipients are Elizabeth Rueff (Harriman), Justin Humphrey (Midway), Brandon Anderson (Harriman), Natalie Slowik (Rockwood), and Jackson Lelle (Oliver Springs).
Of the 13 public community colleges in Tennessee, Roane State is one of only four to offer a Middle College-like program. Roane State's program is unique because it allows students to take Roane State classes while fully participating in their high school activities.
For more information about Roane State's Middle College, contact the Middle College Director David Lane at (865) 882-4538, lanedr@roanestate.edu or visit roanestate.edu/middlecollege.
UT-Battelle manages Oak Ridge National Laboratory for the Department of Energy's Office of Science and has donated more than $14 million to regional outreach initiatives – including $4.5 million for science education – since becoming the managing contractor of ORNL in April 2000.
© Roane State Community College
Roane State Community College is a TBR and AA/EEO employer and does not discriminate against students, employees, or applicants for admission or employment on the basis of race, color, religion, creed, national origin, sex, sexual orientation, gender identity/expression, disability, age, status as a protected veteran, genetic information, or any other legally protected class with respect to all employment, programs and activities sponsored by Roane State. View full non-discrimination policy.