The Roane County Lighting of the Tree at Roane State Community College which kicked off last year was a wonderful time for the entire family.
This year to benefit Roane State Community College student scholarships, we have added the Festival of Trees for school groups, churches, organizations, businesses and individuals to support Roane State Foundation. Net proceeds from the Festival of Trees will be placed in the Roane State Foundation General Scholarship Fund. Sponsored trees will be displayed on the outside veranda of the Vann Student Lounge located at the Dunbar Building, facing the soccer field.
Sign Up Here:
SCHEDULE OF EVENTS 2019
November 12th

Entry Deadline (Please return the Entry Form and $75 entry fee.)

November 15th

Your tree will be delivered to the front of the Vann Student Lounge at the Dunbar Building where the concrete round tables are located. We will secure your tree and place your sign with the name you provide on the form at the bottom of the tree.

November 15th

Power will be in place for the trees and decorating will take place.

November 22nd

(10 a.m.) All trees must be completed and ready for final power check by Roane State's Physical Plant personnel.

November 25th

The Roane County Lighting of the Tree starts at 6 pm.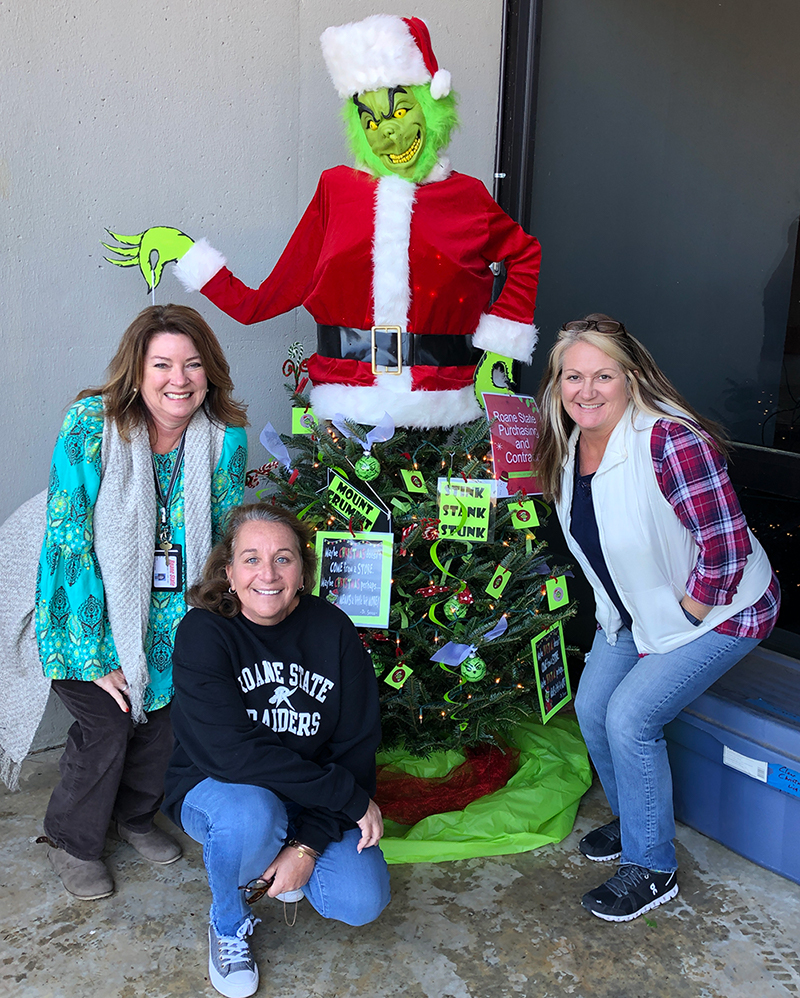 REQUIREMENTS
All trees must have lights. Only miniature or "LED" lights are permitted. No more than three strands of lights per plug with a maximum of 500 lights per tree. Solar or battery powered lights are encouraged but not required. No flood lights allowed.
All lights must be continuous burning. No blinking or chase lights on tree or tree toppers.
You must check all lights at the site before placing them on the tree and again once they are on the tree before adding other decorations.
Ribbons or similar indicators should be placed where each strand of lights begins and ends. This makes it much easier for you to locate a string of burned out lights. If a strand of lights become burned out throughout the duration of the event, you will be contacted and ask to replace the strand of lights.
When possible, purchase lights that continue to burn even when one or more lights on the string burns out. Always have extra fuses or lights on hand in case lights burn out.
You will be given 100 small green pipe cleaners (chenille stems) to secure ornaments/decorations to your tree. ALL tree décor and lighting must be secured to the tree using pipe cleaners or floral wire to guard against the effects of strong winds. Any unsecured ornaments that blow off the trees will be thrown away.
WEATHERPROOF handcrafted or manufactured ornaments are accepted. Be cautious of ornaments that have a small hole on top which allows water to collect inside. These have a tendency to freeze and burst.
Each tree should have a WEATHERPROOF tree skirt which can be secured. Oil cloth or plastic table covers work well.
No icicles. No bread dough ornaments.
Consider donating your decorated tree after the event to a shut-in, nursing home, or someone in need. Delivery will be the responsibility of the participant.
PARTICIPANTS ARE RESPONSIBLE FOR THE FOLLOWING:
Completing and returning entry form and $75 entry fee by November 12th
Purchase of all decorations, tree skirt and lights
Securing lights and decorations to individual tree
Trees can be picked up between December 6th after 3 pm and December 7th.
Removal of all decorations and the tree by December 7th. If the trees are left on campus after the designated date, they will be recycled by Roane State's Physical Plant personnel.
A sturdy step stool or ladder to use while decorating is helpful.
ROANE STATE COMMUNITY COLLEGE IS RESPONSIBLE FOR THE FOLLOWING:
6 foot cut tree with heavy duty tree stand
Pipe cleaners (100) to be used to secure tree décor
Placing and securing your tree
Providing electrical hook-ups
Removal of cut trees to be recycled after all decorations have been removed
Signage for your tree
© Roane State Community College
Roane State Community College does not discriminate on the basis of race, color, religion, creed, ethnicity or national origin, sex, disability, age, status as protected veteran or any other class protected by Federal or State laws and regulation and by Tennessee board of Regents policies with respect to employment, programs, and activities.​​​​​​​ View full non-discrimination policy.