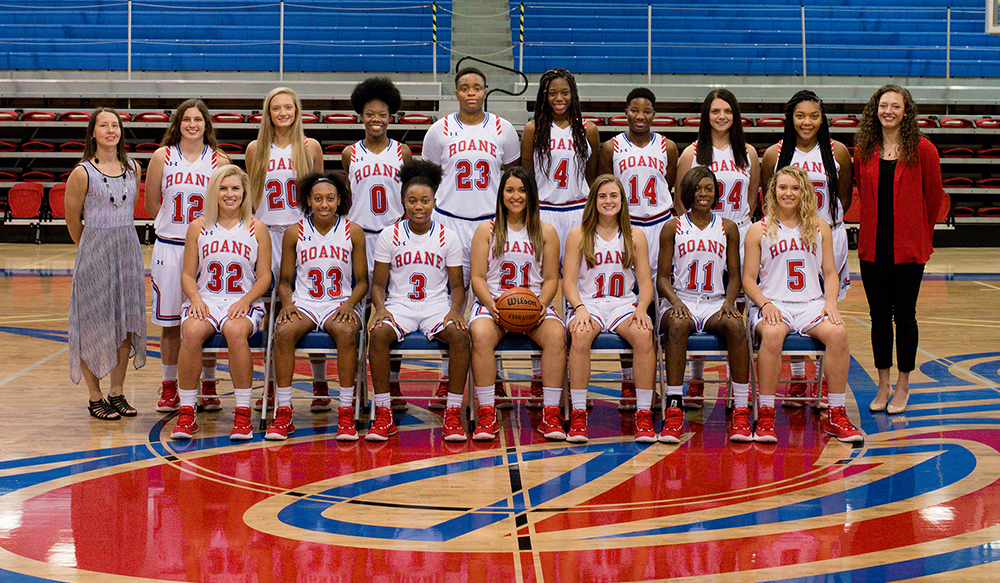 Front row from left are Roane State women's basketball players Callie Kirkpatrick, Lapraisia Ward, Amber Appiah-Kubi, Paige Gentry, Courtney Ellison, Mykeia McCullogh and Mackenzie Armes. Back row from left are head coach Monica Boles, Dalenna Horton, Sara Mikels, Adalys Brown, Ornella Cinthia Mbakop, Jada Johnson, Leonie Owona, Riley Guillemet, Destiny Dennis and assistant coach Haley Cornellison.
Nov. 2, 2018
By Bob Fowler
Roane State staff writer
Roane State Community College women's basketball coach Monica Boles says the squad's "effort and intensity are there."
The team has five returning players and 10 new members, said Boles, now in her 11th year as head coach.
"I love the way our kids are working. They're a fun group," Boles said. "I'm excited about the season, and the team may be a little more athletic than in the past. We'll have the tools to rebound well."
Last year's Roane State team finished 16-18 and came close to winning the season finale, the Region VII tournament. The seventh-seeded Lady Raiders played four games in five days and finished second in the 10-team contest after a triple overtime heartbreaker against Walters State.
There's a new assistant coach this season – former Lady Raider Haley Cornellison, who just graduated from Lee University in Cleveland, Tenn.
For schedules and more information, visit roanestate.edu/athletics. A select number of games will be streamed online. Learn more at www.jockjive.com/roanesports.
Here's Boles' take on the team:
Adalys Brown, 5'9" sophomore guard from Knoxville. "She is one of our most athletic players who has the greatest vertical leap. She gets to the basket and well."
Amber Appiah-Kubi, 5'7" sophomore guard from Nashville. "I feel confident when the ball is in her hands. Her shooting has improved tremendously, and she has good leadership skills."
Jada Johnson, a 6'3" redshirt forward from Harriman who transferred from University of the Cumberlands. "She'll add to our depth in the paint."
Mackenzie Armes, 5'8" freshman forward from Wartburg. She's "very powerful, physical and aggressive. She's versatile and she'll be able to create some mismatches. She's one of our more powerful players."
Courtney Ellison, 5'6" sophomore guard from Oak Ridge. Bouncing back from injuries last season, "she's looking really good with great lateral movements. She's very motivated and driven to have a great year. She is our best vocal leader."
Mykeia McCullogh, 5'11" freshman forward from Nashville. "I'm really excited about what she's going to bring. She rebounds extremely well, and her shot-blocking and rebounding will help us be where we want to be."
Dalenna Horton, 5'7" left-handed freshman guard from Fayetteville, Tenn. "She has a very, very high basketball IQ and learns quickly. She's selfless, gets to the basket well, and can shoot consistently."
Leonie Owona, 5'10" left-handed sophomore guard from Cameroon, Africa. "She's one of our most physical players and rebounds well. She's worked hard in the weight room and has come along nicely and is very versatile and strong."
Sara Mikels, 5'10" freshman guard from Knoxville. "She has a great work ethic and athleticism. She's very physical on defense. I'm excited about her potential."
Paige Gentry, 5'5" freshman guard from Knoxville. "She has a quick first step on offense, moves well laterally and is a good three-point shooter."
Ornella Cinthia Mbakop, a 6'2" sophomore forward from Cameroon, Africa. "She's our biggest player and is good with her back to the basket. She's a shot-blocker and dominant force in the paint."
Riley Guillemet, 5'10" freshman guard from Lenoir City. "She's a great shooter, both inside and outside, and is improving on her defensive game."
Lapraisia Ward, 5'6" freshman guard from Nashville. "She can play anywhere on the perimeter. I love her coachability, has a nice shooting touch, and she's a lot of fun to work with."
Destiny Dennis, a 5'10" left-handed freshman forward from Atlanta. "She's very physical and will be able to produce on both the offensive and defensive end of the court."
Callie Kirkpatrick, a 5'5" guard from Tellico Plains wasn't enrolled at the start of the fall semester and will end up red-shirted, Boles said. "She's very intelligent and driven, and is already making us better in practice."