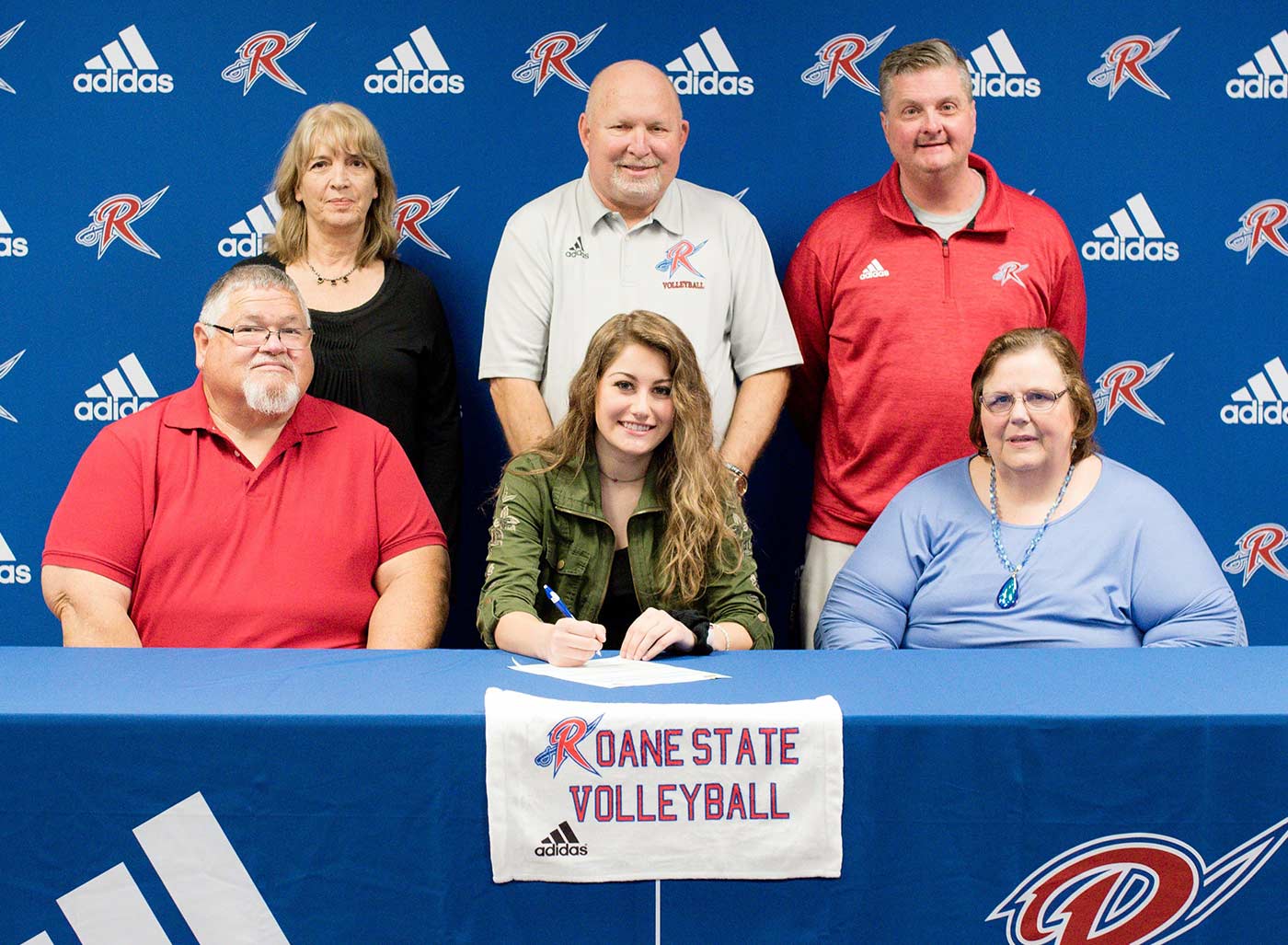 Haylee Rogers, seated, center, is the first athlete to sign with Roane State's new women's volleyball team and is flanked by her parents, Robert and Abbie Rogers. Standing from left: Haylee's aunt, Teri Williams, Lady Raiders Head Volleyball Coach Steve Dallman and Roane State Athletics Assistant Scott Witt.
November 8, 2019
HARRIMAN, Tenn. – It was an intimate affair held on a chilly rainy afternoon inside the athletic complex at Roane State Community College Roane County Campus. A few family members and some representatives of the Roane State athletics staff gathered in front of a large blue backdrop to witness a clearly excited Haylee Rogers make history.
A few moments later when Rogers lifted her pen from the stack of papers in front of her, she had become the first-ever player to sign with Roane State's new volleyball program.
The Oakdale, Tenn. native began playing volleyball when she was in the eighth grade, and she said she "instantly learned to love the sport." She says the game has taught her discipline and allowed her to "become a better me."
New Raiders head volleyball Coach Steve Dallman noted, "Haylee made history today that will never be forgotten."
After graduating high school and enrolling at Roane State, Rogers says she found herself missing the game she had grown to love. So she took matters into her own hands.
One day, the new college freshman walked into the office of Roane State President Dr. Chris Whaley and asked him if there could be a volleyball team.
Whaley, who was mildly surprised by Rogers' straight-forward approach, replied that a volleyball program was indeed coming. Rogers simply replied, "Okay. That's all I needed to know." She walked out of the president's office with a new mission: to track down coach Dallman.
Persistence paid off because Thursday, Haley Rogers became the first member of the team.
Dallman stated, "Haylee proved to me she has a lot of initiative – a lot of push – and I'm really excited to get her on the court."
Several more signings are slated for the next couple of weeks, which Dallman says he is "very happy" about. "We are well on our way to putting together a very decent and competitive team."
The Roane State head coach has previous coaching experience as an assistant at the University of Louisville, as well as head coaching stops at the University of Southern Mississippi, University of Missouri–Kansas City, University of Virginia–Wise, and as an apprentice coach with the U.S. Olympic team. This, however, is the first program he has started from square one.
"There's no equipment. There's no players. There's no nothing. It's kind of fun starting everything and seeing how far we can go," Dallman said.
When play begins next fall, some of the Raiders' opponents will include TCCAA rivals Chattanooga State, Walters State and Cleveland State Community colleges, as well as many NAIA programs throughout the region.
Rogers is also a member of the college's cheer team.