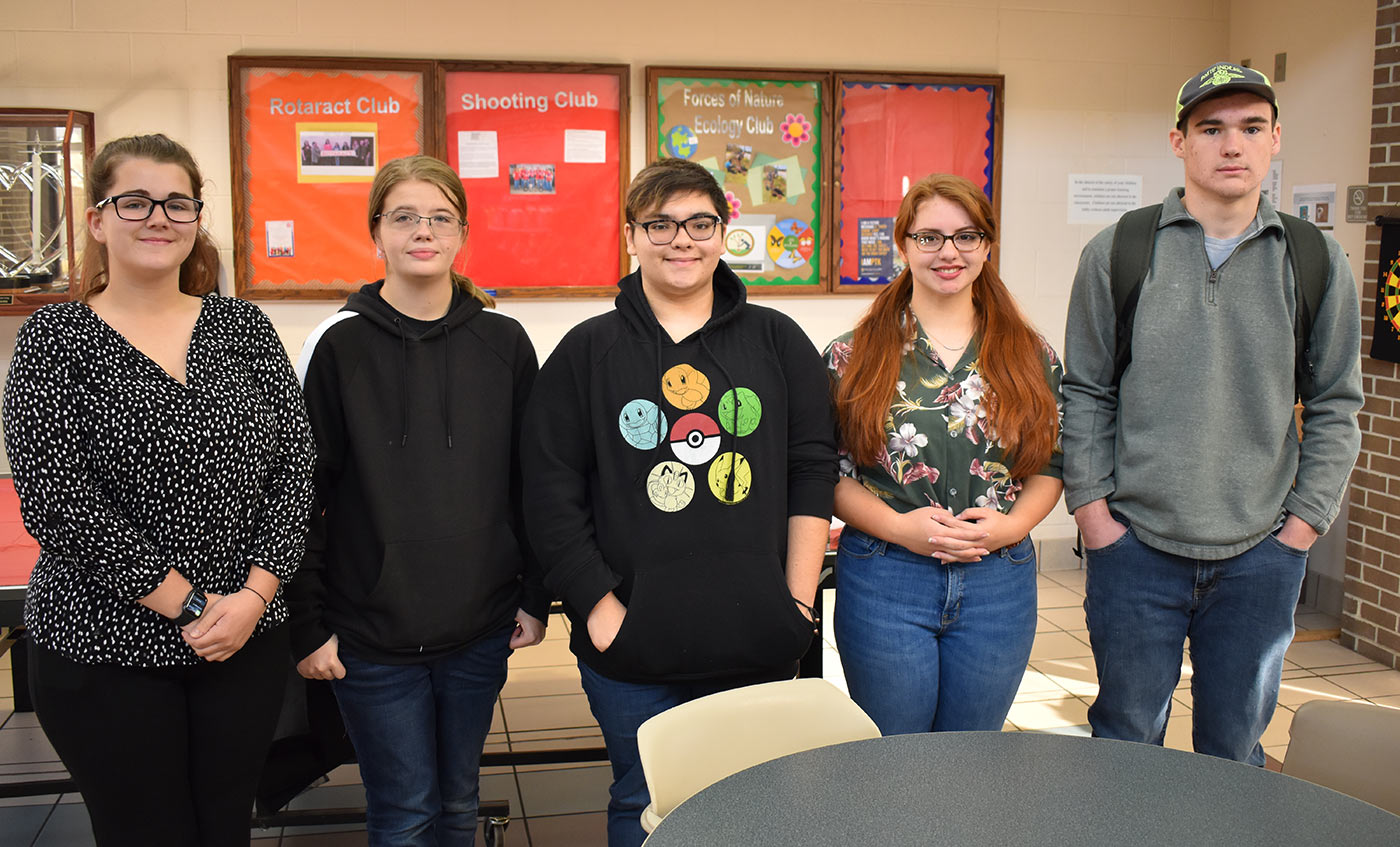 Pictured are five of the first 12 Cumberland County High School students nearing the conclusion of their Middle College program where they'll be graduating from high school and Roane State at the same time. From left: Alyssa Woody, Rhiannon Sexton, Cheryl Rodriguez, Mikayla Vanlandingham and Andrew Johnson.
Nov. 26, 2019
By Bob Fowler
Roane State staff writer
The first class of Middle College students at Roane State's Cumberland County campus is nearing the home stretch for their graduation from both the community college and high school, and some of them are already receiving acceptance letters to colleges.
Middle College is the groundbreaking initiative where high-achieving and hardworking high school students go to Roane State classes in the mornings and return to their respective high schools in the afternoons.
Those who complete the rigorous two-year program can obtain an associate's degree from Roane State at the same time they receive their high school diploma.
Thirteen students initially enrolled in Middle College in Cumberland County, and 12 are finishing up. Here are comments from five of the Middle College students. They'll be juniors when they enroll in the college or university of their choice.
"It's one of the best things that has ever happened to me," Cheryl Rodriguez said of Middle College. She has been accepted at East Tennessee State University and will enroll there next fall as a junior premed student. "I didn't think I was good at math, but I'm now in Calculus II," she said. "We have good professors here (at Roane State) to help us." She's a Cumberland County High student.
Rhiannon Sexton, a Stone Memorial High School student, has been accepted at Middle Tennessee State University and wants to become an archeologist. She said she became a Middle College student because she wanted "more challenging" studies. Rhiannon says she's learned that some people at her high school really don't understand Middle College.
Middle College has been somewhat of a bittersweet experience, said Mikayla Vanlandingham, who goes to Cumberland County High. She said she's lost connections with some of her high school friends but has made new friends in Middle College. Mikayla has been accepted at University of Tennessee-Knoxville as well as Tennessee Tech and wants to study environmental science.
"I'm so glad I did Middle College," said Alyssa Woody, who is a Cumberland County High senior. "I've had to work harder and study more, so it's gotten me more prepared." Alyssa has been accepted at Lee University in Cleveland, Tenn., Trevecca Nazarene in Nashville and UT-Martin and is leaning toward Lee University. Deeply religious, Alyssa wants to major in elementary education and study to be a worship leader. Middle College, she said, "allowed me to get a head start on studies."
Cumberland County High student Andrew Johnson had a no-nonsense approach to Middle College. "I wanted to get out of school as soon as possible and start working," said Johnson, 18. His goal is to become a Tennessee Wildlife Resources Agency officer. He's been accepted at Mississippi State, Tennessee Tech and UT-Martin, and Mississippi State is his first choice.
To learn more about Middle College, visit roanestate.edu/middlecollege or contact Middle College coordinator David Lane, (865) 354-3000 ext. 4223 or lanedr@roanestate.edu.
Roane State is a two-year college providing transfer programs, career-preparation programs and continuing education. Founded in 1971, the college has campuses in Crossville, Harriman, Huntsville, Jamestown, Knoxville, LaFollette, Lenoir City, Oak Ridge, Wartburg and Clinton. For more information, visit roanestate.edu or call (865) 882-4554.
Remember, eligible adults can now attend Roane State tuition-free with the new Reconnect grant. Learn more at www.roanestate.edu/reconnect.