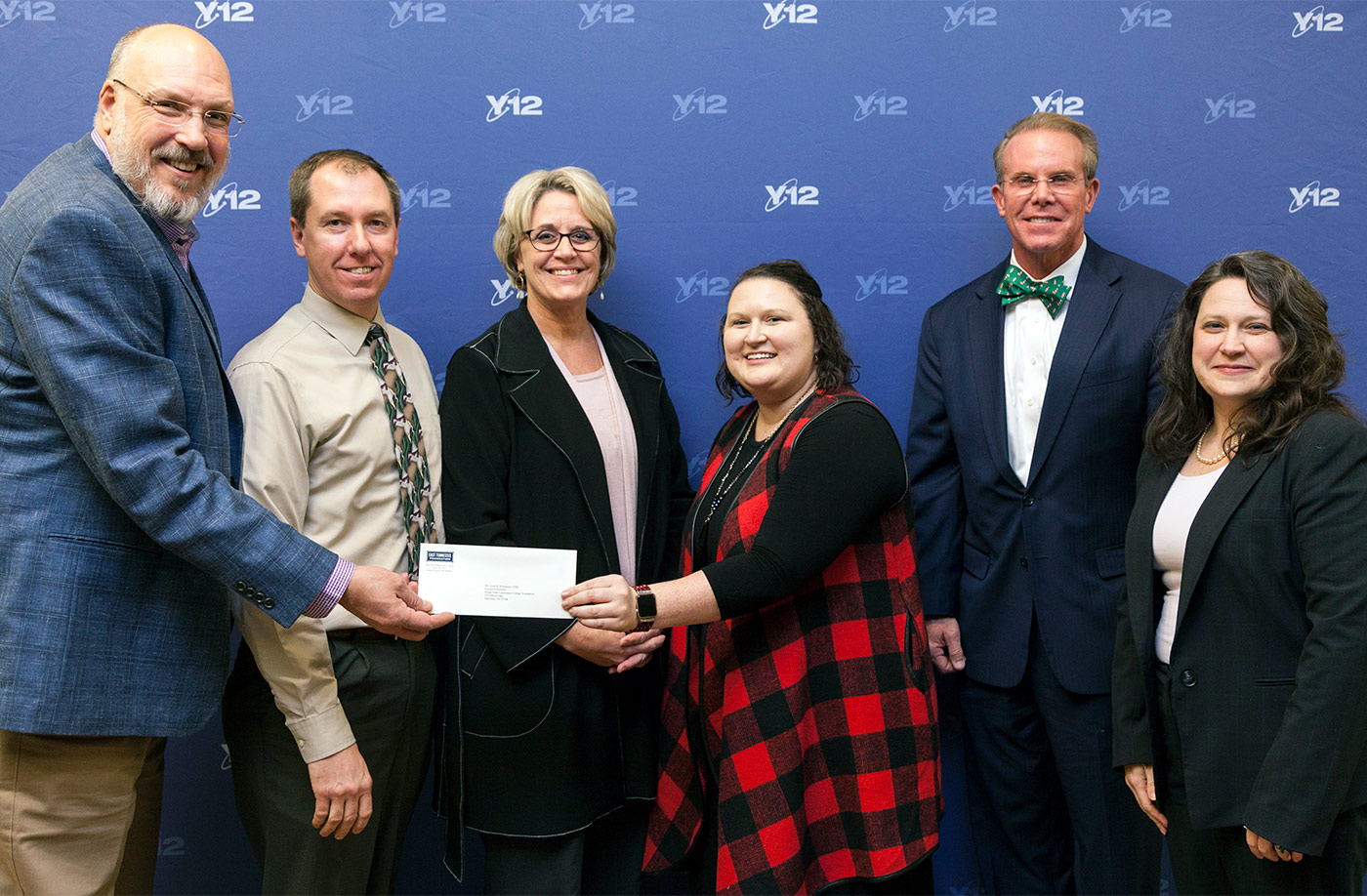 Making the grant presentation, from left: Robert Keen, chair of the Y-12 Employment Investment Advisory Committee; Scott Niermann, executive director of the Roane State Foundation; Teresa Duncan, Roane State vice president of workforce development and director of the college's Oak Ridge Branch Campus; Meghan Lovelace, committee secretary; Mike McClamroch, East Tennessee Foundation president and CEO; and Amy Wilson, CNS senior director of transformation.
Jan. 7, 2020
The Roane State Foundation has won a $6,000 grant from the CNS Y-12 Community Investment Fund to help adult students in the community college's programs in computer science, cybersecurity and mechatronics.
CNS operates the Y-12 National Security Complex in Oak Ridge, and the contractor established the fund through the East Tennessee Foundation in 2014 as part of its commitment to Oak Ridge and the surrounding communities.
Officials said the grant will fund scholarships to help students pay for industry-recognized certifications. Those certifications are important tools for graduates to pair with their college degree to demonstrate to employers they have the skills and documentations that often allow graduates to earn higher wages when going to work.
The grant, which extends through Nov. 14, 2020, is designed to serve adult students in Anderson, Campbell, Cumberland, Loudon, Morgan, Roane and Scott counties. Initial grant funds are expected to serve approximately eight mechatronics students and 15 computer science/cybersecurity students.
Roane State Foundation is a nonprofit 501(c)3 corporation that seeks to enhance community awareness of the college, to secure private contributions and bequests, and to manage monies or properties given to the Foundation, including a nearly $11 million endowment. Roane State Foundation supports the college with capital projects, equipment, educational programs and scholarships. For more information or to make a gift to support Roane State students, visit roanestate.edu/foundation, email Foundationdept@roanestate.edu, or call (865) 882-4507.
Roane State is a two-year college providing transfer programs, career-preparation programs and continuing education. Founded in 1971, the college has campuses in Crossville, Harriman, Huntsville, Jamestown, Knoxville, LaFollette, Lenoir City, Oak Ridge, Wartburg and Clinton. For more information, visit www.roanestate.edu or call (865) 882-4554.
Remember, eligible adults can now attend Roane State tuition-free with the new Reconnect grant. Learn more at www.roanestate.edu/reconnect.
The East Tennessee Foundation's website is www.easttennesseefoundation.org.