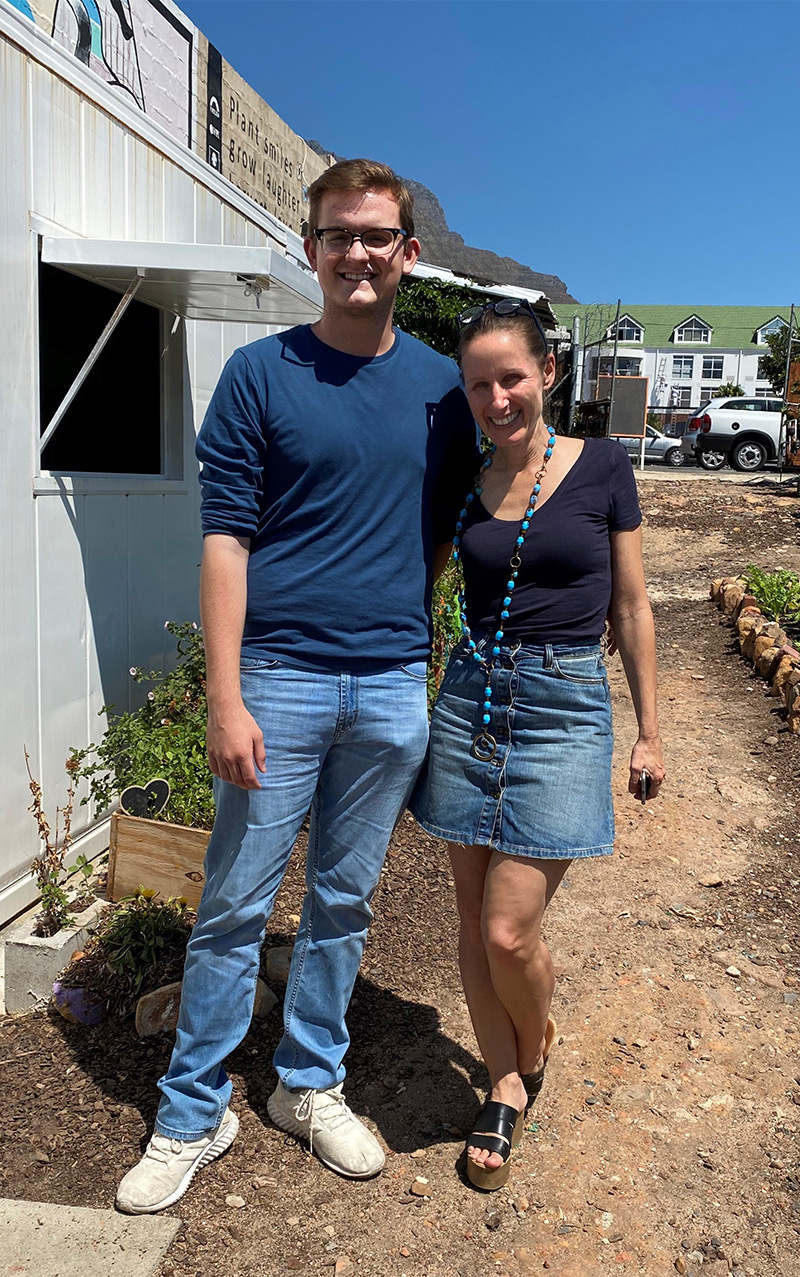 Dakotah Harris, Roane State Middle College graduate, is pictured recently in South Africa with Jesse Laitinen, head of the StreetScapes program through Khulisa Social Solutions.
March 6, 2020
By Bob Fowler
Roane State staff writer
A graduate of Roane State's Middle College program is in Cape Town, South Africa, doing research, studying ways to improve the lives of the sprawling city's homeless population and working alongside them.
Dakotah Harris of Harriman has been in Cape Town since late January and will return to the states in early April. He's a junior at Butler University in Indianapolis and intends to pursue a doctorate in infectious disease epidemiology.
Harris said he's been following the global spread of the coronavirus closely. "I know South Africa is testing at several international and domestic airports... People seem to be only mildly concerned," he wrote in an email at the time. South Africa has since confirmed its first case of the virus.
Harris completed Roane State's Middle College program in 2018, graduating from both Harriman High School and the community college at the same time. He said he's always wanted to travel to foreign countries and received his chance last year through a study abroad company.
Research through a public health think tank is part of his program, but he's been spending most of his days with a nonprofit called StreetScapes that works to address issues of chronic homelessness by supporting its beneficiaries with harm reduction strategies and a constant support system, Harris said.
The East Tennessean said in the email that he supervises a team conducting surveys of homeless people, asking about "their living conditions, health and personal lives." Harris said StreetScapes "isn't just a job for these people. It is an identity, a place where they belong."
He said he's labored alongside the homeless, "working in the gardens and cleaning downtown streets and windows." He said he has often worked in hard science research back at Butler, "so it was about time I got experience with the human aspect of global health… I've been blown away by the warmness of this community and how everyone has accepted me to work alongside them."
"Cape Town is the most beautiful city I have ever been to," he said. During his stay, he's been to the Cape of Good Hope, the peak of Cape Point, and seen "the adorable African penguins." He said he lives in a historic district with five other international students and they've "quickly become my new family."
Harris praised Roane State's Middle College program. In it, he said, "I was surrounded by the most motivated students in my county, and I also was inspired every day by professors who knew my potential was far beyond what I think many people my age would've considered 'good enough.'" He cited Roane State Learning Centers Director Mike Hill and Associate Professor Steve Ward as influential teachers.