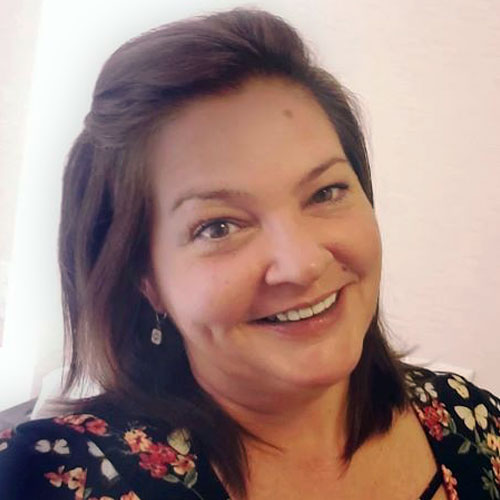 July 2, 2020
By Bob Fowler
Roane State staff writer
Angelia Cooper lives just a half-mile from Roane State's flagship campus in Roane County, but she's too busy to go to classes. Instead, she attends class online and is completing her associate's degree through the Tennessee Reconnect program, where adults can return to college or start their studies tuition-free.
She works two jobs, one as an internal auditor for a financial firm. Some might think her other job cringe-worthy. She takes care of snakes, including a 16-foot-long, 120-pound Burmese python named "Bertha."
For five years, Cooper and her husband, Greg Bliss, have operated a nonprofit facility called Reptile Bliss. They care for neglected or surrendered non-venomous snakes – about 100 of them – along with lizards and a tortoise.
"A lot of people are terrified of them," Cooper said of those slithering tenants. Some have been surrendered for relocation or are staying with them while their owners are overseas in the military. Most snakes are very docile, she said.
Cooper said the facility concentrates on feeding therapy, behavioral therapy, and light medical procedures. They are also called on by local authorities to help identify or relocate reptiles that need to be moved or are in need of care.
Reptile Bliss also offers educational programs for area schools, including the STEM program, and helps to donate and present for the American Museum of Science and Energy in Oak Ridge. Cooper said she and her husband are very involved in the Roane County community.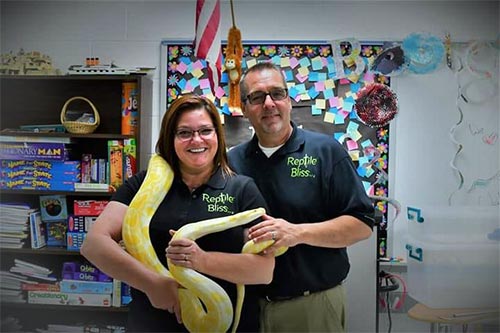 Angelia Cooper and her husband, Greg Bliss, operate the nonprofit organization Reptile Bliss and are pictured with one of their tenants.
Cooper, 50, was studying to be a bookkeeper when she dropped out of Houston Community College in Texas some 29 years ago. She was the single mother of an infant then, and there was no one else available to take care of her son in order for her to continue her studies.
Now, she's been an internal auditor for Southern Management Corporation for 20 years. She reviews financial records for branches across the state to make sure each one is in compliance with company policies. She also reviews documents to ensure the branch complies with state and federal guidelines.
Cooper is ambitious and wants to assume more responsibilities, along with the likelihood of a bigger paycheck that could accompany a college degree. "I talked with my husband, and he said I really should go back to school; that I can't move up in my career without a degree."
So after learning about Tennessee Reconnect, she enrolled at Roane State. With her busy schedule, online classes were the only option. She's on track to graduate with an associate's degree in December.
"I absolutely love it," she said of her online studies. "You have to be disciplined, organized and dedicated and know how to manage your time."
"Roane State has been very helpful," Cooper said. "The college reaches out to me at least once a month to make sure I'm not needing anything."
She said she also gets emails from the college "about when to update my FAFSA (Free Application for Federal Student Aid) and my Reconnect application."
Her Roane State success coach has also provided a list of area colleges and universities suitable for pursuing a bachelor's degree, Cooper said.
"I'm back in college because of Reconnect," she said. "I wouldn't be back without it." Her only out-of-pocket costs now are textbooks and online fees. "I would go to school the rest of my life if Reconnect could go with me."
Remember, eligible adults can now attend Roane State tuition-free with the new Reconnect grant. Learn more at www.roanestate.edu/reconnect.