As we prepare for a fall semester with changes due to the COVID-19 pandemic, we have compiled important information for students, faculty, staff and other members of the Roane State community into one convenient location below. Please continue to check your RSCC email for updates and return to this page periodically for the latest details on our plans and response.
What to Expect This Fall
Students can expect to continue their education online or on campus, depending on their comfort level with the COVID-19 precautions that are in place, the availability of classes and the college's ability to safely offer courses in person.
For those who want to register for classes that are delivered completely online, we have expanded web sections available. For those who want to learn in the classroom, on campus classes are offered as well with public health measures to increase safety.
A variety of delivery methods will be utilized throughout the fall semester, including a hybrid model with a portion of the course being taught in the classroom and a portion taught online. If the pandemic worsens in our area, the majority of in-person classes may be transitioned to the online environment.
For more information, Roane State's Pandemic Preparedness Plan can be viewed at roanestate.edu/coronavirus.
What to Know Before You Come To Campus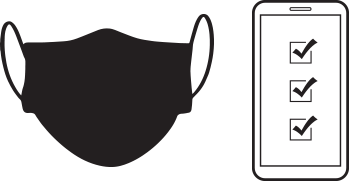 Anyone who comes to campus for any reason will be required to wear a face covering indoors or in any situation where physical distancing cannot be maintained (such as during the check-in process). A wellness screening is also required each time you plan to access campus. Please note that face shields alone are no longer recommended per CDC guidelines, though you may wear a face shield in addition to a face mask/covering.
In most cases, the wellness screening should be completed online prior to arriving on campus. The screening can be accessed inside RaiderNet, by visiting roanestate.edu/checkup or by clicking the "required on campus" banner on the RSCC home page. Screening questions cover possible symptoms of COVID-19 and known exposures to positive or probable cases. Proof of successful completion of the screening will be required at check-in and must be taken the same day. If needed, the screening may be completed at the check-in location using a mobile device provided by the college or a paper copy of the screening form. If the wellness screening is failed, admission to campus will be denied. Please note that touchless temperature checks are not currently part of the screening process but can be completed by screeners if needed (for example, a temperature check might be performed if an individual did not complete the screening prior to coming to campus and was unsure if they have had a fever). Students, staff, faculty and visitors should follow signage posted at campuses for check-in instructions.
Students, faculty and staff are also advised to arrive on campus approximately one hour earlier than normal in order to allow extra time for the check-in process. This will be crucial especially during the first few weeks of classes as we all adjust to the new safety procedures. The extra time allotted for the check-in process is expected to decrease as students and staff become more familiar with the process.
RSCC COVID-19 Check-in Procedure
At check-in on campus, you can expect the following:
A Roane State employee will be working as a screener at the check-in location(s) for your campus. The screener will be wearing CDC recommended personal protective equipment (PPE) and will display Roane State identification.
Please have your face covering on before approaching the check-in station, regardless of whether you are inside your vehicle or outdoors in the open air.
The screener will ask for proof of successful completion of the wellness screening. You may provide this as a printout or show the completion screen with the blue checkmark on a mobile device.
If you are unable to provide proof of a completed wellness screening or need to complete the questionnaire in person, you will be directed to a holding area. The screening can then be completed in one of the following ways (Please note that the options listed below will depend on availability at each site):

Using a personal mobile device (phone/tablet/laptop)
Using a mobile device provided by the college (gloves must be worn in this instance and the device will be thoroughly cleaned between uses)
On paper

When screeners confirm that a face covering is being worn and the daily wellness screening is successfully complete, access to campus will be granted.
If changes to this procedure are implemented for any reason, the campus community will be notified by email and this website will be updated.
How Your Class Will Be Delivered
Information on the delivery method for your classes is included in the detail section of your schedule. Modifications to the schedule and classroom setups are being implemented as needed and may include, as appropriate, one or more of the following:
mixing classroom time with outside the classroom instruction to reduce face-to-face meeting time
utilizing Zoom for delivery of instruction and to meet with students
staggering course meeting times (Example: For a Mon/Wed class, half of the class might meet on Monday and the other half might meet on Wednesday, with online instruction for the remainder of the week's content.)
transitioning classes to web or web-enhanced delivery
increased spacing between seating and classroom tools
moving to larger classrooms or labs to accommodate physical distancing of students
preparing for a full online delivery of the course in case we have to move online
Delivery methods and modifications will vary by academic program based on the course content and the needs of students. The modifications are not limited to those listed above. Additional information will be provided directly from instructors.
COVID-19 Case Reporting at RSCC
Roane State is requesting that students, faculty, staff and visitors self-report any positive test result for COVID-19 using our online portal at roanestate.edu/checkup. The college will be sharing data related to the number of positive cases reported by our campus community with the Tennessee Board of Regents and the relevant health departments. Public announcements of positive COVID-19 cases at RSCC will only be made when the student, employee or visitor has been on an RSCC campus within the period in which they could have been contagious. Students or staff reporting positive test results who have been learning or working remotely will not be included in public notifications because they do not pose any risk to the campus community. COVID-19 positive cases will not be permitted on campus until their quarantine period has ended (14 days after exposure with no symptoms or 10 days after last symptoms were observed, per CDC guidelines).
More Information
Additional details on Roane State's response to the COVID-19 pandemic can be found online by visiting roanestate.edu/coronavirus.
If you have questions or concerns related to the fall semester and reopening of Roane State campuses, please let us know by emailing questions@roanestate.edu.