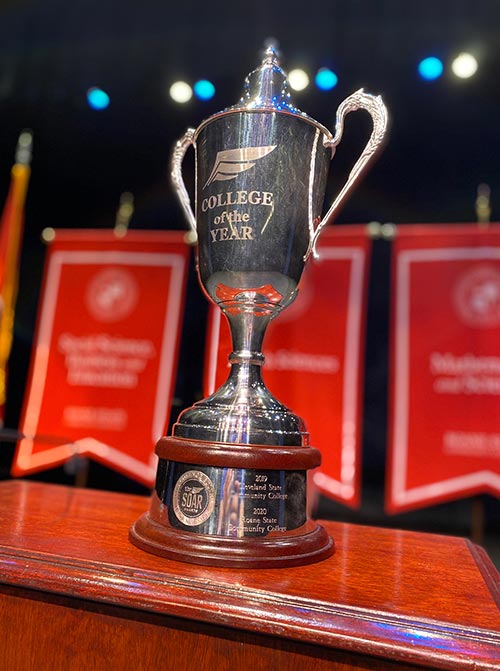 April 8, 2021
By Bob Fowler
Roane State staff writer
Roane State officials have been waiting a year to celebrate this distinct honor.
The Tennessee Board of Regents, which supervises all public community colleges and technical colleges in the state, named Roane State as the Community College of the Year for 2020.
But the COVID-19 pandemic put any observation of the award on hold last year as the college eliminated on-campus gatherings to curtail the spread of the deadly virus, and students' classes went online.
The large silver cup given to the college in recognition of the honor was on prominent display during ceremonies held on March 29 at the Roane County campus. It's called the Statewide Outstanding Achievement Recognition (SOAR) award.
State Senator Ken Yager, Regent Danni Varlan, now in her third term representing the Third Congressional District on the Board of Regents, and State Representative Dennis Powers made in-person remarks.
Other pre-recorded comments came from Lt. Gov. Randy McNally and TBR Chancellor Flora Tydings during the event, which was broadcast live and may be viewed on Roane State's YouTube channel at youtube.com/roanestatecc.
Sen. Yager said three events played key roles in Roane County's history: the creation of TVA, the Manhattan Project to build the first atomic bomb, and the startup 50 years ago of Roane State. He called the community college a "life-changing institution."
Rep. Powers said Roane State's Campbell County campus "transformed the area where I live," and there are now 450 students attending classes there.
Chancellor Tydings, in her videoed remarks, praised some of the college's cutting-edge innovations, from the Success Coach program for first-year students to Middle College, where high school students can attend Roane State and receive high school diplomas and associate degrees at the same time.
She also praised the college's expanding programs to serve students with food insecurity issues, noting that three campuses now have full-service food pantries.
The full announcement of the 2020 Community College of the Year award is available at roanestate.edu/CCOTY2020. For a look at the honorees for 2021, visit tbr.edu/soar.