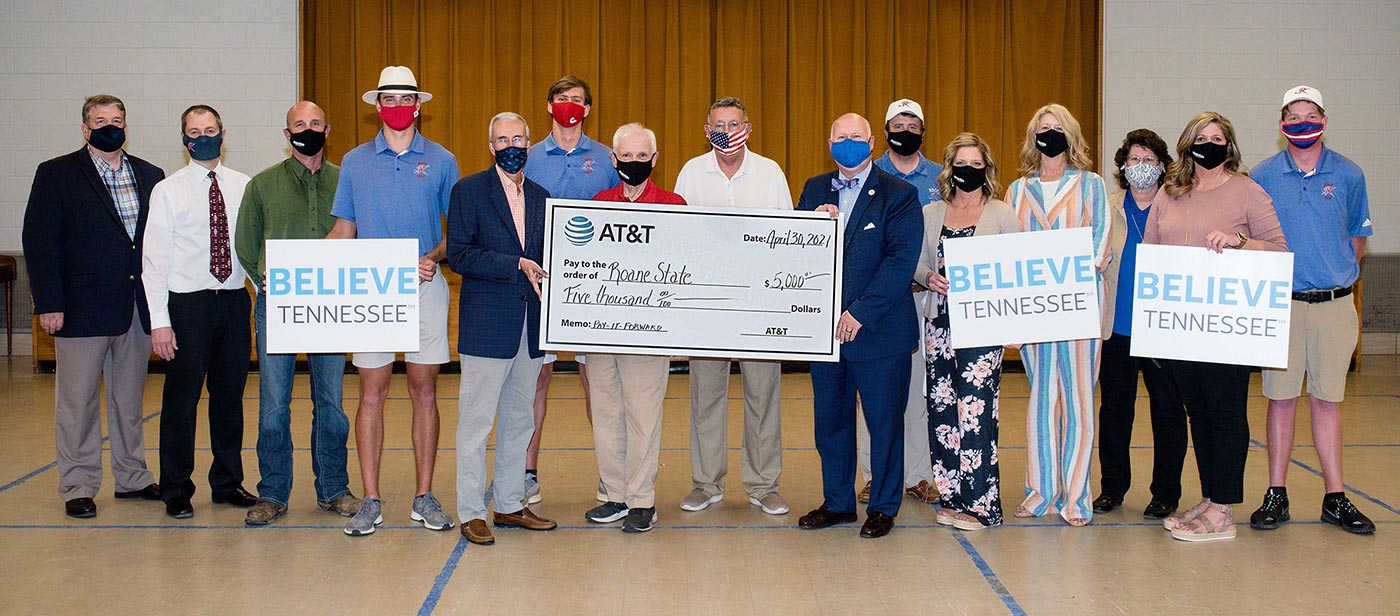 May 28, 2021
Submitted by AT&T
AT&T has a long-standing commitment to the future of Tennessee and through the Believe Tennessee initiative, the AT&T team is working with community leaders and organizations to remove barriers to academic success and engage youth to have an impact in their communities.
As part of this effort, the AT&T Foundation has donated $5,000 to Roane State Community College's non-profit Foundation to support the Pay-It-Forward Emergency Aid fund. This fund ensures students receive the support they need in times of financial distress. Additionally, AT&T employees and students from Roane State have collected school supplies for students at Ridge View Elementary.
"We are thrilled to see AT&T expand their commitment to community engagement through this project," said Dr. Chris Whaley, President of Roane State Community College. "Our local students will benefit greatly from this gift and AT&T's continued support of higher education."
"I am grateful for community partners like AT&T who are generous in their support for our Tennessee students. Preparing our students to achieve their goals starts in the classroom, and by providing school supplies, AT&T is helping to ensure our children have the tools necessary to succeed," said Dr. LaDonna McFall, Director of Schools, Roane County School District.
This donation is part of the AT&T Foundation's $150,000 gift to the Tennessee Board of Regents, which governs Tennessee's public community and technical colleges. Funding will provide support for student emergency funds across the 13 community colleges and equipment for the 27 colleges of applied technology.
"Roane State does a tremendous job preparing students to enter the workforce with a strong foundation for future success," said Senator Ken Yager. "Thanks to their commitment to quality education, Tennessee has a first-class workforce ready to meet the needs of the rapidly evolving 21st century economy."
"At AT&T, we are focused on developing a 21st century workforce that can promote continued prosperity and a stronger economy across Tennessee," said Alan Hill, Regional Director, External and Legislative Affairs, AT&T Tennessee. "We are excited to support Roane State Community College to help more students gain the high-demand skills necessary to compete for quality job opportunities and to empower more students to reach their highest potential."
The 13 Tennessee Community Colleges are as follows:
Chattanooga State
Cleveland State
Columbia State
Dyersburg State
Jackson State
Motlow State
Nashville State
Northeast State
Pellissippi State
Roane State
Southwest Tennessee
Volunteer State
Walters State
The Believe Tennessee effort is an extension of AT&T Believes℠, a larger company-wide initiative, which aims to create positive change in local communities. To learn more about AT&T Believes initiatives across the country, please click here.
About Philanthropy & Social Innovation at AT&T
AT&T Inc. is committed to advancing education, strengthening communities and improving lives. Through its community initiatives, AT&T has a long history of investing in projects that create learning opportunities; promote academic and economic achievement; or address community needs. The company's signature philanthropic initiative, AT&T Aspire, drives innovation in education to promote student success in school and beyond. With a financial commitment of $600 million since 2008, AT&T is leveraging technology, relationships and social innovation to help all students make their biggest dreams a reality.
About the Roane State Foundation
The Roane State Foundation is a separate 501(c)(3) corporation governed by an independent board of directors and established to provide financial support for Roane State students and programs. The Foundation seeks to enhance community awareness of the college, to secure private contributions and bequests and to manage monies or properties given to the Foundation. The Foundation also manages the college's Alumni Relations program. For more information on programs and donations, visit roanestate.edu/foundation or email Foundationdept@roanestate.edu.