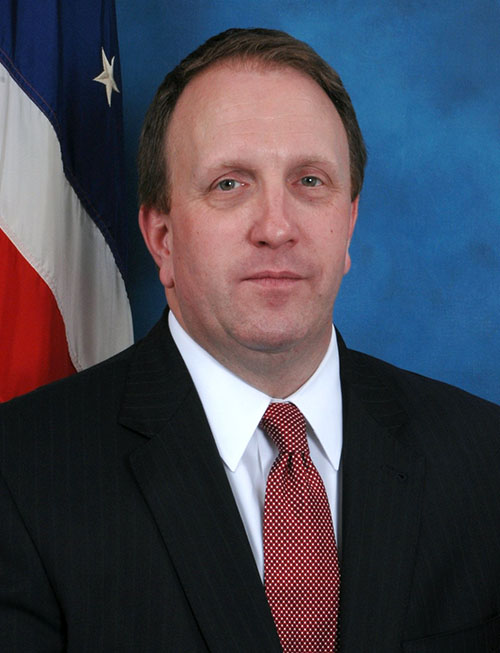 Jeff was an East Tennessee native. He graduated from Roane State with an AAS in Criminal Justice and a BS in Organizational Management from Tusculum University. Jeff taught as adjunct faculty in Roane State's Criminal Justice program. Jeff served as a Police Officer in Oak Ridge, Tennessee and a Deputy Sheriff in Anderson County, Tennessee from 1989 to 1997. His love of public service led him to a distinguished 32-year law enforcement career to include 24 years with the Federal Bureau of Investigation (FBI).
He began with the FBI in 1997 as a Special Agent assigned to the Detroit Field Office where he worked investigations involving fugitives, violent crime, drug matters, and counterterrorism following the 9/11 attacks. He was a SWAT member, Firearms Instructor, and Tactical Instructor. He received the FBI Shield of Bravery for actions performed during an armed standoff while assigned to the Detroit Field Office.
In 2003, Jeff was selected for the Attorney General's Protection Detail, where he served until 2005 under U.S. Attorneys General Ashcroft and Gonzalez in Washington, D.C. Jeff was promoted to Supervisory Special Agent in the Counterterrorism Division at FBIHQ, where he was the coordinator of the Civil Aviation, Maritime, and Rail Security Programs (CASP). In 2008, Jeff was transferred to the Critical Incident Response Group (CIRG) where he managed domestic emergency Weapons of Mass Destruction (WMD) render safe responses and planned government-wide, national-level WMD preparedness and response field exercises.
In 2010, Jeff was selected as a Supervisory Senior Resident Agent in the Little Rock Field Office, where he led six Resident Agencies (West Memphis, Jonesboro, Pine Bluff, Hot Springs, El Dorado, and Texarkana). Jeff also served as the Acting Assistant Special Agent in Charge of the Little Rock office for seven months in 2011, where he planned, managed, and executed one of the largest law enforcement operations in the history of the FBI – Operation Delta Blues. Jeff received the U.S. Attorney General's Award for Excellence in Law Enforcement for his work in this matter.
In 2013, Jeff was selected as Chief of Staff to the Assistant Director of the Criminal Investigative Division at FBIHQ. In this position, he served as a key advisor to the Assistant Director.
Jeff was named Assistant Special Agent in Charge of the Nashville, Tennessee Resident Agency in June of 2014. In this capacity, he led all FBI operations in Middle Tennessee, including the FBI's offices in Clarksville, Columbia, Cookeville, and Jackson.
In 2016, Jeff was promoted to the Senior Executive Service as the Chief of Staff for the Executive Assistant Director (EAD) of the Criminal, Cyber, Response, and Services Branch at FBIHQ. In this role, he was the senior advisor to the EAD and a member of the executive management team, routinely interfacing with the highest levels of Bureau, U.S. Government, and international partners.
In June of 2018, Jeff was selected by the Director as the Special Agent in Charge of the Anchorage Field Office, overseeing all aspects of FBI operations and personnel in the state of Alaska and the Arctic region.
In 2020, he was selected as the Deputy Assistant Director of the FBI's Strategic Realignment Project Management Office at FBIHQ in Washington, DC; principally overseeing the FBI's transition of thousands of employees to Redstone Arsenal in Huntsville, Alabama.
Following his assignment at FBIHQ, Jeff transitioned to Redstone Arsenal and concluded his FBI career as the Senior Advisor to the FBI Redstone Project in late 2021.
Jeff lived life to the fullest. He was the loving husband of Paula Peterson to whom he had been happily married for over 23 years. Jeff was a man of great faith with a heart for volunteering. He loved serving others. He was a member of Asbury Church in Madison, Alabama. While in Alaska, Jeff worked with the homeless shelter and supported Covenant House efforts to lift up at-risk youth. Jeff was named an Honorary Chief by the Alaska Federation of Natives for his relentless dedication to Missing and Murdered Indigenous Women. Jeff and Paula served as house parents for college baseball players from the lower 48 states playing in the Alaska League focused on transitioning into professional baseball. He was a friend and mentor both inside and outside of the FBI, enthusiastically sharing stories, insights, lessons-learned, and his time and energy.
Jeff had a heart for service and a passion for Criminal Justice. He dedicated his life to serving and protecting others and making our world safer. This scholarship in his name will help carry forward his life's work. Please consider a gift to help fund this scholarship as the money given in Jeff's memory will be used to provide at least one $1500 scholarship each year to a Roane State student majoring in Criminal Justice.