January 8, 2003
Founded in 1983, National Park Trust (NPT) is the only land conservancy uniquely dedicated to preserving America's national system of parks,
wildlife refuges, and
historic monuments.
NPT publishes the Parkland News to help you and other members of the public to stay informed about challenges and developments facing our parks and
our environment.
To help us preserve America's treasures, please click here to checkout our
web site
Subscribe to
Parkland News
Promoting and Protecting Dark Night Skies in Our National Parks

CHAD MOORE - US National Park Service, Pinnacles National Monument, 5000 Hwy 146, Paicines, CA 95043
F.OWEN HOFFMAN - Crater Lake Institute, SENES Oak Ridge, Inc., Center for Risk Analysis, 102 Donner Dr., Oak Ridge, TN 37830
DAVID FIELDS - Tamke-Allan Observatory, Roane State Community College, 276 Patton Ln., Rockwood, TN 37854, and
RON MASTROGIUSEPPE - President, Crater Lake Institute, P.O. Box 2425, Pullman, WA 99165-2425
Our National Parks contain the most splendid parts of this country's landscape and history. Many of these protected resources were well recognized at the time the parks were created, for example the geysers of Yellowstone or the giant trees of Sequoia. But as the interest of the public changes and the natural landscape is altered, what is valued as a park resource also changes. Today, the National Park Service is adapting its management toward the protection of dark night skies.
The night sky is a timeless and boundless resource, possessing value as a cultural, scenic, natural and scientific resource. It is germane to no particular nation, religion, or belief, but is universally important. The impression of a dark and starry sky has evoked countless myth, art, literature, and inspiration. It has been rightly called "The Ultimate Cultural Resource." But the ubiquity and scale of this resource has led to the common human folly of taking it for granted. Now we stand on the verge of losing the pristine night sky in the conterminous United States.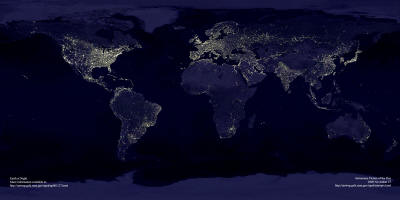 Earth at Night (Click photo for a larger view)
Man's imprint on the planet is dramatically visualized with satellite images of the Earth at night [Sullivan]. The areal extent of light pollution has been modeled by astronomers, and the result shows the progressive loss of the dark sky, even in once remote areas [Cinzano et.al.]. National Parks harbor many of these last portals to a dark night sky. The role the NPS can play has been underscored by non-profit organizations such as the George Wright Society and the International Dark-sky Association. In response, the park service initiated a small but aggressive program to measure light pollution levels at numerous parks throughout the country.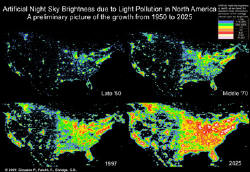 The proliferation of poor quality outdoor lighting is the principle threat to the nighttime scene. Urban sky glow can travel over 200 miles, affecting remote wilderness and parks. Moderate amounts of light pollution can cut the number of visible stars in half or more, while skies within a few miles of cities will be decimated. Not only can one's backcountry camping experience be tainted, but nocturnal wildlife suffers ill effects to varying degrees. The problem is far from intractable, however, with modern lighting designs that produce very little scattered light increasingly available. High quality lighting improves security, reduces energy consumption, and is often less expensive. Some communities have chosen to upgrade their lights, instantly improving the night sky and reaping these other benefits.

As the public loses the experience of a dark sky at their homes, they are increasingly seeking it out in their national parks. There is an untapped opportunity to interpret the night sky at parks, provide the public with a tangible perspective on the connection between people and the environment, and to engender environmental leadership on this issue.
Amateur astronomers and skygazers can play a significant role as park volunteers. Chaco Culture National Historical Park in New Mexico has done this beautifully. A small army of volunteers give frequent nighttime programs to park visitors, providing views through numerous telescopes and linking the sky above to the ancient American culture and stone ruins that are the park's namesake.

In Yosemite, visiting San Francisco Sidewalk Astronomers encourage public viewings through large and moderate sized telescopes set up during the evening hours at major viewpoints. During 2002, the Crater Lake Institute recruited former NPS naturalists with an interest in astronomy to bring the joy and inspiration of the night sky to Crater Lake National Park visitors.
At the rim of the famous caldera, visitors were treated to informal star walks, all night star gazing, and discovered the "other half" of the park. Other parks, like the Grand Canyon and Bryce Canyon have become destinations for special "star parties" where amateur astronomers from all over the country gather to compare views of the heavens through binoculars and portable telescopes.

The task of promoting the value of dark skies above National Parks has only just begun. Activities focused on public enjoyment of dark skies are likely to spread throughout the entire National Park System. Special programs can be established on an ongoing basis without a major impact to limited park budgets by forming partnerships with local and national groups engaged in the study and enjoyment of the night sky. Amateur and professional astronomers can be purposefully invited to visit the parks with the express objective of sharing knowledge and equipment with a curious public.

A positive dark sky experience in our National Parks, enhanced through interaction with knowledgeable naturalists of the night, will lead to increasing public awareness of the joy of gazing upward and a burning desire to protect and reclaim starry nights beyond park boundaries.
Related Web Links
1. Chadwick A. Moore. Visual Estimations of Night Sky Brightness from George Wright Society Forum:
http://www.georgewright.org/184moore.pdf
2. International Dark-sky Association, a source of general information: http://www.darksky.org/
3. Crater Lake Institute, supporting Dark Skies at Crater Lake National Park: https://www.roanestate.edu/obs/CraterLakeInstitute.html
4. Tamke-Allen Observatory, presenting education as a process of scientific inquiry and observation:
http://www.roanestate.edu/obs
5. Links to additional park-related Dark-Sky resources:
http://www.roanestate.edu/obs/Dark%20Skies%20Materials.htm
IMPORTANT

For copyright information on the Cinzano et al image, see:
http://www.inquinamentoluminoso.it/worldatlas/pages/copyright.html
The Earth at Night image credited to Woodruff T. Sullivan.
Copyright 2003 National Park Trust
http://www.parktrust.org